Disclosure: This is a sponsored post, courtesy of Puritan's Pride to help our readers stay healthy during the holidays. I'm super excited to share this news with my readers!
Let's face it, the holidays are stressful. Between buying gifts, planning, and traveling, we are constantly on the go and dealing with stress throughout the holiday season. Even though we don't think about it, it does take a toll on her health. With the holiday season starting to go into full gear, it's time we start thinking about ways to not only stay health, but happy.
To our delight, Brooke Alpert, M.S., R.D., C.D.N., of B Nutritious and author of The Sugar Detox, (Da Capo, 2013) and a spokesperson for Puritan's Pride was happy to give us 7 easy to follow suggestion for staying healthy during the holiday season while traveling.
Keep Your Body Fueled – Did you know that hunger can make stressful situations even worse? Since you may be delayed on the airport or the road, pack a couple of healthy snacks in your carry-on luggage. Airport or convenience store food usually is very low in nutrition and costly, so do the right thing for your body.
Support Your Energy Metabolism & Immunity – While we are traveling for the holidays, we are usually more active and dealing with higher amounts of stress. Add a daily probiotic to help your immune system and get your gut regular (and in the holiday spirit), such as Puritan's Pride Probiotic 10.
Stretch Your Legs During the Journey – When most of us travel, we sit for long periods of time, particularly while flying. Not only is this uncomfortable, but sitting for long period of time can lead to blood clots occurring in our legs. It's a good idea to get up and walk through the cabin about once an hour. If you can't, move your legs, feet, and ankles regularly while in your seat.
Help Your Digestive Health – While most of us are traveling for the holidays, we eat a lot of rich foods, drink alcohol, and eat extra desserts. While we may enjoy this indulgence, it does take a toll on our bodies, often leaving us feeling sluggish. Consider adding Puritan's Pride Herbal Laxative, which contain ingredients that have been traditionally used to gently support regularity.
Help for Motion Sickness – If you get motion sickness while traveling, don't stress about it. Some people have found that ginger root helps deal with motion sickness. Of course, this isn't practical to pack in a straight for for most of us traveling, so consider taking Puritan's Pride Ginger Root to help ease an upset stomach or fight back against nausea ruining the rest of your trip.
Get Enough Sleep – Rather than trying to stay up till all hours of the night packing or getting things done, make sure you get plenty of sleep. Most adults should get 7 to 8 hours of sleep nightly. Staying well rested not only counters stress, but can help your immune system as well!
Relax with Tea – Looking for something to help you wind down after a stressful day? Consider getting a cup of Peppermint Tea. It has numerous benefits and is perfect to sip when you are unwinding from a stressful day, especially during holiday travel. Go with a naturally caffeine free Organic Peppermint Tea either hot or cold.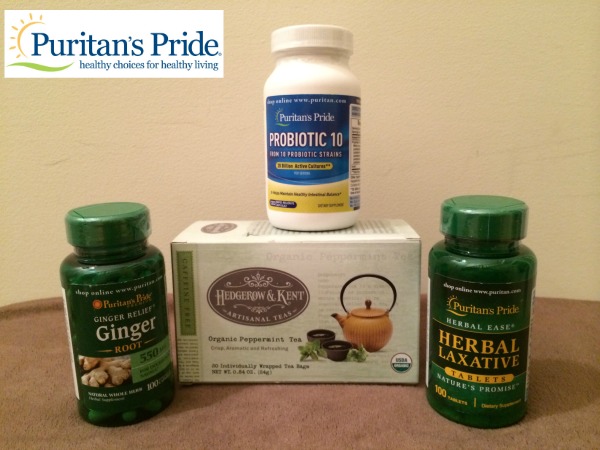 About Puritans Pride
For over 40 years, Puritan's Pride has been making top quality nutritional supplements at the best value possible. Unlike some other companies, they have remained true to their original commitment of creating high quality supplements for their customers and are proud to have millions of loyal customers throughout the United States. Most of their vitamin, mineral, herbal, and nutritional supplements are made in their state of the art facilities in the United States, guaranteeing full control of their products so that each one meets their high quality standards. With quality ingredients and amazing products, it's not surprising that everyone loves and trusts Puritan's Pride!
Puritan's Pride: Where to Purchase
Would you like to purchase some of the awesome products featured in this article?  You can purchase a full selection for vitamins, teas, and other products for men, women, children, and pets at Puritan's Pride! With their amazing prices and offers you can quality, natural vitamins at prices that are affordable for every family. Puritan's Pride now also has free shipping everyday!
Don't forget to Follow Puritan's Pride on the Following Social Media Channels for amazing deals!
Facebook | Twitter | Pinterest | Instagram | Youtube | Blog
Puritan Pride Holiday Travel Giveaway
Want to try some of the vitamins featured in this article? We are excited to be working with Puritan's Pride on this fantastic giveaway! One very lucky reader will win a Holiday Travel prize pack for adults featuring their Probiotic, Herbal Laxative, Ginger Root Supplement, and Peppermint Tea. Just make sure to read all the rules below before entering the giveaway form!
One lucky reader will win a Puritan's Pride Holiday Travel Prize Pack.
Open to US Only.
Winners will be chosen at random Random.org.
Sweepstakes ends December 17th at 11:59pm ET.
Winner will be notified via email.
Winner will have 48 hours to respond before a new winner is chosen.
Budget Earth is not responsible for prize fulfillment.
Must be 18 years or older to enter.
Only one entrant per household.
Void where prohibited.
Entering the giveaway form means you agree to terms above.
Good Luck!
Puritan Pride Holiday Travel Giveaway

Disclosure: Budget Earth did not receive monetary compensation but did receive products as payment for this post and for taking pictures. All opinions on this product are my own and may differ from our readers' opinions.
Would you like to have your products featured in a giveaway event? Want to increase your social media exposure? Contact susan.l.bewley@gmail.com to see how I can help YOUR company today!