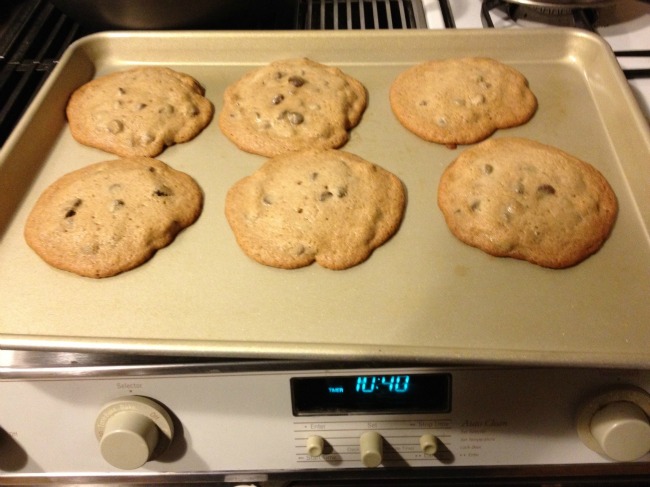 I'm not sure where it started but I'm stressed and ready for a mental breakdown, I want cookies. Not nasty store bought cookies, but the ones that come out of the oven.  While I normally only eat two or three of the cookies, baking for me is a form of stress relief. After a bad day, it's nice to see my husband smile when he comes home to fresh baked cookies. Recently, I have been tinkering with one of my favorite recipes – my Honey Wheat Chocolate Chip Cookies.
This recipe came into being when I was sick of trying to find a semi-healthy chocolate chip cookie recipe. Everywhere I looked on Pinterest or online recipe databases I could only find the EXACT same recipe everywhere. While the recipe was okay, it tasted a lot like the Nestle cookies you find on the back of the bag.  To me, a good chocolate chip cookie recipe is golden brown but has a soft, chewy texture. Most of the recipes I had tried are hard cookies that really need milk or some type of coffee.
To be completely blunt with you, my Honey Wheat Chocolate Chip Cookie recipe took me about three months to finally get right. I kept toying with the same three recipes and never really got what I wanted. It wasn't until I had started making substitutions that I made the perfect cookie. One day while making cookies, I realized I had used all of our brown sugar. Since I had already started baking, I started franticly going through the kitchen to find some kind of sweetener.  Being desperate, I decided to use some of the raw honey I bought at the local farmers market.
When my husband first tried these Honey Wheat Chocolate Chip Cookies, he was confused at first. They were wheat, but tasted amazing and had a nice, sweet taste that was out of this world! While we loved these cookies, the real test didn't come until he brought them to work.  It isn't uncommon for me to send extra baked goods with my husband to work – mostly since I find it to be a good test of the recipe and everyone in his office loves it!  I made four dozen cookies and put them in one of my large traveling plastic containers.  Within three hours, all the cookies were gone! People from other departments were coming to taste my cookies, and one meeting was cut short as everyone swarmed my husband's desk for cookies. No one believed that these cookies even had whole wheat flour!
With that sort of reaction, I thought it was time I put the cookies on the blog. While it may not be a cheap recipe, it is worth it! Just fair warning, one person did say that the cookies are a bit sweet with the honey, so you may want to cut some sugar if you make them and find they are a bit too sweet for your taste.  If you decide to make my recipe, please come back and tell me what you think!
Print
Honey Wheat Chocolate Chip Cookie Recipe
Honey Wheat Chocolate Chip Cookie Recipe
2

cups

Whole Wheat Flour I use King Arthur

1/2 Teaspoon

Baking Soda

1

Dash Salt softened

1.5

Sticks Salted Butter

1

cup

White Sugar

1/2

cup

Raw Honey

2

Eggs room temperature

1 Tablespoon

Pure Vanilla Extract

1

cup

Chocolate Chips
Instructions
Mix butter, sugar, and honey with electric mixture.
Mix together dry ingredients and put aside.
Add eggs to butter mixture.
Add dry ingredients slowly to the butter mixture.
Add Vanilla Extract when dry ingredients are mixture thoroughly to make soft batter.
Slowly add in chocolate chips.
Depending on your oven, cook for 10 – 13 minutes. Watch the cookies and take them out when they are golden brown. Leave on the pans for 5 – 10 minutes to finish cooking on the pan before removing to a wire cooling rack. Finished cookies will have a very pretty shine due to the honey. Recipe makes about 2 dozen cookies depending on size.