I Even Funnier Game Giveaway
December 10, 2013
Susan Bewley
22 Comments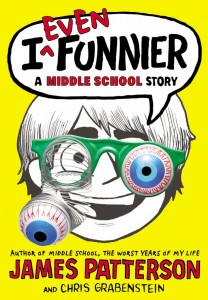 I Even Funnier is the side-splitting second installment in James Patterson's hilarious #1 New York Times bestselling series for kids!
Middle Schooler Jamie Grimm has big dreams of being a stand-up comic (even though he's wheelchair-bound) and he's not about to let anything get in his way of making his dreams come true! In this second book in the series, Jamie is off to the state finals in the Planet's Funniest Kid Comic Contest, but there's another kid who thinks he's a million times funnier than Jamie…who will win?
Filled with hilarious jokes and plenty of heart, this is the perfect book for boys and girls (psst…even those who don't like to read!)
Here is the fun part!! One reader is going to win a fantastically funny I even funnier prize package!!
This package includes -
A practical joke kit and a copies of I FUNNY and I EVEN FUNNIER!
22 Responses to I Even Funnier Game Giveaway