Oransi Robby Wash Ball Review
June 04, 2013
Susan Bewley
4 Comments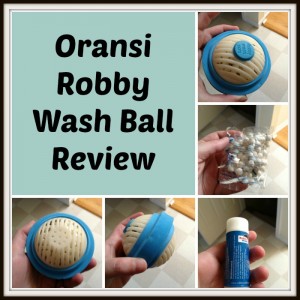 Like many people, I hate doing laundry. I know it would be so much easier if I did clothes whenever the laundry basket got half full, but half the time, it is overflowing by the time I get to it. What makes laundry even more of a hassle is finding a good laundry detergent. I hate most store bought detergents since they are filled with scary, unpronouncable chemicals, or break me out. What makes things worse is that my favorite natural laundry detergent is nowhere to be found and almost always out of stock at Alice.com, leaving me always on the lookout for new detergents. Luckily, I was able to find something new from Oransi – the Roby Wash Blue Laundry Ball. Even better, they allowed me to review it for free – allowing me to try this neat product out first hand!
Oransi Robby Wash Ball: What is It
I have to admit, I am one of those girls who loves to try gimmicks and different items that can save me money or make my job easier. The Oransi Robby Wash Ball does both! This little ball is filled with macromolecule detergent balls that are able to wash clothes in hot or cold water without ruining your clothes. This special detergent is even hypoallergenic, making it perfect for any skin type. While it is great at softening and cleaning clothes, the most impressive part is that this ball cleans laundry for a year, allowing you to deal with a year's worth of laundry for under $40. To learn more, make sure to watch the video below on how it works.
Oransi Robby Wash Ball: Does it Work?
From my own experience, I have to say I was pretty impressed with the Oransi Robby Wash Ball. To use it for the first time, all I had to do was take it out of the box, remove the packaging, and throw it in my frontload washing machine. Wanting to see how it worked, I used the ball on different types of laundry and settings, including colored loads, towels, whites, delicates, and even smelly towels from giving our puppy Reya a bath. To my surprise, the Oransi Robby Wash Ball handled all of it WITHOUT the assistance of the stain stick. It even deal with all the nasty laundry smells, leaving me with perfectly clean laundry.

Oransi Robby Wash Ball: Smell
When I first used the Oransi Robby Wash Ball, I wasn't expecting my laundry to have any scent. I thought I was going to have to use some sort of fabric softener or one of the many tips used on Pinterest to make your laundry smell nice. To my surprise, it had a very light scent that smelled light and airy. Even the towels that didn't smell so great from cleaning the puppy smelled clean and fresh after coming out.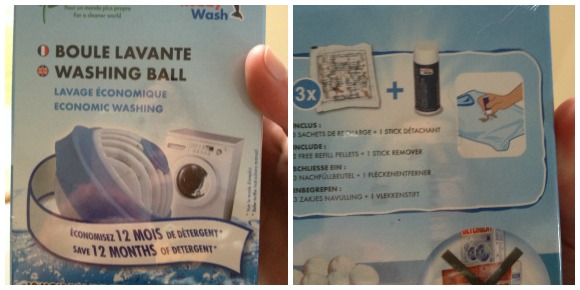 Oransi Robby Wash Ball: Overall
After trying out the Oransi Robby Wash Ball for a month, I have to say I love it! Not only does it deal with tough stains, but leaves my laundry smelling amazing. While I was skeptical about it at first, it really showed me that it's a superior option to many other laundry detergents on the market. Who knew that one little ball could save me so much time and money! In all honesty, I really couldn't find a negative thing about them, giving them a rare A+ rating in my household!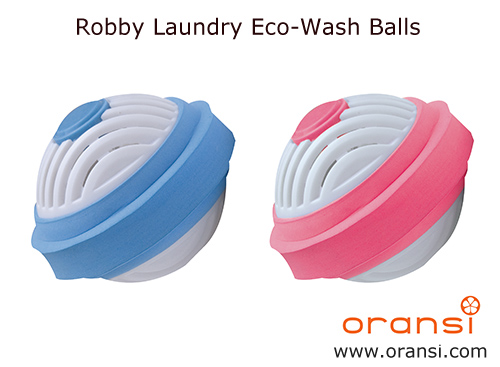 Oransi Robby Wash Ball: Where to Purchase
Want to know where you can purchase the Oransi Robby Wash Ball? You can purchase this spiffy laundry ball on the Oransi website or on Amazon.com. Since this ball is the cost of one economy-sized thing of laundry detergent, I think this laundry ball is the perfect fit for any family!

Oransi Robby Wash Ball Giveaway
Would you love to try the Oransi Robby Wash Ball out for yourself and see if it help solve your family's laundry problem? If so, we have the perfect giveaway for you! We are working with Oransi to give one of our readers the chance to win this spiffy laundry ball! To learn more, read the rules below and then enter through the Rafflecopter!
Oransi Robby Wash Ball Giveaway
1 Winner will receive a Oransi Robby Wash Ball.
Open to US Only.
Winner will be chosen at random through Rafflecopter via Random.org.
Giveaway ends June 25th at 11:59 pm EST.
Winner will be notified through email.
Winner will have 48 hours to respond before new winner is chosen.
Must be 18 Years or Older to Enter Rafflecopter.
Entering the Rafflecopter means you agree to terms above.
If you have any questions, feel free to email budgetearth@gmail.com
Good Luck!
Disclosure: Budget Earth did not receive monetary compensation for this review and giveaway, but did receive a Oransi Robby Wash Ball from Oransi. All of the opinions on this blog are the opinions of said author and these opinions may differ from your own.
4 Responses to Oransi Robby Wash Ball Review