With Thanksgiving being right around the corner, many of us are already looking for some awesome recipes for our family. We want something at the table that isn't just the same boring classic foods, but foods that make everyone look forward to Thanksgiving for many years to come. Since I will be helping out with Thanksgiving dinner, I am already going through cookbooks looking at various dishes. Since I am a big fan of my Kindle (and the price of Kindle books), I have started looking through various Kindle cookbooks, looking for great deals and recipes that I think everyone in my family will love!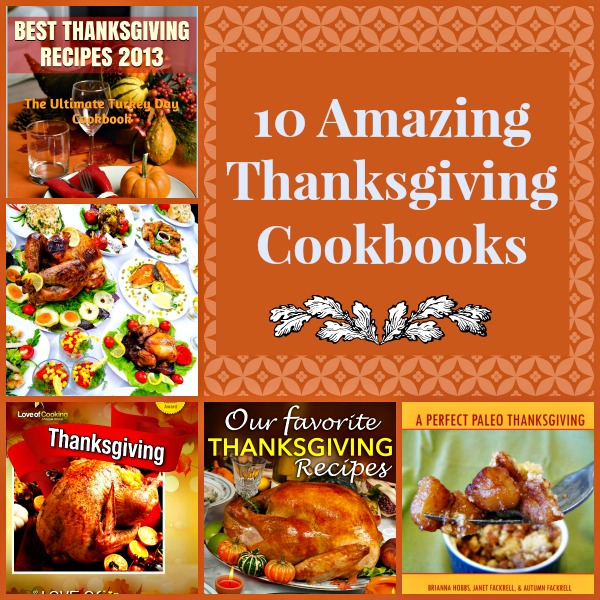 Get Best Thanksgiving Recipes for 2013: The Ultimate Turkey Day CookBook
for FREE! Originally $2.99.
These are the most delicious meal & food recipes of the year 2013. Now that it's time for thanksgiving, you must put these delicious recipes into your mouth! They are family secret recipes, passed down as long traditions. Happy thanksgiving, and enjoy these delicious recipes that you must not miss out on!
Get Our Favorite Thanksgiving Recipes
for only $2.99!
There is nothing quite like spending time with loved ones over an amazing meal, let alone a Thanksgiving feast. In this recipe collection, only the most delicious of dishes made it in. Whether you are hosting the feast or bringing a dish of your own, these recipes will make your meal extra memorable. The recipes are spread out amongst several cooking methods, so you do not have to spend all day waiting on the oven.
Get A World of Thanksgiving Cookbook
for $2.99.
30 Thanksgiving recipes gathered from different places around the world all combined in this unique cookbook. This cookbook is loaded with information on how and when each country celebrates this special day.
Get Thanksgiving at Your House: How to Host a Traditional Thanksgiving Dinner Without Losing Your Mind
for only $.99.
Hosting Thanksgiving at your house this year? This short (19 page) guide will help you plan, organize, and wow the crowd with your cooking. Includes eleven mouth-watering recipes: Roasted Turkey, Cornbread Dressing, Vegetable Medley, Cheese Rolls, Cranberry Sauce, Chocolate Mousse Pie, and more.
Get Thanksgiving and Christmas Recipes (Delicious Recipes)
for just $2.99.
Take the stress, anxiety, and hours of attentive cooking and baking out of traditional holiday cooking. With simple, fool-proof recipes for classic Thanksgiving staples, as well as new takes on old standbys, this book will show you that thanksgiving does not have to be a day of kitchen stress, of dry boxed dry stuffing and commercial pies. You can make a better turkey than anyone has ever served you in your life, and you can serve it with gravy that is not lumpy or bland but has a rich in flavor, that transforms all it touches. Here are recipes for exciting side dishes and robust pies and festive cocktails, too setting the mood, as well as cooking techniques and menu ideas that will serve you all year long.
Get Holiday Recipes for all the Holiday Gatherings – featuring traditional Thanksgiving and Christmas Recipes
for only $2.99.
I created this Holiday Recipes book for those who enjoy entertaining during the holiday season. These recipes feature both traditional and unique versions of all the favorite holiday meals. This Christmas and Thanksgiving cookbook provides complete meal ideas including the delicious desserts for ThanksgivingChristmas recipes. Host a holiday gathering, or bring a favorite dish using the recipes within this Thanksgiving and Christmas recipe book. Even if you are cooking the meal for the day on Thanksgiving or Christmas, the family will love the food as they gather around the table for the feast.
Get Easy Thanksgiving Recipes: 29 Fast, Delicious And Easy Thanksgiving Recipes (Love Of Cooking Holiday Series)
for only $2.99.
We are so excited to bring you our newest holiday book. Love of Cooking: Thanksgiving is filled with wonderful recipes. These are dishes that have graced our table for all my life. To add some variety we asked friends & family to contribute some of their traditional Thanksgiving recipes.You will love having the choice of several dressings & different ways to fix your turkey. There are so many delicious sides it will be difficult for you to pick which one to fix. I have to tell you that the desserts are so wonderful that you may have to make all 3. From snacks that can be fixed in advance to wonderful extras to help make your "Turkey Day" a hit you will Love Love of Cooking: Thanksgiving.
Get A Perfect Paleo Thanksgiving
for only $2.99.
Many of us who want to eat healthier find it very difficult during the holidays. There are so many tempting dishes that are made only during the holiday season. With this cookbook you can enjoy the holidays, not feeling deprived at all, and still eat healthy. With recipes for everything for the perfect holiday meal, creating a healthy and delicious Thanksgiving feast has never been easier. Paleo recipes contain no grains, no refined sugar, no legumes, and no dairy. This may seem like a lot of no's, but you won't notice that they are missing. This cookbook contains a delicious, paleo version of all the traditional Thanksgiving dishes, including more pie than you can eat. You won't feel deprived, you will be healthier, and you feel good about it.
Get Talk Turkey to Me
for only $2.51! Original price is $2.99.
AS SEEN ON FOOD NETWORK! Find out why it's like having Mom in the kitchen with you only better! Not just a roast turkey how-to, but your kitchen companion for planning the perfect feast plus…your guide to avoiding culinary catastrophes! With step by step instruction featuring everything from sage advice, humor, and cooking time guides, TALK TURKEY TO ME also illustrates over 80 delicious side dish recipes from appetizers to desserts, fowl kitchen follies and formulas for success. With mouth watering photography and eloquent counsel, TALK TURKEY TO ME is seasoned with great ways to cook up a good time in the kitchen. Become your own expert and order your copy today!
Get Thanksgiving Recipes – 50 Thanksgiving Recipes – Tips in Making Homemade Thanksgiving Recipes
for only $2.99.
This is the kindle version of the popular book on Kindle "Thanksgiving Recipes" written by: M. Smith & R. King-Edited by SMGC Publishing This book is full of delicious Thanksgiving Recipes for the family and will please even the most finicky eaters. Inside you'll find 50 Thanksgiving Recipes that are made to please everyone. Also included are Tips for Cooking that will help you make perfect and delicious meals everytime. You'll also get information on our famous CopyCat Restaurant Recipes. Save time and money. Get your copy today and begin enjoying great Thanksgiving Recipes while eating healthy today.