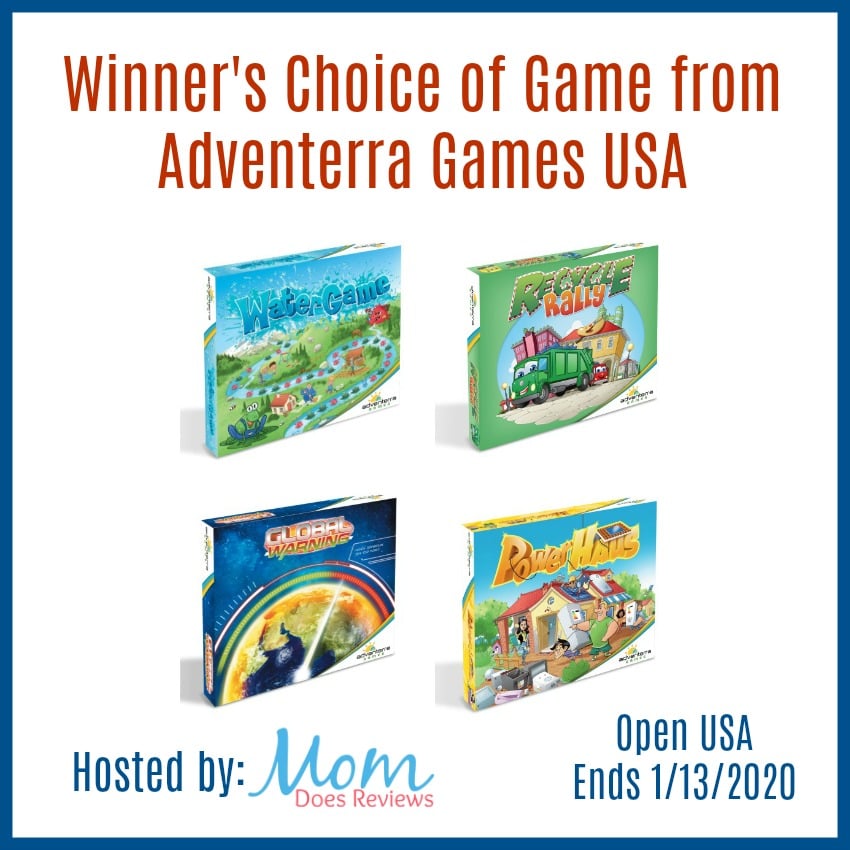 This giveaway is sponsored by Adventerra Games USA and hosted by Mom Does Reviews.
We create and develop educational games for children that are focused on environmental themes. Our unique games were created from our desire to inspire families to respect nature and safeguard our planet. ​While playing our simple and enjoyable board games, players intuitively learn new behaviors that reduce their ecological footprints. When these behaviors become lifetime habits, players will have become super-heroes for the planet!
About the prize/product:
Winner will receive their choice of a game from the following games at Adventerra Games USA:
Do you practice ways to save water around the house? What about protecting the waterways in your state or region? The Water Game is based on teaching children what good habits they need in order to save water every day. As players move along, they are faced with quizzes and challenges to stress the importance of water in the world. Rated for ages 7 and u,p however some younger children will be able to play with a little assistance.
Does your city or county offer recycling bins? Do your children know how to sort trash between bins? I admit there were several items I had to stop and think about or look up. It's not as clear-cut as you would think! In the Recycle Rally game, children are taught how to properly separate waste. The rules have two levels, those for 7+ and those for over 10.
Have you ever heard your parents yell "close the door, I am not heating the outside"? That was a favorite one of mine when we didn't go out quickly enough. As that cold blast of winter air barrels inside the house, did you know that it can take up to 15 minutes to recover? Think about that for a minute. Every time you open the door to the elements, it takes 15 minutes at least for your house to balance the temperature. Mind blowing! And if you keep the temperature to one extreme or the other, the time only increases.
In the Powerhaus game, children learn not only about energy but about ways they can help to conserve it at home and in their community. What are simple things that we can do to reduce energy waste? This game is rated for ages 7 and up but younger children can enjoy playing it, too.
How much do you really understand about global warming? Do you know which environmental issues that, if not resolved with the right solution cards, cause an increase in the earth's temperature? In the Gobal Warning game your teams, because teamwork is needed to win, will challenge eachother to solve the greatest number of environmental problems afflicting Earth today. Due to the depth of the topic, this game is rated for ages 10 through adult.
ENTER TO WIN!
One lucky reader will win their choice of one of the following games: Water Game, Recycle Rally, PowerHaus, and Global Warning.
The giveaway is open to USA.
The giveaway ends 1/13/2020 at 11:59 PM EST.
Be sure to come back daily for more chances to win!
Good luck!