Picadillo - Super Easy Ground Beef Recipe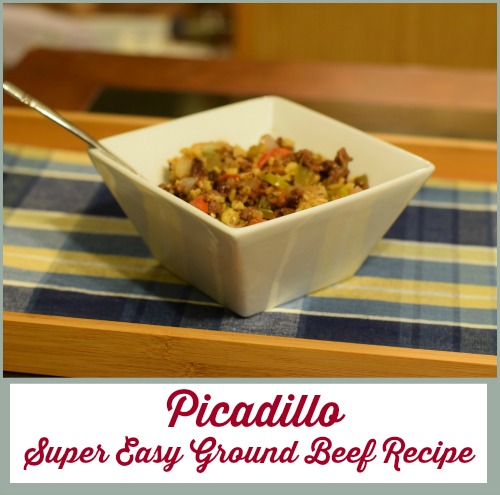 1 lb Ground Beef
1 Large Yellow Onion
1 Tbsp Garlic (I use jarred garlic)
3 Roma Tomatoes
1 Green Pepper
½ Cup Raisins
½ Tsp Salt
2 Tsp Ground Cinnamon
2 -3 Tsp Ground Clove (I use a mortar & pestle to grind my own whole cloves down)
½ Cup Sliced Pimiento-Stuffed Olives (aka Salad Olives)
Precooked Brown or White Rice.
Chop tomato, green pepper, and tomatoes with a sharp knife. Set aside.
In a large pan (10 - 12 inches), cook the ground beef and garlic on medium heat until the beef is thoroughly cooked.
Add the chopped tomatoes, chopped green pepper, chopped tomatoes, raisins, salt, cinnamon, and clove to the pan. Cook for five minutes, stirring constantly to make sure all the vegetables are evenly cooking.
Lower the heat to low and cover. Cook for 12 minutes.
Remove cover and mix in the olives. Cook for another 2 minutes.
Remove from heat and stir the picadillo. Server hot over rice.
Recipe by
Budget Earth
at https://www.budgetearth.com/picadillo-super-easy-ground-beef-recipe/