Slow Cooker Banana Blueberry Bread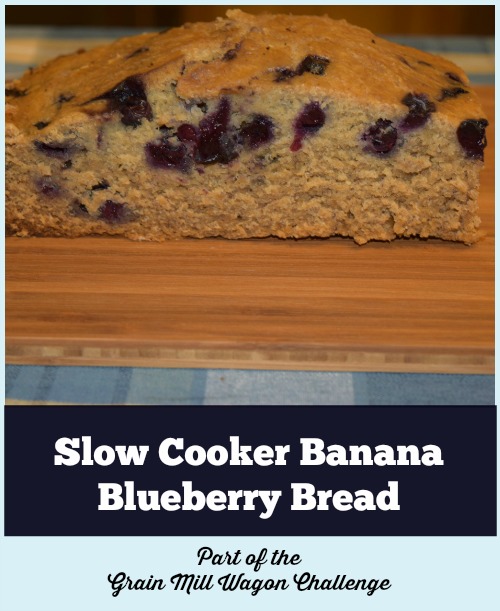 1¾ Cups of Milled White Wheat Flour (All Purpose Flour works too)
2 Tsp baking Powder
½ Tsp Sea Salt
¼ Tsp Baking Soda
½ Cup Room Temperature Butter (1 stick)
⅔ Cup Sugar
2 Eggs
3½ Tsp Honey
3 Bananas
½ Cup Fresh Blueberries
4½ - 5 Quart Slow Cooker (do not try it in a larger slow cooker)
Grease & flour slow cooker bowl.
Grind your flour in the mill. If you are using all purpose flour, skip this step.
Mix together all the dry ingredients EXCEPT for the sugar in a large bowl. Set aside.
In a stand mixer, mix together the butter, eggs, sugar, and honey. Make sure the mixture is very evenly mixed.
Break up the bananas and slowly add to the mixer on medium speed. The bananas should be fairly well mixed before moving forward.
Slowly start adding the flour mixture. To avoid a mess, do it in small batches (I use a ¼ cup measuring bowl).
Pour mixture into your greased slow cooker.
Make sure the blueberries are thoroughly washed and then drop them into the slow cooker. Mix slowly with a spoon to make sure they are evenly distributed throughout the batter.
Cover the mixture and bake for 1 hr 30 minutes in your slow cooker on high heat. When finished, a knife or baking tester should come out clean.
Let sit in the slow cooker until thoroughly cooled and the gently remove.
Recipe by
Budget Earth
at https://www.budgetearth.com/slow-cooker-banana-blueberry-bread-recipe/