Apple & Cinnamon Squash Boats Recipe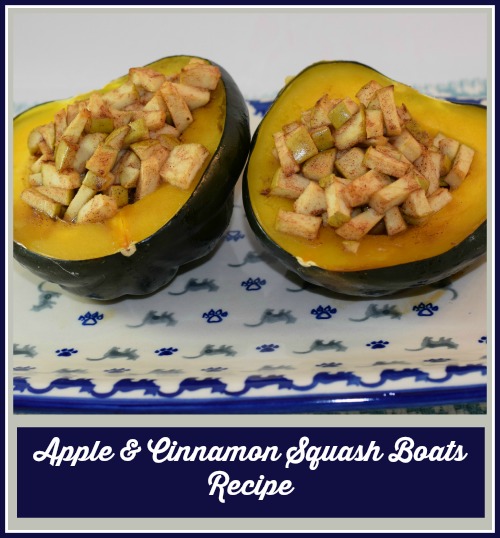 2-3 Granny Smith Apples (diced or cubed)
2 Acorn Squash
4 TBSP of melted butter
½ Cup Brown Sugar
2 TBSP Lime Juice
2 TBSP Water
2 Tsp Cinnamon
) Preheat the oven to 400 degrees. While the oven is preheating, with a very sharp knife cut the acorn squash in half longwise and clean out the center strings and seeds.
) Place the acorn squash face down on a pan or baking dish with a half-inch (or higher) lip or ledge. Fill the pan with one-quarter to one-half inch of water – this seals the squash, preventing them from drying out while the inside is cooking.
) Carefully place the pan in the oven, where you will be baking the acorn squash for 20 minutes.
) While the squash is baking, mix the melted butter and apples, making sure they are covered thoroughly with butter.
) Mix the brown sugar, lime juice, water, and cinnamon in with the apples. Make sure everything is coated evenly.
) Remove the baked acorn squash from the oven and very carefully flip the acorn squash so that the centers are facing up. Do not dump the water.
) Fill the center of each of the squash halves with the apple mixture. Once filled, very carefully move the pan back to the oven and cook for another 20 minutes.
) Once finished, let cool for 5 - 10 minutes before serving. Serve warm.
Recipe by
Budget Earth
at https://www.budgetearth.com/apple-cinnamon-squash-boats-recipe/