The Last Cheescake Recipe You'll Need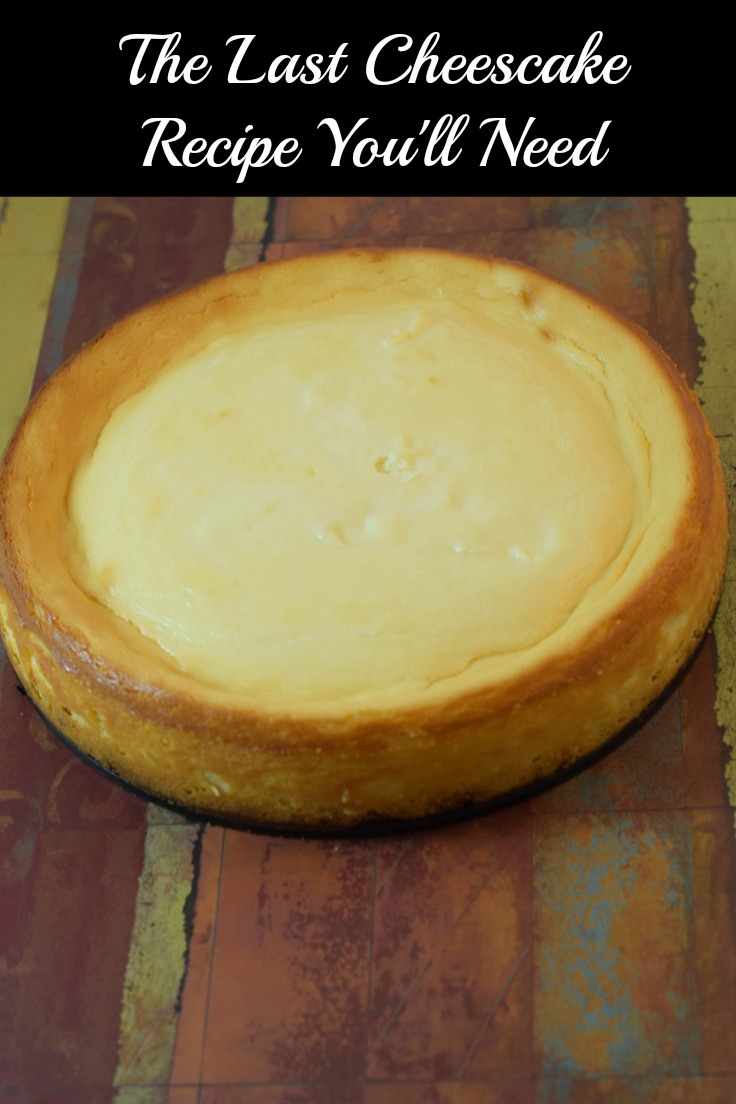 1 stick (4 oz.) butter
¾ cup graham cracker crumbs
2 pounds cream cheese, allow to warm to room temp.
1 cup sugar
2 Tbsp flour
2 eggs
2 Tbsp vanilla
1-2 oz Amaretto
OR
2-3 oz. Kahlua OR other flavored alcohol(s), as desired
Springform or pie pan (make sure it's large and deep, this cheesecake will fill two ordinary 8" or 9" by ¾"-1" pie plates!)
Cookie sheet with raised edges - optional
Preheat oven to 350 degrees
Melt the butter.
In your pie plates or springform pan, mix the butter and graham cracker crumbs, then press down to form the crust.
Bake the crust for 10 minutes, then pull out and set aside. While this bakes, start the filling.
Mix cream cheese, eggs, sugar, and flour.
Add flavoring (vanilla and amaretto, or other liquors/liquers)
Blend until almost smooth, but no longer than 6 minutes.
Pour into the pie plate(s)/springform pan.
For a perfect look at the end, fill a cookie sheet/baking tray with water, and put it on the rack below the pan(s). Without this, the surface of the cheesecake will crack and cool unevenly - same great taste and texture inside, but it won't be picture-perfect.
Place the cheesecake pan(s) in the oven and bake at 350 degrees for 1 hour. It will likely not look 'done' in the center, but that's just fine.
After baking finishes, allow to cool outside of the refrigerator for ~1 hour. (Grab a book and a metal spoon, with the scent of this you may need to deter prowling children, siblings or parents during this time!)
Chill for at least 4 hours, or overnight if possible.
Enjoy with a good coffee!
Recipe by
Budget Earth
at https://www.budgetearth.com/the-last-cheescake-recipe-youll-need/