Cupcake Easter Basket Recipe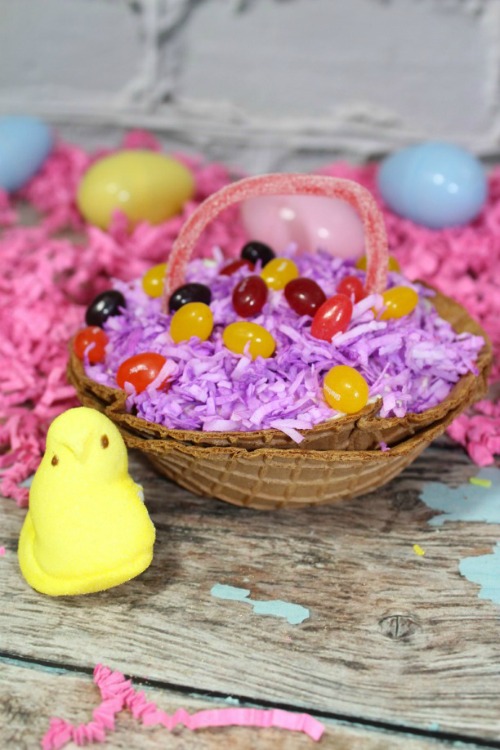 2⅔ cups sugar
1 cup (2 sticks) unsalted butter, cut into 1-inch pieces
2 large eggs
2 large egg yolks
⅔ cup milk
⅔ cup water
2½ teaspoons pure vanilla extract
2⅔ cups all-purpose flour
1⅓ cups cake flour
4 teaspoons baking powder
½ teaspoon fine salt
Package of Waffle Bowls
¾ cup butter, softened
2 packages (3 ounces each) cream cheese, softened
1 teaspoon vanilla extract
3 cups confectioners' sugar
1 teaspoon water
4 drops green food coloring
1-1/2 cups flaked coconut
Jelly beans (I prefer YumEarth's Organic Jelly Beans)
4 large sugar cone bowls
Preheat oven to 350 degrees.
Mix the sugar and butter until its creamed (about 1 -2 minutes).
Add the eggs and yolks to the butter mix one at a time. Mix thoroughly.
Add milk, water, and vanilla to the butter mixture. Mix thoroughly.
Using a different bowl, mix together the flour, baking powder, and salt.
Mix the dry ingredients with the wet ingredients until fully mixed.
Evenly pour the batter in large sugar cone bowls (about ¾ of the way full).
Back for 18 to 25 minutes. You know they are finished when the cake is firm but springs back gently when pressed.
Allow to cool completely before icing.
Mix butter, cream cheese, and vanilla until smooth.
Gradually add confectioners' sugar. Mix well.
Once fully blended, ice mini cakes.
Combine water, food coloring to a re-sealable plastic bag. Mix well.
Add coconut to a plastic bag. Mix well or until the color is even on coconut. Sprinkle over cakes.
Decorate with jelly beans and candies of choice.
Recipe by
Budget Earth
at https://www.budgetearth.com/cupcake-easter-basket-recipe/