Mom's Amazing Stuffing Recipe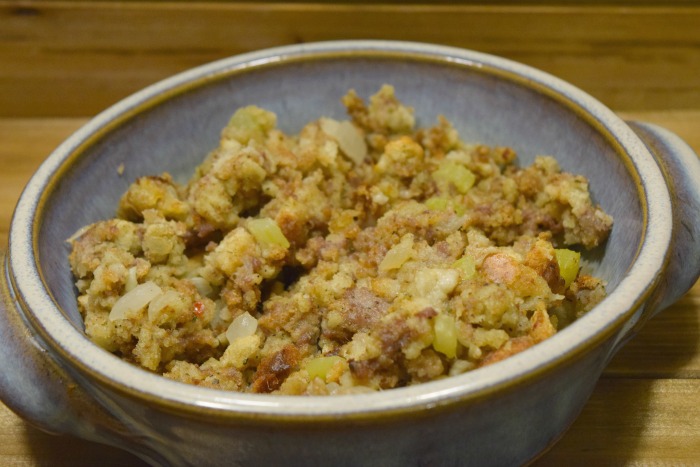 (1) 14 ounce package Pepperidge Farm herb seasoned stuffing bread
(1/2) day old loaf Klosterman wheat bread, sliced & cut into small cubes and baked in pre-heated 400 degree oven on medium shelf for about 5-6 minutes
(1) 1 lb roll of Tennessee Pride mild sausage, uncooked, cut into eight slices
(4 to 6) fresh celery stalks, washed, peeled and cut into very small pieces
(1) medium onion, washed, peeled and cut into tiny pieces
(1) 15 ounce can low-sodium chicken broth, or your own chicken broth (do not add salt to broth)
Dried seasonings for chicken broth: (1/2) teaspoon poultry seasoning, (1/2) teaspoon celery powder, (1/2) teaspoon dried parsley flakes, pepper to taste
½ stick melted butter or margarine
(1) half size aluminum disposable pan
Sautee onion & celery pieces in fry pan with small amount of canola oil until soft. Remove and set aside.
Add dried seasonings to chicken broth and heat on stove, or in microwave (not too hot to handle with hands)
Lightly spray sides and bottom of half size aluminum pan with canola oil.
In aluminum pan, mix Klosterman wheat bread cubes with Pepperidge Farm Herb Seasoned stuffing mix.
Add sautéed onion and celery evenly over bread mixture.
Evenly add sliced, uncooked sausage to mixture.
With a tablespoon or small ladle, slowly add heated chicken broth evenly to mixture, as you slowly combine with your hands. Mix all ingredients until evenly distributed and slightly moist. Do not over-mix, bread mixture should be moist but not mushy, and should not be hard or dry.
When mixture is evenly distributed in aluminum pan, with a pastry brush lightly brush melted butter over top of mixture. Cover top with aluminum foil.
Bake in 350 degree oven on medium shelf for about 30 minutes. Check after 30 minutes to see if done. Remove aluminum foil and bake for an additional ten minutes until evenly browned on top. Sausage should be completely cooked and stuffing should be lightly browned. DO NOT OVERBAKE OR DRESSING WILL BE VERY DRY.
Recipe by
Budget Earth
at https://www.budgetearth.com/moms-amazing-stuffing-recipe/