Coconut Apple Surprise Recipe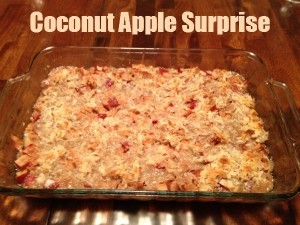 4 Cups Jonathon Apples cubed
1 Lemon juiced
2 Cups White Sugar
1 Teaspoon Cinnamon
1½ Cups Shredded Coconut sweetened
1 Can Evaporated Milk 5 oz can
1 Egg I prefer organic or natural
2 Teaspoons Pure Vanilla Extract
½ Cups Butter melted (crust)
1½ Cups All Purpose Flour prefer King Arthur (crust)
¼ Teaspoon Salt (crust)
Preheat the oven to 350 degrees
With a hand or stand mixer, mix together the butter, flour, and salt to make the crust until it forms a crumbly mixture. When finished, gently press into a 9" x 13" baking pan.
In a separate bowl, mix together the lemon juice and cubed apples. Once thoroughly mixed, pour the apples over the crust.
Mix 1 cup of sugar and the cinnamon in a bowl. Sprinkle this sugar on top of the apples.
Place the apple dish in the oven for 20 minutes (make sure it is preheated to 350 degrees!)
While the dish is baking, mix together the coconut, remain sugar, evaporated milk, vanilla, and egg.
When apple dish comes out of the oven, spoon the coconut mixture on top of the apples. Make sure it is spread over the apples evenly.
Place the Apple dish back in the oven for another 20 minutes. When finished, it should be slightly brown on top and bubbly.
Let the dish cool completely before serving.
Recipe by
Budget Earth
at https://www.budgetearth.com/coconut-apple-surprise-recipe/