Slow Cooker Blueberry Oatmeal Recipe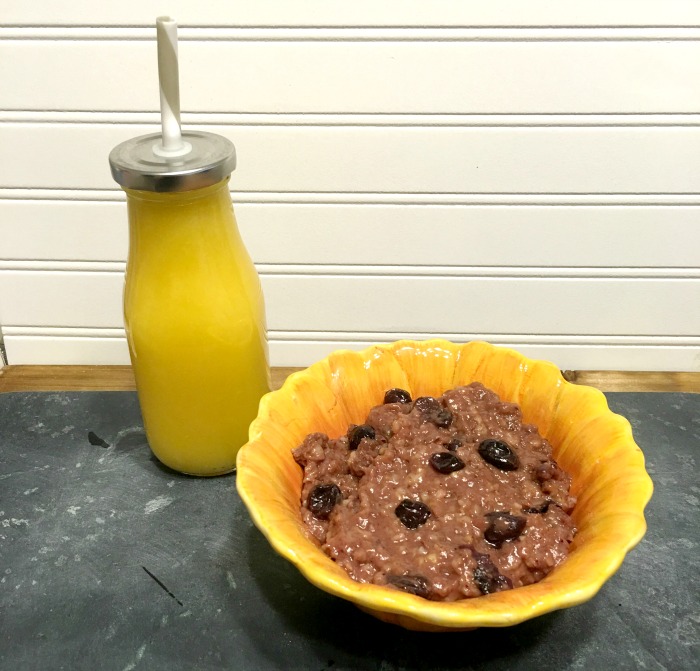 2 Cups Steel Cut Oats
½ Cup Brown Sugar (tightly packed)
2 Tablespoons Cinnamon
1 Teaspoon Nutmeg
1 Large Vanilla Bean
32 oz Blueberries
½ Stick Salted Sweet Cream Butter
1 Cup Heavy Cream
6 Cups of Water
Pour the steel cut oats, brown sugar, cinnamon, and nutmeg in your slow cooker. Mix thoroughly.
Pour the heavy cream and water in your slow cooker. Mix thoroughly and make sure the cinnamon isn't clumping. If it is, mix more or it will stay clumped during cooking.
In a microwave safe bowl, melt the butter. Pour into slow cooker and mix thoroughly.
Cut the large vanilla bean in half and then with a sharp paring knife, split the bean in half long wise. With a spoon, scrape out the inside of the vanilla bean and add this to the pot. Repeat with the other half of the large bean. Once the seeds are in the oatmeal mixture in the slow cooker, place the bean husks in as well. Make sure to stir well.
Pour the blueberries into the slow cooker and stir to spread them out evenly.
Put the top on your slow cooker and cook for 8 hours on low. Before serving, make sure to discard the vanilla bean husks.
Recipe by
Budget Earth
at https://www.budgetearth.com/slow-cooker-blueberry-oatmeal-recipe/