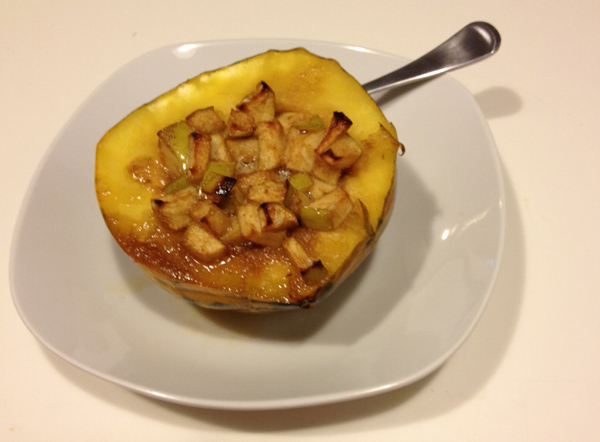 2 Cups Granny Smith or Jazz Apples, Diced or Cubed
2 Whole Acorn Squash
4 Teaspoons Butter, Melted
½ Cup Brown Sugar
¼ Cup Orange Juice, We Use w/Pulp (your choice)
2 Teaspoons Lemon Peel, (optional)
Preheat the oven to 400 degrees.
Cut both of your acorn squash in half. (Make sure you have a sharp knife, since they are not easy to cut!) Once you have them cut into four halves, clean them thoroughly, getting all the seeds out.
Place the acorn squash face down on a pan with a one to two inch lip or ledge around the edge. Fill the pan with one-quarter to one-half inch of water – this seals the squash, preventing them from drying out. Carefully place the pan in the oven, where you will be baking the acorn squash for 20 minutes.
While baking the acorn squash, begin dicing up the apples into small cubes, and melt the butter in the microwave.
Thoroughly mix the apples, butter, and remaining ingredients (brown sugar, orange juice, and lemon peel) in a bowl.
Remove the baked acorn squash from the oven. Do not dump the water. With two forks, very carefully flip over the acorn squash halves where they are facing straight up.
Fill the acorn squash halves with your apple mixture. Once they are filled, very carefully move the pan back to the oven, cooking the squash in the oven for another 20 minutes. Let cool for five minutes on plates before serving.