Broccoli Cajun Pasta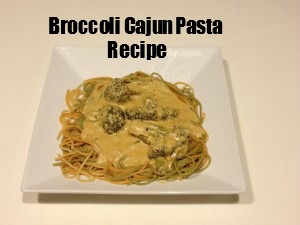 1 lb Broccoli Crowns fresh
⅛ Cup Cajun Seasoning adjust to taste
½ Cup Butter
2 Cups Half & Half
¼ Cup Sun Dried Tomatoes Chopped
2-4 Cloves Garlic (I use bottled garlic)
1 Box Ronzoni Garden Delight Spaghetti
½-1 Cup Parmesan Cheese
1 teaspoon Arrow root OR 1 TBSP Cornstarch
Clean and cut up broccoli florets. Steam cook broccoli before starting the recipe. We use our rice cooker or a steaming basket attachment for our spaghetti pot.
Cook pasta according to box instructions. I use the veggie pasta for the extra nutrients and fiber.
While pasta is cooking, melt butter in a pan. Next, put in garlic. I use bottled garlic, so I use about 1 -2 teaspoons of garlic. If you are using fresh garlic, don't forget to use a garlic press. Saute garlic but make sure not to burn the garlic.
Measure the half and half, and mix in the arrow root or corn starch. Mix it first to make sure you don't have lumps!
Place the milk mixture, Cajun seasoning, and parm. cheese in butter mix. Cook until thickened.
Carefully place cooked spaghetti if finished in Cajun sauce. Next, stir in cooked broccoli, making sure both are covered with sauce completely.
Add sun dried tomatoes to pasta before serving. Serve hot.