Disclosure: This is a sponsored post for a brand new pet site – Why Does My Dog.  I received product and/or monetary payment for this promotion. All opinions in this article, however, are honest and my own.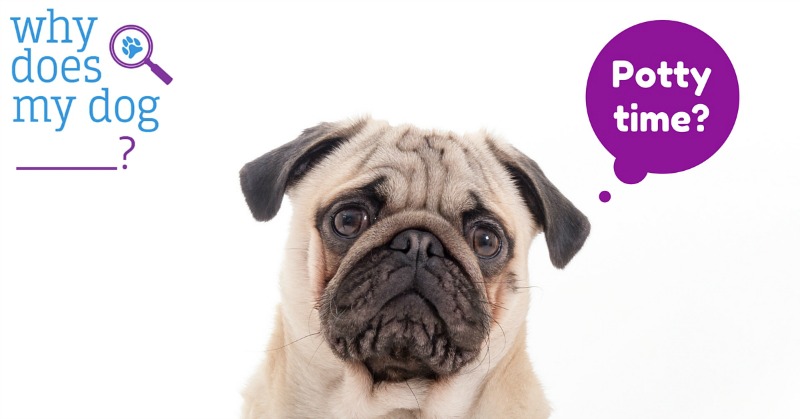 While puppies are full of cuteness, there are some things that dog owners just don't look forward to when a new puppy enters the home. One of the tasks that most owners dread is potty training. One of the worst is when Fido decides to use the bathroom right in front of you, with you standing there watching!
Why would he do that? Aly DelaCoeur, Founder of whydoesmydog.com has some answers for you. Make+ sure to watch for signs that show your puppy starting to potty. He will be circling and sniffing around. Simply say "Ah-ah" and have him go outside.
If he starts to pee, say "Ah-ah" to interrupt him. Pick him up and take him outside. There will be a trail of poop or pee and it will get on you, but this is the best way to teach them that it's not okay to potty inside.  Give a lot of praise when he finishes outside.
Remember, if you did not see the accident happen, you CANNOT do anything about it except clean it up.
The key takeaways:
If you see your puppy or dog starting to pee or poo right in front of you simply interrupt him with an "Ah ah" or "Oh No" or "Not here" firmly.
If your dog or puppy has not started yet, just walk them outside. If they are mid-stream, pick your puppy or dog up and get them outside as soon as you can. Do not get upset or angry at your dog or puppy as they won't understand.
To learn more about potty training, make sure to also check out Aly's video on the basic of potty training!
Aly DelaCoeur combines her love of dogs, years of experience, and the most up-to-date animal behavior science in
whydoesmydog.com
. Her goal is to help you and your dog have a fuller, happier, and more rewarding relationship. Our unique platform optimizes content for consumption and sharing. Content is presented in mobile-optimized, short, to-the-point pieces designed to give just the information the user is looking for whenever they need it. All WhyDoesMyDog.com content is Creative Commons licensed to encourage sharing and reuse.
Disclosure: Budget Earth received monetary compensation for this post. All opinions are my own and may differ from our readers' opinions.
Would you like to have your products featured in a giveaway event? Want to increase your social media exposure? Contact susan.l.bewley@gmail.com to see how I can help YOUR company today!