Disclosure: This is a sponsored giveaway with Mums the Word Network and Johnson and Johnson. All opinions are my own.
Many of us think of illness as something that only happens during the winter, often to the point of neglecting precautions we would take in colder times. We know that winter is the perfect time for the flu, but people rarely talk about illness during the summer months. It is usually a surprise to parents when they are dealing with summer colds, or flu-like symptoms when it's 90 degrees outside and other children are playing happily outdoors.  Sometimes these apparent illnesses can be caused by something many of us don't consider kids suffering from – airborne allergies.
Yes, that's right, kids suffer from common allergies just like adults. Cut grass, flowers, shed animal fur, or even just being in contact with others playing outside who have been near these common allergens can cause trouble. Luckily, there are a variety of amazing products on the market to help children who suffer from summertime allergies. Best of all, they don't cost a small fortune, especially if you use family favorites from Johnson and Johnson.
To make summer even better for parents, Johnson & Johnson has made life easier for parents by grouping their products into their helpful Healthy Essential categories. All of these categories are designed to help active families who are outdoor all summer. Their goal is to help make sure kids are not only healthy during the summer months, but happy as they are creating fun memories with their family and friends.  Need to find the right Healthy Essentials Rituals™ for your own family? You can find their products grouped in the following categories:
Meet The Lineup – Family health essentials perfect for any busy family.
Play It Sun Safe – Products to keep everyone safe in the sun.
Give Your Kids Relief – Way to fix boo boos & injuries to keep kids playing and happy.
Defend Baby's Skin – Amazing skin care solutions for little ones.
Kick It With Neutrogena – Skin care products for men of all activity levels.
Tackle Allergies – Allergy relief for children and adults alike.
Of course, Johnson & Johnson wouldn't stop at making shopping easy for parents. They also created a variety of useful smartphone apps that are a perfect lineup for busy parents. Many of these apps turn your phone into a personal first aid kit, giving you tips to handle common but potentially dangerous injuries – if a child is strung by a bee, or even simply how to care for a nasty scrape after a fall on the soccer field. You can learn more about these awesome apps and where to download them here.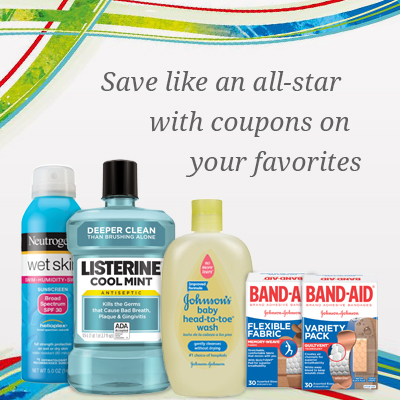 Want to know what else Johnson & Johnson is doing to make your summertime parenting even easier? They are offering amazing money saving deals on their products with
free printable coupons
. With over $40 in coupons you can stock up on all of your essentials without breaking the bank!
Before you go off to download these amazing coupons, don't forget to enter the giveaway below.  Five (5) very lucky readers will win a $50 Wal-Mart gift card, allowing them to save even more with the printable coupons above! Don't forget to enter quickly though, since this giveaway ends on August 7! Good luck everyone and enjoy some amazing money saving deals from Johnson & Johnson!
Johnson & Johnson Healthy Essentials July
Disclosure: Budget Earth receive monetary compensation for this post. All opinions, however, are my own and may differ from our readers' opinions.
Would you like to have your products featured in a giveaway event? Want to increase your social media exposure? Contact susan.l.bewley@gmail.com to see how I can help YOUR company today!