As many of you know, I like trying out different pain relief products. For those who know me, you know I am pretty accident prone. I fall and trip constantly throughout the day. Really – I am a walking disaster waiting to happen on some days. It really is a miracle I haven't broken anything yet (at least I think). Recently, I was asked to try out a new herbal pain killer – JOW Topical Pain Relief Gel. Having never tried out any type of traditional Chinese medicine products – I thought it would be worth a try!
JOW Topical Pain Relief Gel
For those who hadn't heard of JOW Topical Pain Relief Gel, it is a natural pain reliever based on traditional Chinese medicine. This small family business in Rockland Country, NY perfected this formula to create an all natural, affordable pain reliever that is perfect for all budgets. Best of all, it is made right here in the United State and is not tested on animals. JOW is made using combinations of herbs that were soaked for several months, allowing the healing properties of the combination to extract into the liquid. From there, the herbs are strained and the liquid is bottled for sale.

JOW Topical Pain Relief Gel: Smell & Look
If you are looking for a product that has a fairly neutral smell, I will be the first to tell you that this is not the product for you. JOW Topical Pain Relief Gel has a very strong, unique smell. This is mostly due to the fact that it does not contain any perfumes. Really, I don't the smell would be so bad if it didn't have alcohol as the first ingredient. As for the pain reliever itself, it is a very thin liquid with a brownish tint. Once it is rubbed in and absorbed into your skin, it no longer looks brown and doesn't stain from what I have seen.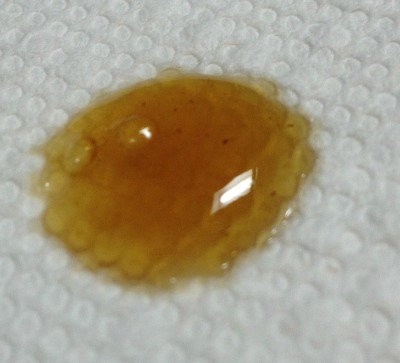 JOW Topical Pain Relief Gel: Effectiveness
I have tried JOW Topical Pain Relief Gel off and on for the past two weeks. For minor to moderate pain, I would say that it works great. It is great at dealing with minor bruises and strained muscles. Major pain, however, takes quite a few applications. It took about four applications before it dulled my knee pain. From my experience, it seems to work best as a massage oil, especially after a tough workout. With the cool feeling it has after it's applied, it is perfect for relaxing!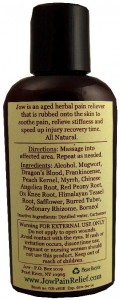 JOW Topical Pain Relief Gel: Overall
From my own experience, JOW Topical Pain Relief Gel does seem to work. It does seem to relieve pain temporarily and at least dulls the chronic pain a bit from my knee. My biggest issue with JOW is that it does have a very strong smell and takes a long time to dry. This isn't the type of product you can throw in your purse and go. I could see this working best as a type of massage oil if you are sore after a workout or dealing with minor pain. Based on my own experience, I would give this product a B rating.
JOW Topical Pain Relief Gel: Where to Purchase
Currently, you can purchase a bottle of JOW Topical Pain Relief Gel on their website or Amazon.com. The little bottle of JOW that I tried goes for about $12.99 on Amazon. To learn more about JOW, feel free to check out their Facebook fan page or their product page on Amazon.com.
Disclosure: Budget Earth did not receive monetary compensation for this review and giveaway, but did receive a bottle of JOW for review purposes via Tomoson.com. All of the opinions on this blog are the opinions of said author and these opinions may differ from your own.