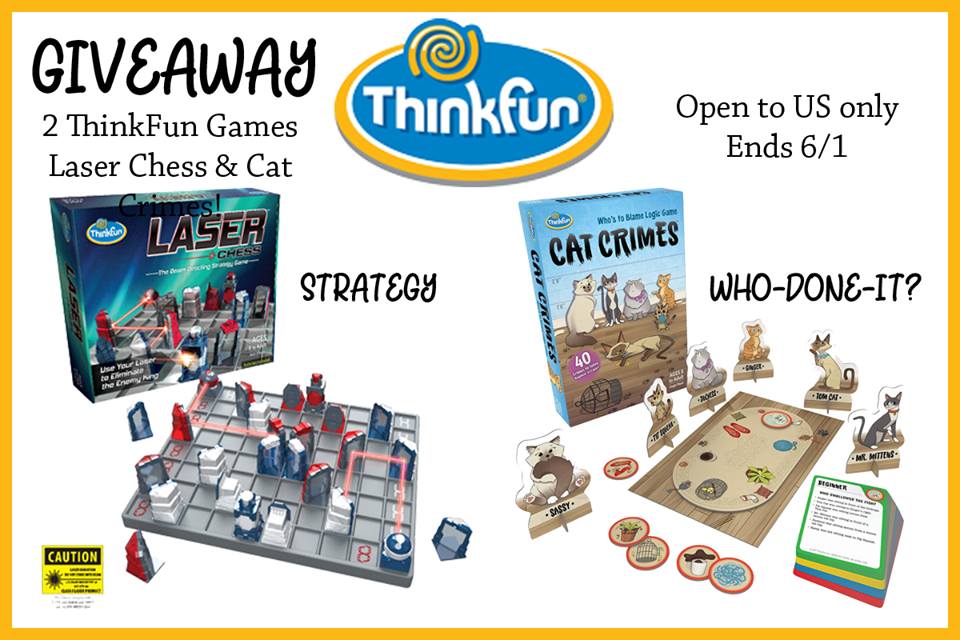 Sponsored by ThinkFun and hosted by Powered by Mom.
For more than 30 years ThinkFun has been turning cutting-edge STEM concepts into fun games for kids. They teach kids about math and spelling as well as computing and logic in fun ways. The kids don't even realize that they are learning while playing! These games teach concepts that aren't always fit into standard school schedules.
About ThinkFun Games:
Like regular chess, Laser Chess by ThinkFun is a two-player strategy game. It is much easier to learn than regular chess, but still requires the forethought to plan your strategy for winning. Each piece can move the same way, just one space in any direction, so moves are easy to plan out. You can also choose to rotate a piece one turn instead of moving it. Bounce the laser around the board until it hits your opponent's king, but be careful that you don't hit your own piece or it will be eliminated! Wonderful for teaching visualization, forethought, logical-reasoning, and all about how lasers work.
Cat Crimes is ThinkFun's version of word logic puzzles. It is also a one player game and there are four levels of challenge cards from beginner to expert that provide clues as to which cat committed the stated crime. The cats are placed around the table to visualize who was sitting where and to deduce who the guilty party is. The final layout must meet all the criteria set in the clues and each card has only one solution. This game implements logical deduction, reasoning, and visualization.
Key Features:
Laser Chess is easy to learn with the goal of hitting your opponent's king with your laser.
Cat Crimes is a visual word logic game.
Games are recommended for ages 8 and up.
ThinkFun Games are award-winning and STEM-based.
One lucky reader will receive the Laser Chess and Cat Crimes games!
Now enter the giveaway below and remember to come back for the daily entries. GOOD LUCK!