Disclosure: This is a sponsored post for a brand new pet site – Why Does My Dog.  I received product and/or monetary payment for this promotion. All opinions in this article, however, are honest and my own.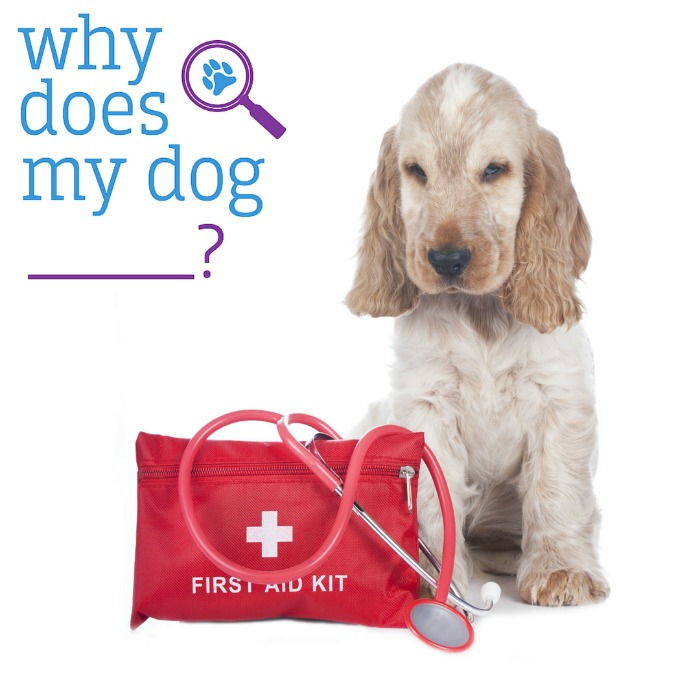 Let's face it, as dog parents, most of us are constantly worried. It doesn't matter if it's a boo boo on the paw or something more serious, we are going to worry. That being said, most of us want to be prepared. While we know that bringing our dog to the vet is important during an emergency, there are things we can do that can save their life on the way.
Aly DelaCoeur, Founder of WhyDoesMyDog.com and Dog Trainer, has some first aid tips for you to take with you on the go. It's important to note that Aly is not a licensed veterinarian. This is not meant as a substitute for veterinary care. Always seek help from your vet after an emergency. These videos were put together to help you and your pup do some simple things to take care of them if you're out and about and can't get to a vet right away, or need to take action immediately on your way to the vet.
What to do when your dog gets a cut or a puncture wound
Instructions on what to do when your dog gets a cut or a wound.
DO NOT remove the object
Restrain dog as appropriate
Build pads up around the object to support the object.
You want to do whatever you are able to prevent the object from moving.
Go to the vet right away.
Have another person hold support the object and restrain the dog.
You can cut it down to about 2-4 inches and then apply a thick padding of bandages or clean cloth around it. Make sure that there is as little pressure as possible on the object.
Take your dog to the vet immediately. For more information, check Aly's advice here.
What happens when your dog gets really bad diarrhea?
WhyDoesMyDog.com recommends that you call your vet immediately if your dog is showing signs of serious illness like vomiting, lethargy or weakness. Or, if these symptoms persist for more than 12-24 hours. Diarrhea can be caused by stress, changes in the diet or some underlying medical problems. Make sure your dog keeps drinking water and feed him a bland diet of white rice and plain chicken.
Vomiting and diarrhea
are associated with a host of problems which are referred to collectively as gastroenteritis. Some cases are quite severe (e.g., poisoning), and some are not (e.g., dietary indiscretion). If fever is present, infection may be a cause. Most infections which cause diarrhea and vomiting are contagious, so it is wise to assume that other pets might be vulnerable if they are exposed. If your pet is not feeling well and has vomiting and/or diarrhea, he should see a veterinarian.
For more first aid advice, read more here!
End of post: Aly DelaCoeur combines her love of dogs, years of experience, and the most up-to-date animal behavior science in Why Does My Dog?. Her goal is to help you and your dog have a fuller, happier, and more rewarding relationship. Our unique platform optimizes content for consumption and sharing. Content is presented in mobile-optimized, short, to-the-point pieces designed to give just the information the user is looking for whenever they need it. All WhyDoesMyDog.com content is Creative Commons licensed to encourage sharing and reuse.