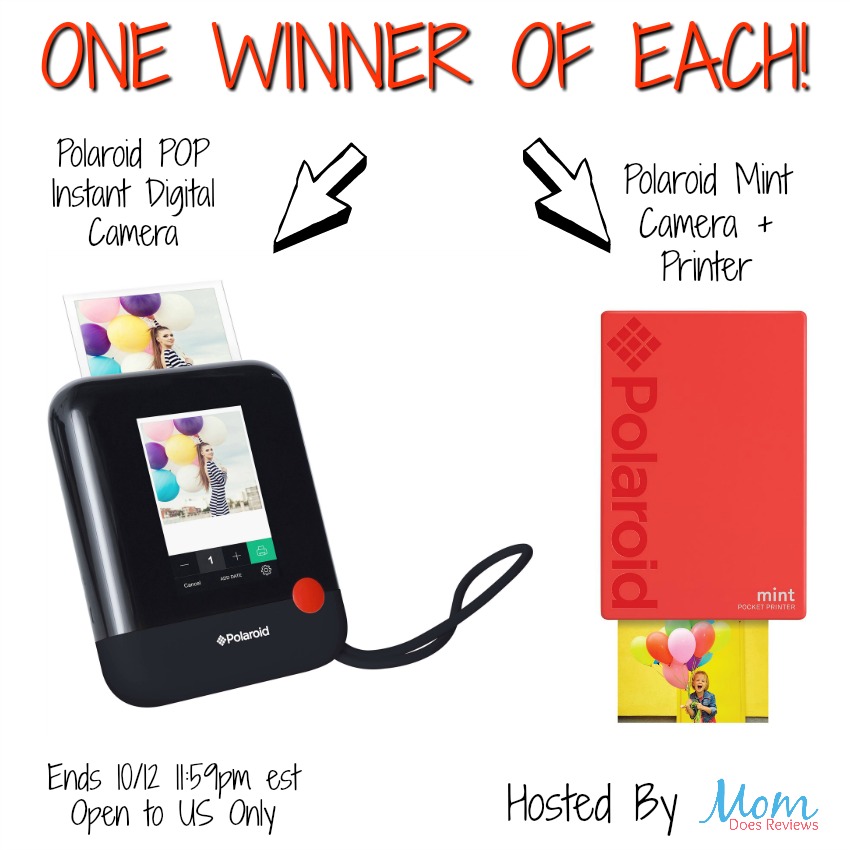 This giveaway is sponsored by Polaroid and hosted by Mom Does Reviews.
About Polaroid Mint
The Polaroid Mint Pocket Printer is a camera and printer all in one. This compact device gives you that old school vibe of looking through the little hole and snapping a photo. Photos print 2X3″ using zero ink, but rather on paper that is both photo paper and ink all on one sheet. Link your smartphone via Bluetooth and print photos directly from your phone using the mobile app. In the app, you have access to endless editing features like cropping, filters, and more. The coolest feature of all is that the back of your photo peels off, giving you an instant sticker. Choose from 5 different color printers and take with you anywhere you go!
About Polaroid POP
Polaroid POP is their newest camera and it's better than ever! They have managed to stay up with the times, continuing to not only be a part of my memories but now allowing me to enjoy the same kind of memories with my children. The new Polaroid POP camera allows you to snap, print, and share photos instantly! It not only takes photos, but also takes videos and you can even create GIFs with it! Edit your photos and share them via bluetooth to the Polaroid app or to the built-in instant printer. You can choose to save your photos on your camera's SD card or share them right away. Edit them with borders, text, filters and stickers before sharing.
ENTER TO WIN!
One lucky reader will win a Polaroid POP Instant Printer AND
One lucky reader will win a Polaroid Mint Camera + Printer
The giveaway is open to US only.
The giveaway ends 10/12 at 11:59PM EST.
Be sure to come back daily for more chances to win!