Gluten Free Baking Starter Giveaway
A Mom Powered Media
Giveaway
The following post was written by Colleen at Dairy Free Gluten Free Life. All option are her own and may differe from Budget Earth's. If you would like to read Budget Earth's review of The Pure Kitchen's cookie mix, make sure to go here!
If you are new to Gluten-Free cooking, I would like to share a fabulous company
that I get my mixes from. It makes beginning this lifestyle so much easier
finding products you can make from a mix that really are good.
The Pure Pantry was started by Elizabeth Kaplan when she was diagnosed with
Celiac Disease in 2002, she was disappointed in the lack of healthy, good tasting,
gluten free products on the market. And I have to agree with her, that at that time
it was very very hard to find yummy products to use. I happened upon her products
after my niece in Oregon said someone had brought a cake to a potluck that was
vegan and really really good by a company called The Pure Pantry. You can see my
original review of Elizabeth's cookbook and her products HERE. I have not changed my opinion, if anything, I love her
products even more. Here is the chocolate cake my granddaughter is enjoying that
I made with The Pure Pantry Chocolate Cake mix and I used coconut oil.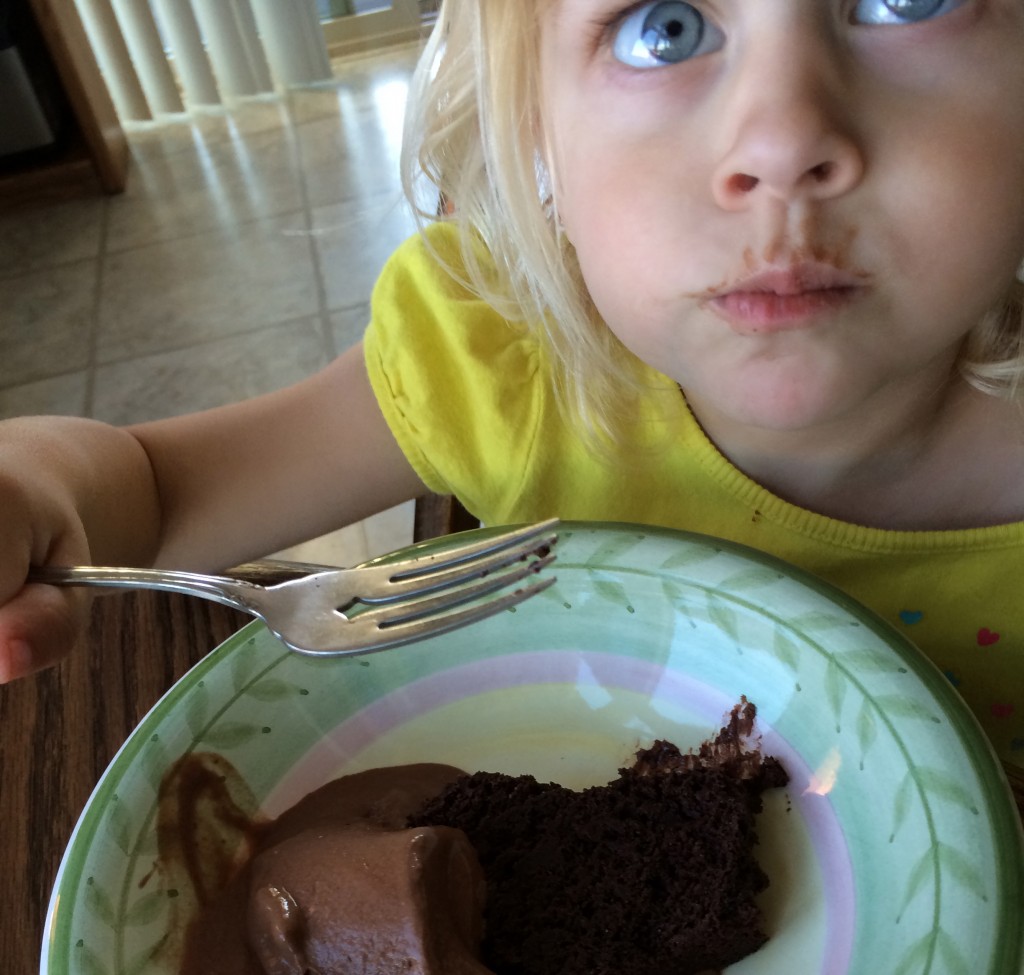 Elizabeth has really expanded her website, you need to check it out. It now
include recipes, grocery shopping tips, traveling tips along with tips for eating
in and out!
Discount Coupon Code:
We are offering a great deal for Pure Pantry Products!! You can go to The Pure Pantry and use the following
discount code for 25% off your first order on
their website. Enter coupon code: FALL2014
The code is entered at checkout and expires November 30! Enjoy this fall
with fabulous mixes that are yummy and proven.
The Pure Pantry Gluten Free Baking Starter Kit
Giveaway:
Elizabeth is giving away to one lucky reader
a fabulous Gluten Free Baking Starter Kit pictured above! The Kit includes her
cookbook, "Fresh From Elizabeth's Kitchen," 3 cookie mixes and her all
purpose baking mix! Everything you need to get you started on a gluten-free
diet!
This giveaway is open to US only and ends
October 8, 2014 at 11:59 PM EST
Enter on the Rafflecopter below for your chance to
win!
Disclosure: Participating blogs did not receive
monetary compensation for this giveaway. Facebook, Twitter, & Pinterest are in
no way associated with this giveaway. If you have any questions about this giveaway
please contact Colleen at My Dairy-Free Gluten-Free
Life