While I really don't talk about it much, I have an injured knee that bothers me off and on. Back when I lived in NJ, I fell and landed right on my kneecap. While it has seemed to have mostly healed, it does cause me some pain every so often, especially when it comes to stairs. With my office being in the basement, my leg is getting quite a bit of exercise, meaning I have have to deal with little aches and pains at times. As part of my diet to eat right, I decided to start taking some extra vitamins and supplements to better assist my body as I'm losing weight and (hopefully) continuing the healing process. Since I think my knee needs a little extra help, I was excited when I had the opportunity to try out Truceuticals' Joint Support dietary supplement.
Truceuticals Joint Support
As some of you know, I have been starting to become a fan of Truceuticals and Noxicare products. They have a great line of natural products and herbal supplements that are great for not only improving your overall health, but natural pain management. Unlike other pain relief companies, Noxicare and Truceuticals products were developed by a board certified doctor who specializes in pain management, Dr. Reza Ghorbani. To see what I think of other Truceuticals and Noxicare products, feel free to read my Truceuticals Women's Once Daily review and my Noxicare natural pain relief cream review.
So, why do I like their products so much? For one, all of their products are made using all-natural ingredients. I consider myself a naturalist and try taking things that are as close to the source as possible. While I eat a very healthy diet, I also know it's hard getting everything you need from food, making it alright in my opinion to take vitamins and herbal supplements if they are as close to natural as possible. At the time of this article, they have developed eight different products – Noxicare Natural Pain Relief Cream, Noxicare Joint and Muscle Support, Truceuticals Womens Once Daily, Truceuticals Once daily, Truceuticals B12, Truceuticals joint support, and Truceuticals antioxidant formula.
Since I have loved all their products I have tried so far, Noxicare asked me to review some of their other amazing products. Having a knee that I injured over a year ago, I was looking forward to trying out their Joint Support supplement. This dietary supplement is made with a blend of nutrients and extracts meant to help keep your joints in tip top shape, by giving your joints the nutrients they need – including those that help build and repair healthy cartilage (the main structural component of joint tissue). Knowing this supplement might help the pain in my knee long-term, I couldn't wait to try it!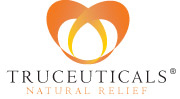 Truceuticals Joint Support: Look & Taste
Before opening my bottle of Truceuticals Joint Support, I had very high expectations for this dietary supplement. As you may remember from my Women's Once daily vitamin review, I love that Truceuticals products prove how natural they are in their appearance. My daily vitamins are not uniform in appearance and you can see the ground pieces of different minerals throughout the vitamin. They don't try covering up the look of their vitamins, something that I love since it means there aren't unnecessary dyes or fillers in my vitamins. As someone who loves to eat as naturally as possible this is very important to me! As you can see from the picture below, these vitamins are very similar. While the different ingredients are a little finer, you can still see some of the defining characteristics that put these vitamins above their competition in my opinion.
As you can also see from the picture, these vitamins are a distinct yellow color. While you may think at first this is an odd color, it isn't as soon as you smell these vitamins. They have the most wonderful citrus scent. My husband laughs at me every morning since I call them my 'good smelling vitamins'. Even better, Truceuticals Joint Support have a slight citrus taste, something I have never seen from a natural vitamin or supplement.
Truceuticals Joint Support: Usefulness
So far, I have been very impressed with the list of ingredients on the back of the Truceuticals Joint Support bottle. While they aren't as easy to read as some of their other products, they are all natural and contain only high quality ingredients. Even better, Truceuticals Joint Support supplement contain no sugar, dairy, yeast, wheat, gluten, corn, preservatives, artificial colors, or artificial flavors. I don't think I've ever seen a supplement that is friendly to all those allergies and dietary lifestyles.
While the ingredient list is important, you are likely wondering how difficult these supplements are to take and if they work. It is recommended that you take Truceuticals Joint Support supplement alongside a meal, three times a day. Even though this is a bit inconvenient, I have noticed that i have been suffering from less pain in not only my knee, but my hands as well. My only problem is that I have been wanting to push myself a bit more since this supplement is giving me a bit more confidence.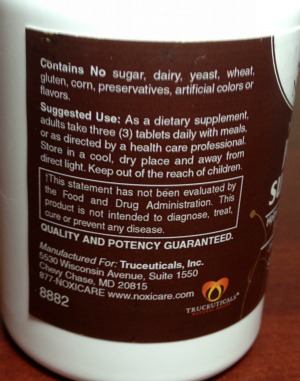 Truceuticals Joint Support: Overall
After taking the Truceuticals Joint Support supplement for the past three week, I have to say that I love them just as much as my other Truceuticals and Noxicare products. I normally did not look forward to taking supplements in the past, but I actually look forward to taking these vitamins. Normally supplements smell a bit odd, or like nothing at all, but it's nice opening a bottle and being welcomed by a nice citrus scent. While my improvement has been slight, I have noticed that I have less joint pain in general, especially in my hands. Based on my own experience with Truceuticals Joint Support, I can easily give it an A+ rating!
Truceuticals Joint Support: Where to Purchase
Do you suffer from joint pain and want to get a head start in helping your joint health? If so, we recommend purchasing a bottle of this dietary supplement. Currently, you can purchase this supplement at the Truceuticals website. You can also find all their other products on their website, allowing you to mix and match for your own individual needs. To see their latest discount and offers, make sure to check out the Noxicare Fan Page on Facebook.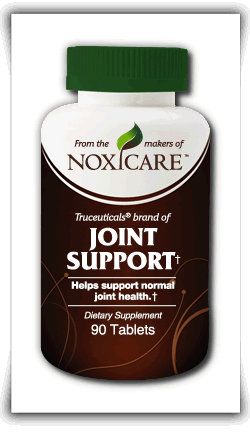 Disclosure: Budget Earth did not receive monetary compensation for this review and giveaway, but did receive a bottle of Truceuticals Joint Support for review purposes from Truceuticals. All of the opinions on this blog are the opinions of said author and these opinions may differ from your own.