At the beginning of the year, my husband and I made a deal that we were both going to eat healthier and lose weight. While we slacked off for a few weeks due to work and stress, we are getting back on track. One area where we are especially working hard is food. While we have always eaten fairly healthily, we know we could do better. I have been doing better in this area by taking my natural vitamins, but he really didn't have an equivalent until recently when I had the opportunity to review the Truceuticals Once Daily Multivitamins – the men's equivalent to my vitamins. Always being worried about what goes in our bodies, I was excited that he had something new to try that was healthier!
Truceuticals Once Daily Multivitamins
As many of you know, I am a big fan of Truceuticals and Noxicare. I swear by their natural pain relief cream (click to read my review). So far, I haven't found a product I don't like by the company. When I saw they had a men's version of my Women's Once Daily vitamins, I was really excited for my husband to try their Once Daily Multivitamins. Like most vitamins, they are designed to make sure that a person gets the key vitamins and minerals they need to stay healthy. As you would expect from a vitamin made just for guys, they also address the special nutritional requirements of men – helping support normal cell growth and a healthy immune system.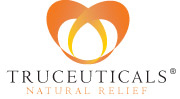 Truceuticals Once Daily Multivitamins: Look & Taste
Like the women's once daily vitamin, Truceuticals Once Daily Multivitamins are made from all natural ingredients. This is proven not only when you read the label, but look at the vitamins themselves. If you look at the picture below, you will see the different minerals and herbs that were ground up to make the vitamin. They aren't afraid to show off what these vitamins are made of – something that is a big plus in my book. I don't like went pills are dyed and made to look like something else. I always wonder what they have to hide by covering tastes and the look of the vitamins themselves. As well, if you look at the ingredients, you can actually PRONOUNCE everything in these pills since they include fruits, vegetables, and different dietary herbs. There is a very mild, neutral taste to these vitamins, according to my husband, which seems in line with my own experience.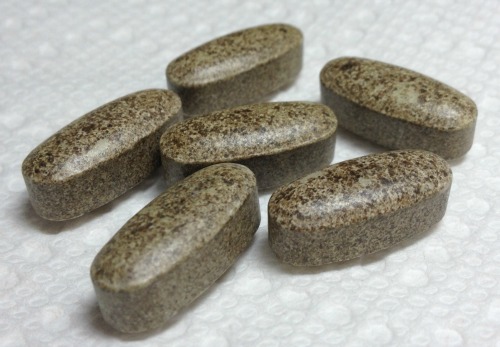 Truceuticals Once Daily Multivitamins: Usefulness
Not having taken the vitamin myself, I can only go by my husband's own experience taking Truceuticals Once Daily Multivitamins. He felt about the same taking these vitamins as he did his normal Men's Once A Day. He never had the issues with any vitamin upsetting his stomach like I did, so it was a bit harder to judge for us. The fact that he was able to take an all natural vitamin that didn't upset his stomach and seemed to have the same benefits was something good in my eyes. Now I can make sure he is taking care of his dietary needs without putting synthetic chemicals in his body!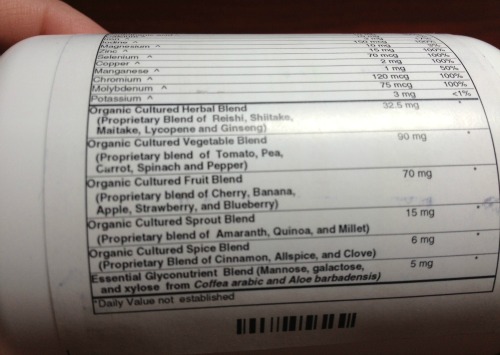 Truceuticals Once Daily Multivitamins: Overall
Since my husband didn't have any issue taking these vitamins, I consider it a pretty good experience! It is sometimes difficult for both of us to remember to take vitamins, and I'm happier knowing he is taking something made with only all natural ingredients. From what I have seen, Truceuticals Once Daily Multivitamins seem to be the same quality as the female version of these vitamins, making them an awesome product in my book. So far, we give this product an A rating.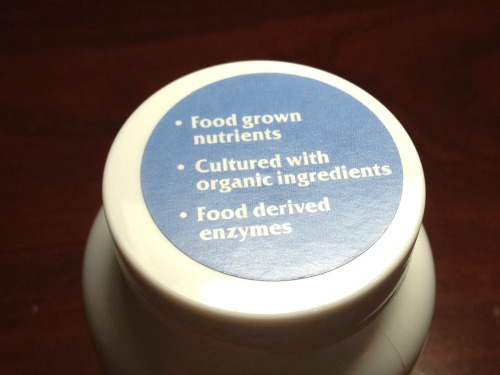 Truceuticals Once Daily Multivitamins: Where to Purchase
Want to know where you can purchase these vitamins? Currently, you can purchase Truceuticals Once Daily Multivitamins on the Truceuticals website or on Amazon.com. You can also find most of their other amazing products on these sites, allowing you to take care of all of your dietary needs in one shopping trip. Since all of their products are all natural, you know you are only putting good things in your body – not artificial fillers and other and preservatives. To learn more or find out the latest sales on these products, make sure to check out the Noxicare Fan Page on Facebook!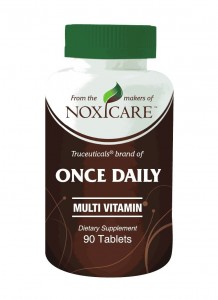 Disclosure: Budget Earth did not receive monetary compensation for this review and giveaway, but did receive a bottle of Truceuticals Once Daily Multivitamins for review purposes from Noxicare. All of the opinions on this blog are the opinions of said author and these opinions may differ from your own.