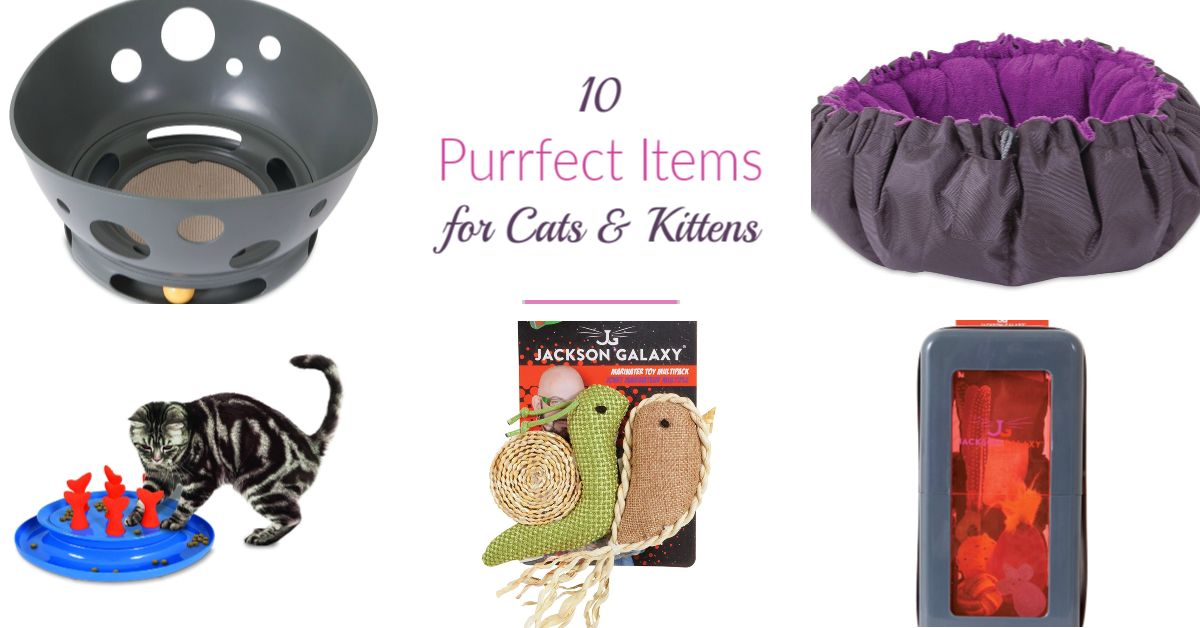 Are you someone who loves cats? Over the past few weeks, I have been having quite a bit of fun taking care of kittens. One of our local feral cats chose our home as the perfect place for her babies and it has been a wonderful stress relief for me. To my surprise, so many people didn't know I had a soft spot for cats! Growing up, my family and my husband's family both had cats (my inlaws still have cats, including my old lady Lucie, who refuses to leave my inlaws. My silly girl refused to come home after a trip and at 14, we let her have her way! While she is an old lady, she still loves to play, especially with any toys that contain catnip!
While I was at BLogPaws, I had a chance to actually see some of the new Jackson Galaxy toys, which I have to admit, were pretty cool! Knowing that so many of my friends, family, and readers are getting new kitties, we couldn't wait to share with you our favorite, must-have items for both cats and kittens. Make sure to tell us what you think of these 10 purrfect items for any cat and kitten household below!
Jackson Galaxy Asteroid Puzzle Treat Toy – $6.99 [Buy here]
Keep your cat engaged in playtime with the ever-changing Jackson Galaxy® Asteroid Puzzle Treat Toy! Insert your cat's favorite treat, and then give it to him or her for endless amounts of fun. As your cat learns how to get the treats out, you can push in the nubs to increase difficulty making it more challenging for treats to come out. Great for training or keeping cats busy!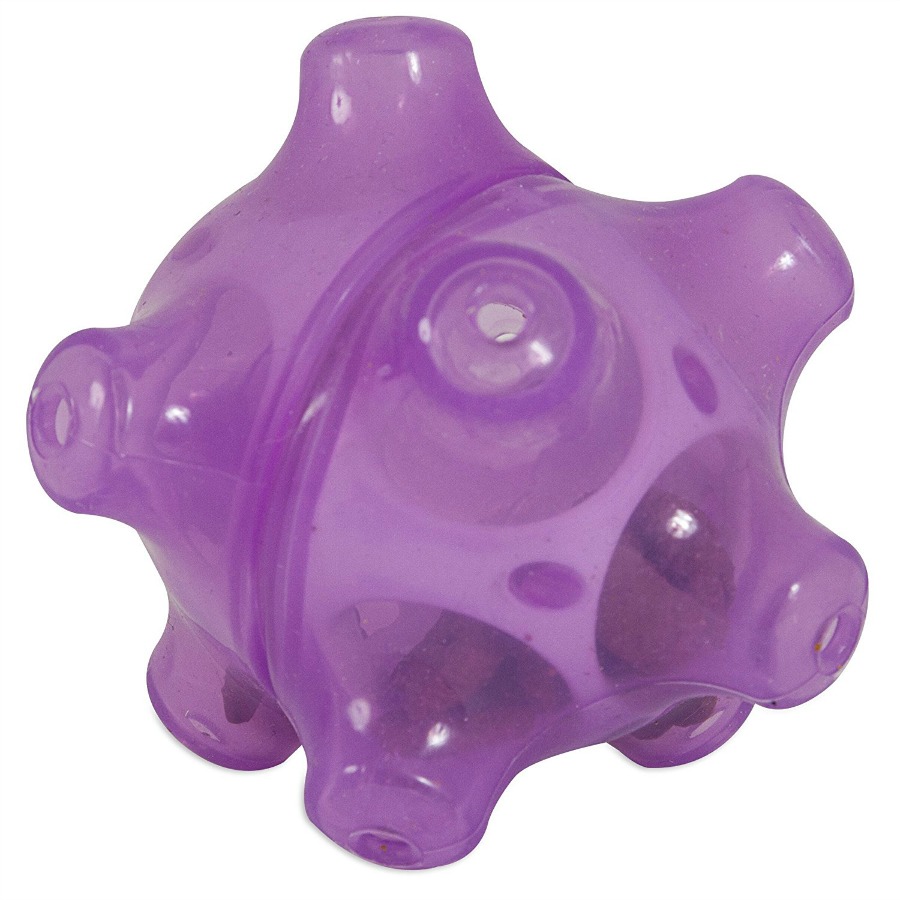 Jackson Galaxy Puma Paw – $4.99 [Buy here]
Trying to find the perfect ball for kitties who love to hunt? These durable, brightly colored cat toys are made of polypropylene rope and are irregularly shaped for unpredictable movement that ignites raw cat play! Pet owners can choose between catnip infused Puma Paws or Puma Paws that do not have catnip.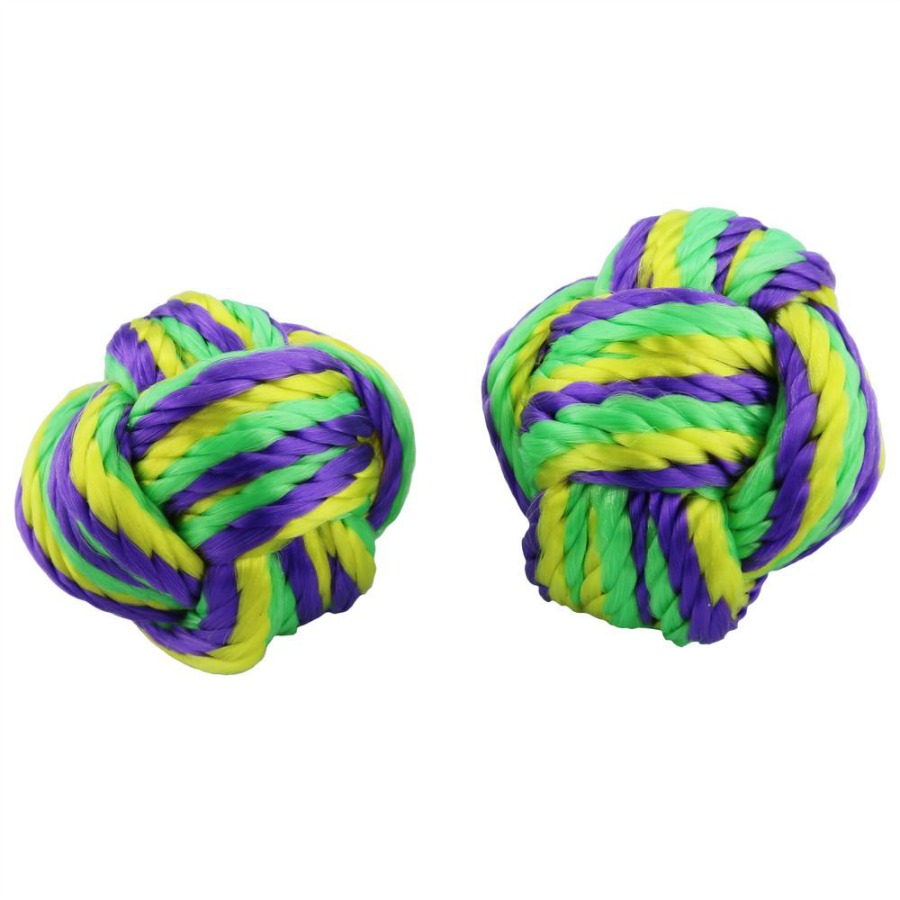 Jackson Galaxy Go Fish Puzzle Toy & Feed Bowl – $24.99 [Buy here]
Did you know there are puzzle toys for cats too!? The Jackson Galaxy® Go Fish Puzzle Toy is a 2-in-1 cat toy and feeding bowl that utilizes your cat's natural hunting instincts for an entertaining feeding time! The fish tails can be rotated easily, rearranged, or removed for a continuously changing puzzle. If your cat is a fast eater, you can place their food in the spaces between the fish tails to make the toy a slow feeder and slow down eating and aid digestion. Best of all, everything is washable and encourages your cats natural hunting instincts!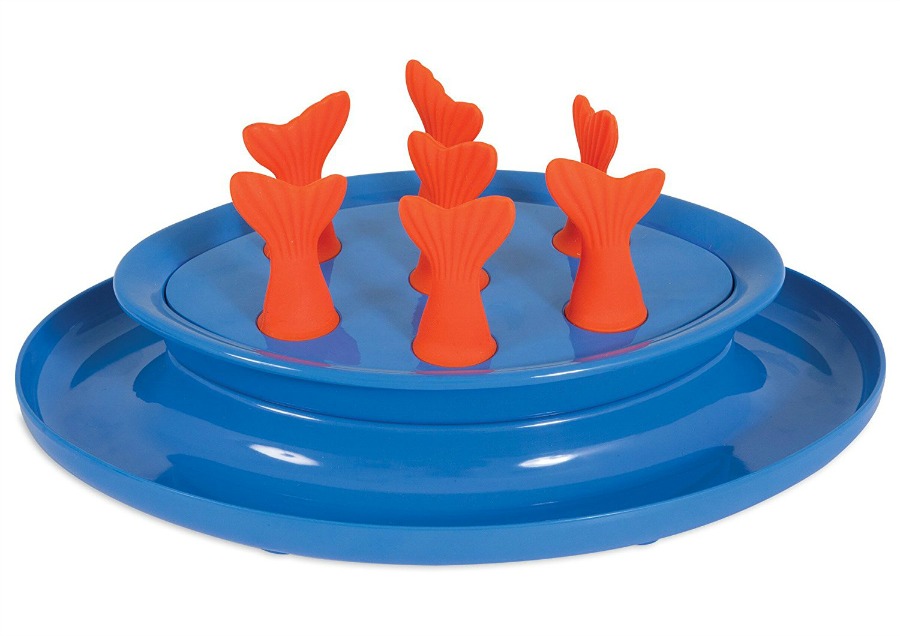 Jackson Galaxy The Vault Marinater – $11.99 [Buy here]
Does your cat love catnip? Infuse your cats toys with catnip with the Jackson Galaxy Vault Marinater.  This fun device uses a unique marinating technique and confines loose catnip between permeable walls, keeping your cat's toys clean from debris. It works with official Jackson Galaxy Toys and most materials such as fabric, rubber, plastic, sisal, and more! Jackson Galaxy Organic catnip sold separately.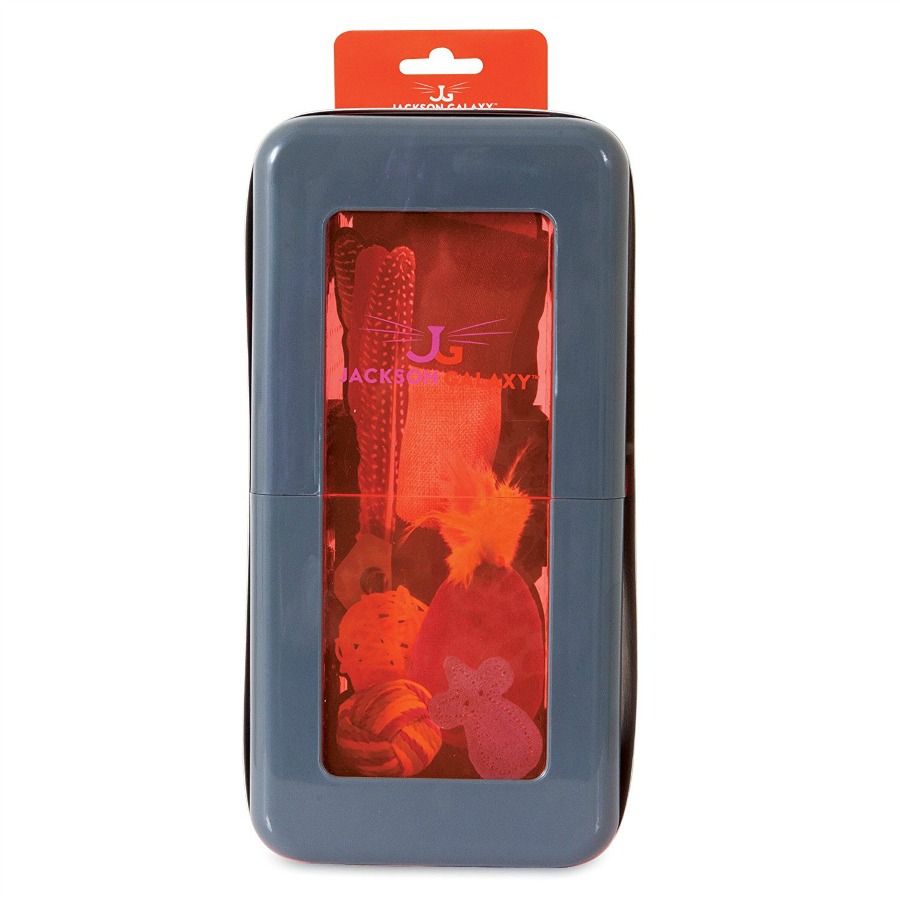 Jackson Galaxy Marinater Multipack Toys – $4.99 – $6.99 [Buy here]
Help your pet enjoy playtime with Jackson Galaxy® Marinater toys. These toys are made of natural materials (cotton, rope, and corn husk) to ensure safe playtime for your cat. As well, these toys are perfect for any Jackson Galaxy Marinater, which helps give these natural toys a catnip scent! Toys come in a variety of sizes and designs to fit your cats needs.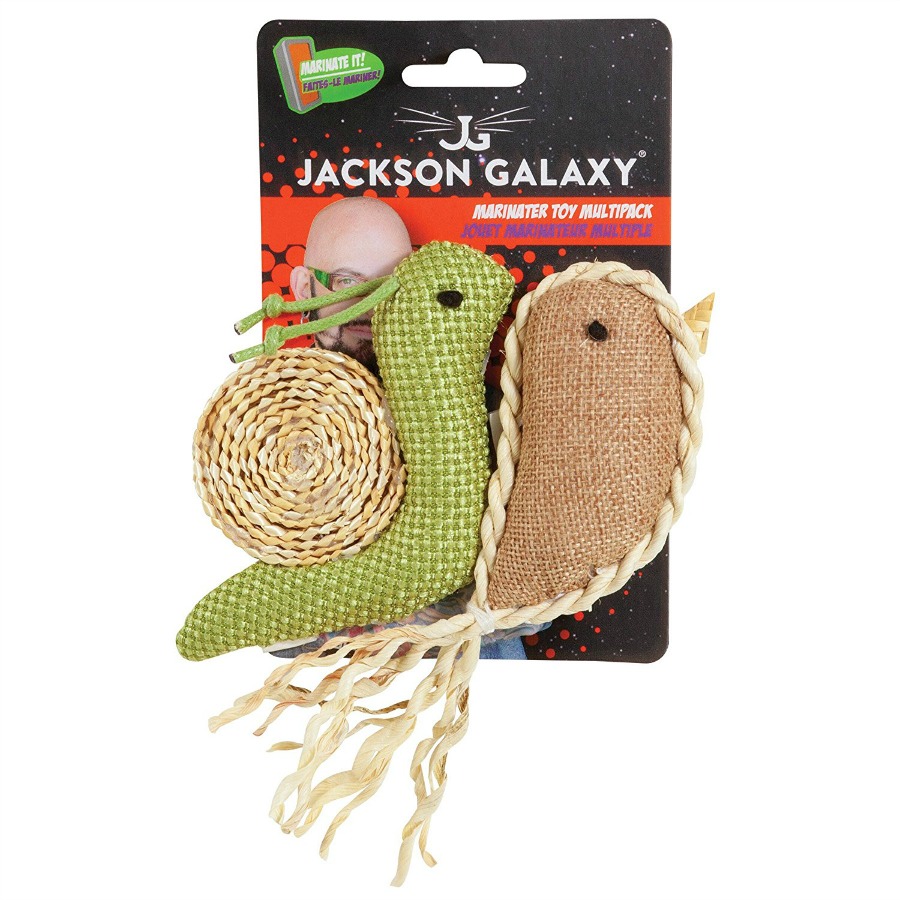 Jackson Galaxy Mega Marinater Toys –  $4.99 – $6.99 [Buy here]
These are the large varieties of the Jackson Galaxy Marinater Toys. Just put these all natural toys, made from cotton, rope, or corn husky into any of the Jackson Galaxy Marinaters to give them a natural catnip scent that will drive cats wild!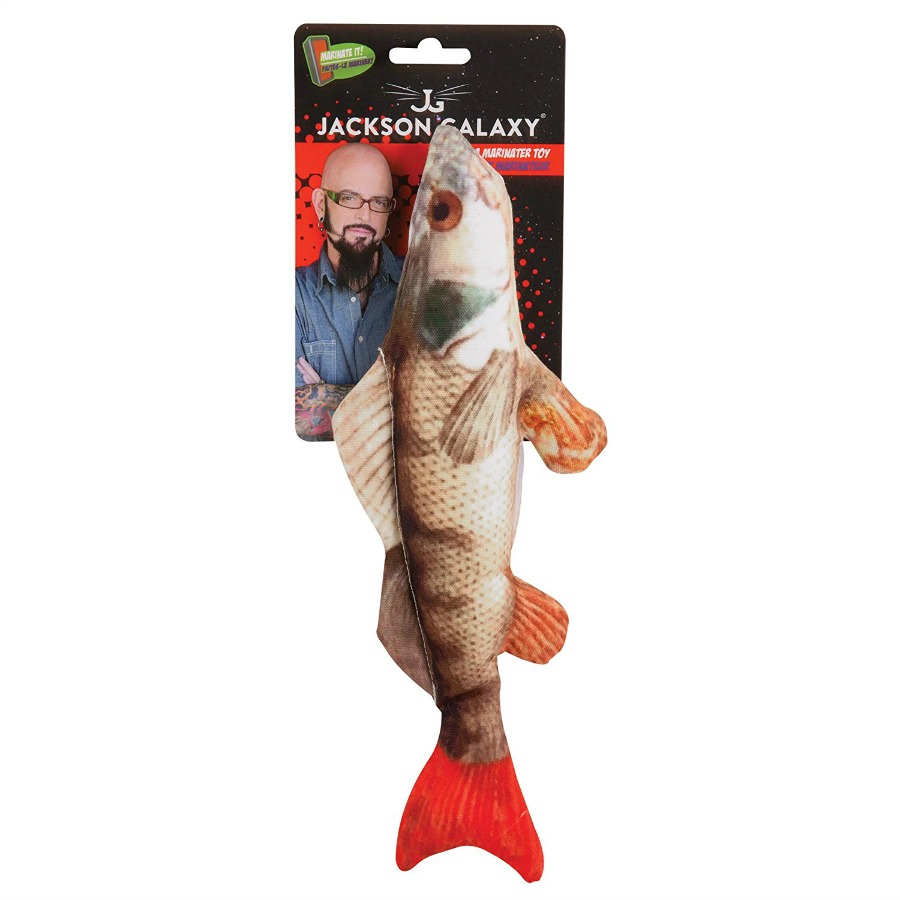 Jackson Galaxy Comfy Clamshell Bed – $24.99 [Buy here]
Have an indecisive kitty who doesn't know where they prefer to sleep? The Jackson Galaxy Comfy Clamshell Bed clinches up into a cozy cuddler or lays flat for cats to stretch out, allowing pet parents to make their kitty comfortable on their demands. As well, it is versatile by having a soft plush inside and durable polyester outside that is easily reversible.
Jackson Galaxy Space Station – $34.99 [Buy here]
If you are looking for a cute toy to keep your cat active and entertained, we are sure you will love the Jackson Galaxy® Space Station! This cute and exciting toy has multiple openings so that your cat can hunt the ball from inside or outside the elevated Space Station bowl. The deep, high-walled bowl features a replaceable scratch pad on the bottom and is deep enough to allow your cat to stalk, pounce, and play. Best of all, it is great for single or multi-cat households, making it a great choice for cat parents!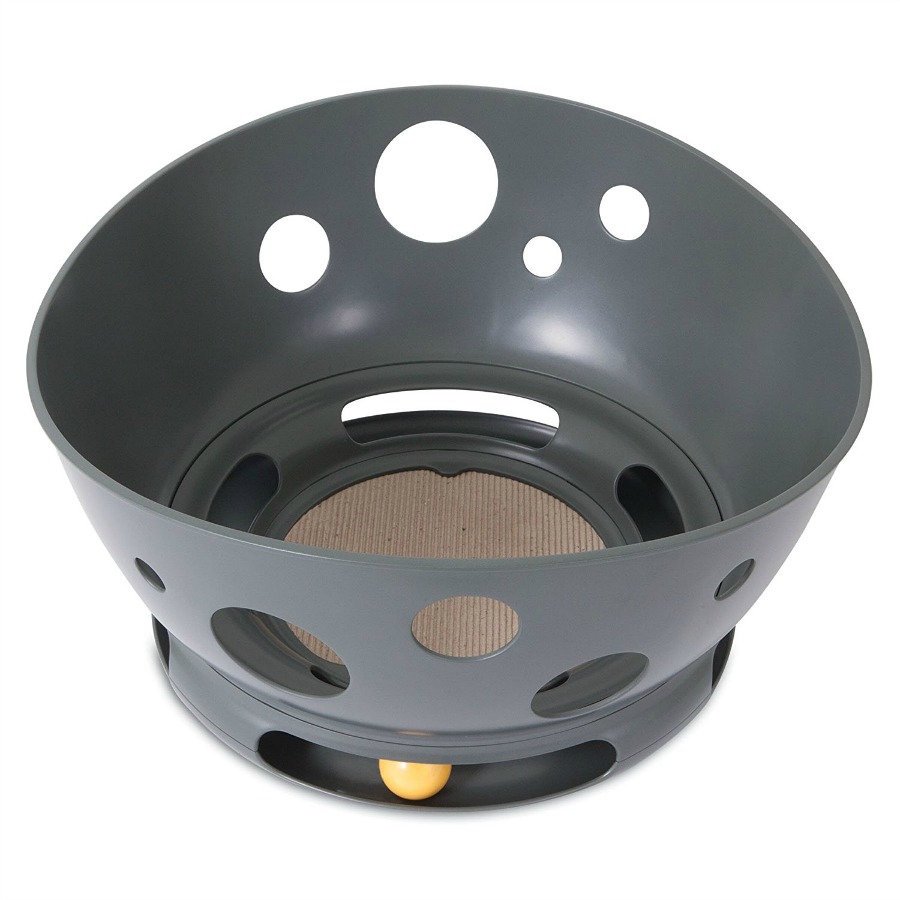 Jackson Galaxy Motor Mouse with Catnip – $4.99 [ Buy here]
Jackson Galaxy Motor Mouse is a fun and innovative cat toy that cats love because it is as unpredictable as your kitty. This cat toy provides hours of fun for your cat, all you have to do is give his tail a gentle tug to start the fun! The unpredictable movement, vibration and catnip center will entertain and keep your cat busy for hours!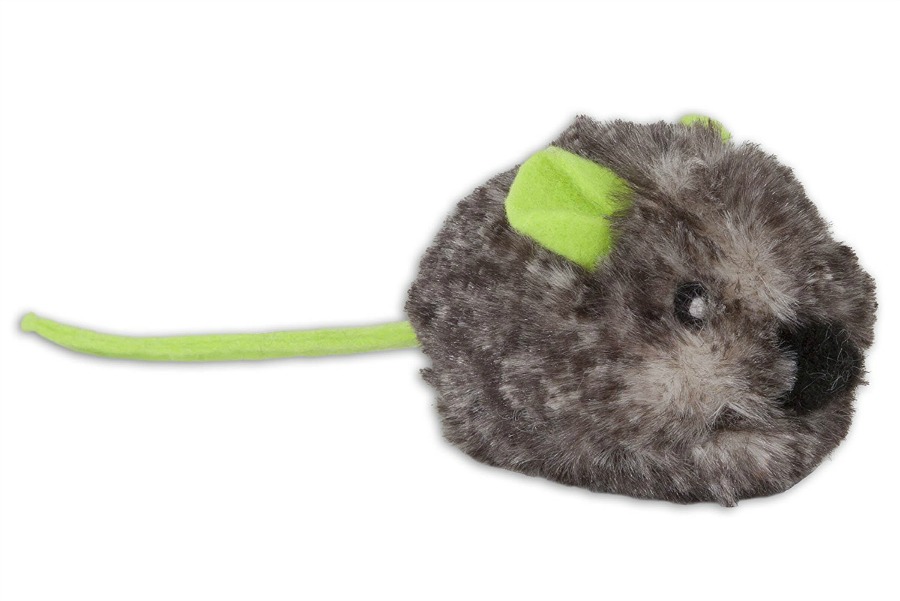 Petmate Giant Litter Pan – $19.99 [Buy here]
Do you have multiple cats in your household? Make life easier with a Petmate Giant Litter Pan. With the litter pans large size and walls, scatter and waste easily stays in the litter box. This litter box can hold up to 30 lbs of litter, allowing you to spend more time with your cats.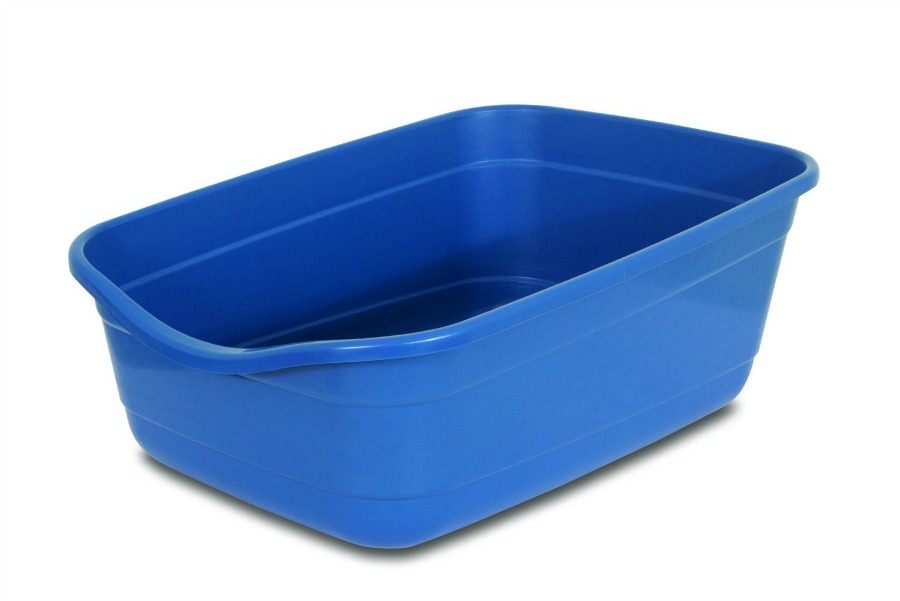 ---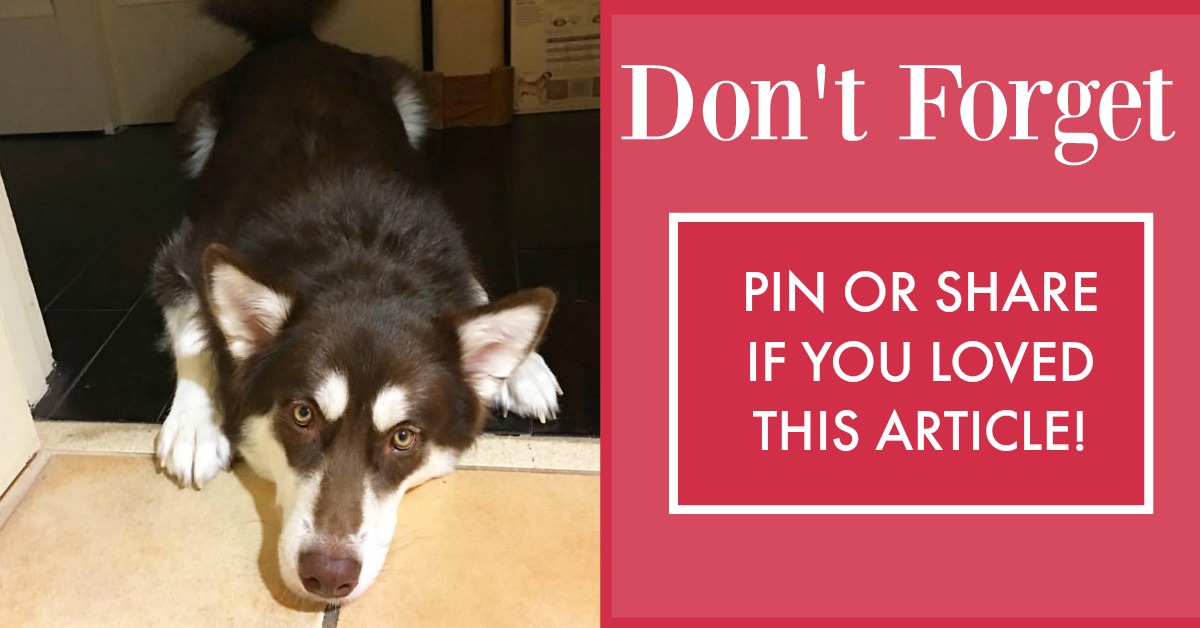 ---