Disclosure: I received these products for free as part of a review . The opinions in my review are honest and my own.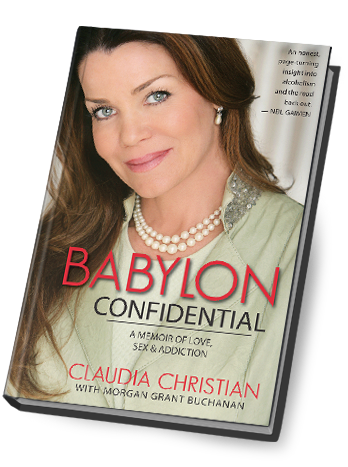 While I don't normally read biographies, I every so often love to snuggle up with a good, inspirational book that tells someone's life story. With the stress of the holidays, I have been reading through books rather quickly, leaving me constantly looking for something new to read. As I was looking for new books, I was approached to read a book about an actor whom I remembered watching as a kid – Claudia Christian. Having seen her act in Babylon 5, I was excited to start reading her memoire.
Babylon Confidential: What is It
For many of us sci-fi fans, we know Claudia Christian from her lead role in the TV series – Babylon 5. Yet, like most actors, they are far more than the character, and the same is true for Claudia. Babylon Confidential is a memoir filled with the trials and tribulations of her life, dealing with her love, sex life, and her addiction to alcohol and drugs. This inspirational life story will keep you on the edge of your seat as find how Claudia Christian put her life and career back together after finding the Sinclair Method to help her fight back against her alcohol problems.
Babylon Confidential: Style
To me, some of the most memorable books are the ones that sum up the entire feel of the book in the first paragraph. In Babylon Confidential, Claudia Christian does this in the first two sentences of chapter 1. In this one chapter, the book sets the stage for the rest of the book, letting you know the little bits of happiness mixed with a life of sadness. Sometimes, I felt guilty enjoying the book, mostly because the words in many section were so perfectly woven together that I had trouble putting the book down. While, in my opinion, there were some minor issues with the style and some odd editing, the book itself reads very well and does a great job telling Claudia Christian's story of her rise, fall, and recovery from being an alcholic using the Sinclair Method.
Babylon Confidential: My Thoughts
I will be honest, this isn't the type of memoire you sit a child down to read. It is filled with many of the hard truths of life – loss of family, drug abuse, alcoholism, or the harsh road to recovery. Personally, I liked the honesty of the book and Claudia Christian's wit. As someone who enjoyed watching her in Babylon 5, it was great seeing the woman behind the character and showing the human that has to live outside the character. While I wouldn't say the book had a happy ending, it has a realistic ending of showing that everyone can rebuilt and that every day is a step forward for recovery from the mistakes of our past. Sometimes, the truth is harsh and I commend the bravery she had in putting her life in writing. Based on my own reading experience, I am happy to give Babylon Confidential an A- rating, based on the minor editing differences I mentioned earler. However, the book overall was very well written, and a great gift for anyone who loves reading about their favorite actors!
Babylon Confidential: Where to Purchase
Looking for a inspiring and interesting memoire to read during your Christmas vacation? If so, you can find Babylon Confidential on Amazon.com. At the time of this review, you could purchase the paperback copy of this book for under $12. For those who prefer reading on their Kindle, you can purchase this interesting memoire for $8.99.
Disclosure: Budget Earth did not receive compensation for this review but did receive a copy of the book for review purposes. All opinions on this product are my own and may differ from our readers' opinions.
Would you like to have your products featured in a similar review or giveaway? Want to increase your social media exposure before the holiday season? See how we can help! Contact susan.l.bewley@gmail.com to see what we can do for your company!