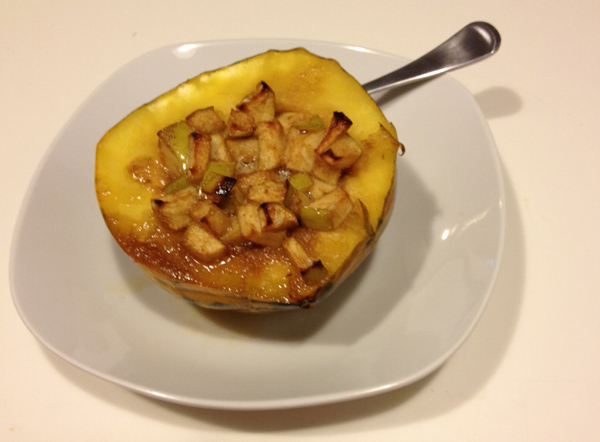 I have a confession to make – I love baked acorn squash! Whenever it starts to get cold, I look forward to going to the grocery and finding some good sized acorn squash to make for dinner. My husband looks forward to coming home and seeing me baking acorn squash – one of his favorite vegetarian recipes!
It wasn't until this past winter that I realized that quite a few people have no clue how to cook acorn squash, or worse, have never had baked acorn squash. So many people here always assumed it was only for decorating. I have been having quite a few people here asking for my recipe for acorn squash, which my husband dubbed long ago – squash boats!
Print
Apple filled stuffed squash
Prep Time:

20 mins

Cook Time:

40 mins

Total Time:

1 hour

Yield:

4

servings

1

x
Category:

Entrée

Cuisine:

American
2

cups

Granny Smith or Jazz Apples, Diced or Cubed

2

Whole Acorn Squash

4 Teaspoons

Butter, Melted

1/2

cup

Brown Sugar

1/4

cup

Orange Juice, We Use w/Pulp (your choice)

2 Teaspoons

Lemon Peel, (optional)
Instructions
Preheat the oven to 400 degrees.

Cut both of your acorn squash in half. (Make sure you have a sharp knife, since they are not easy to cut!) Once you have them cut into four halves, clean them thoroughly, getting all the seeds out.

Place the acorn squash face down on a pan with a one to two inch lip or ledge around the edge. Fill the pan with one-quarter to one-half inch of water – this seals the squash, preventing them from drying out. Carefully place the pan in the oven, where you will be baking the acorn squash for 20 minutes.

While baking the acorn squash, begin dicing up the apples into small cubes, and melt the butter in the microwave.

Thoroughly mix the apples, butter, and remaining ingredients (brown sugar, orange juice, and lemon peel) in a bowl.

Remove the baked acorn squash from the oven. Do not dump the water. With two forks, very carefully flip over the acorn squash halves where they are facing straight up.

Fill the acorn squash halves with your apple mixture. Once they are filled, very carefully move the pan back to the oven, cooking the squash in the oven for another 20 minutes. Let cool for five minutes on plates before serving.

I like to think of squash boats as one of those baked acorn squash recipes that is a mix between a healthy dinner and a dessert. When I first started baking my own acorn squash, I planned on this being a side, but it very quickly became a main entree in my house since it is just so filling! What surprises most of my friends who have asked for my recipe for acorn squash is that it is just so easy to make! Best of all, this baked acorn squash recipe looks absolutely beautiful, making it a great dish to serve if you are having unexpected guests!
The recipe for baking acorn squash came from The Winter Vegetarian by Darra Goldstein. While I have made some minor changes, it is still based on one of the author's recipes! If you enjoy vegetarian recipes, I highly recommend you give this book a try. It is by far my favorite vegetarian cookbook!
If you have a change or substitution you think would be good, or have a favorite way to prepare any squash, please share it with all of us in the comments area!