Recipe For Squash Boats
April 13, 2012
Susan Bewley
26 Comments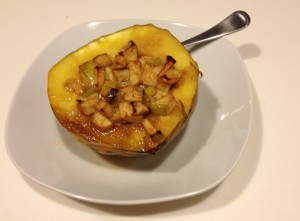 I have a confession to make – I love baked acorn squash! Whenever it starts to get cold, I look forward to going to the grocery and finding some good sized acorn squash to make for dinner. My husband looks forward to coming home and seeing me baking acorn squash – one of his favorite vegetarian recipes!
It wasn't until this past winter that I realized that quite a few people have no clue how to cook acorn squash, or worse, have never had baked acorn squash. So many people here always assumed it was only for decorating. I have been having quite a few people here asking for my recipe for acorn squash, which my husband dubbed long ago – squash boats!
I like to think of squash boats as one of those baked acorn squash recipes that is a mix between a healthy dinner and a dessert. When I first started baking my own acorn squash, I planned on this being a side, but it very quickly became a main entree in my house since it is just so filling! What surprises most of my friends who have asked for my recipe for acorn squash is that it is just so easy to make! Best of all, this baked acorn squash recipe looks absolutely beautiful, making it a great dish to serve if you are having unexpected guests!
The recipe for baking acorn squash came from The Winter Vegetarian by Darra Goldstein. While I have made some minor changes, it is still based on one of the author's recipes! If you enjoy vegetarian recipes, I highly recommend you give this book a try. It is by far my favorite vegetarian cookbook!
If you have a change or substitution you think would be good, or have a favorite way to prepare any squash, please share it with all of us in the comments area!
26 Responses to Recipe For Squash Boats