Disclosure: I received these products for free to review. The opinions in my review are honest and my own.
I will freely admit, I'm addicted to my gadgets. Before I even get out of bed, I am on my iPhone or iPad, checking my email, Facebook, and the news for the day. It really is hard to believe that a decade ago it was so difficult to stay connected to everyone anytime, anywhere. Unfortunately, there is a downside to always being connected – everything always seems to run out of power at the EXACT same time. Due to the chargers for all of our gadgets and electronics, electrical outlets are in very high demand, making multi-port chargers a must in our household. The problem with many of these chargers, however, is that they don't provide the full current a device can handle, or stop charging your phone or tablet once the battery is full, both of which can ultimately do long term damage to your device's battery. Wouldn't it be great if there was a device smart enough to recognize these devices' needs and not shorten the life of your battery? Recently, I found the perfect solution to this problem – the Bolse 7 Port USB Wall/Desktop Charger!
Bolse 7 Port USB Wall/Desktop Charger: What Is It?
Looking for a quality charger that is capable of charging up to 7 devices in your home without overheating or damaging your devices? If so, we think you will love the Bolse 7 Port USB Wall/Desktop Charger. This innovative charger is unique because it has built in overcharge protection, allowing your devices to safely charge without the risk of overheating or doing long term damage to your devices battery. Normally, chargers send current to your electronics even after they are charged, putting them at risk. With the charger's SmartIC™ Technology, it recognizes your iPhone, iPad, Nexus, Samsung Galaxy, and other devices, allowing it to know exactly how much power your device needs, and shut off the current flow once the battery is fully charged. Not only does it protect your devices, it charges them at a rapid speed with 25 watts and 5A total output. This means it can charge, for instance, up to 5 iPad Airs simultaneously! With the device's compact size it is perfect for living on top of a desk or throwing in a backpack before your next trip. One thing is for certain, you will never be hurting for space to charge your devices again!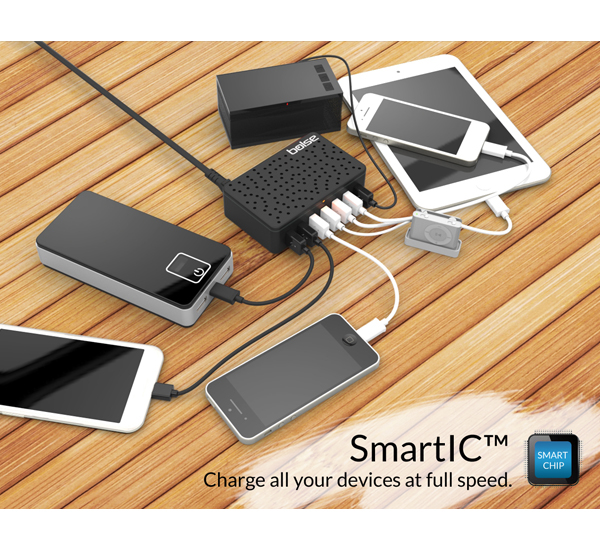 Bolse 7 Port USB Wall/Desktop Charger: Overall
Having used quite a few multi-port charges, I was impressed when I read the specs for the Bolse 7 Port USB Wall/Desktop Charger. While there are many chargers out there that can charge multiple devices at once I had never seen anything like their SmartIC™ Technology. While this technology makes the Bolse a bit more expensive than its competitors, it also adds protection that many of us really need on our devices. Let's face it, every one of us will gladly pay an extra $20 if it protects the batteries in our $300 – $600 phones and tablets. Along with the technical aspects of this charger, I also love that it is so compact. It fits neatly in the small pouch of my laptop bag, making it convenient for long road trips or hotel stays where we have very limited room. Based on our own experience with this charger, I am happy to give the Bolse 7 Port USB Wall/Desktop Charger an A rating.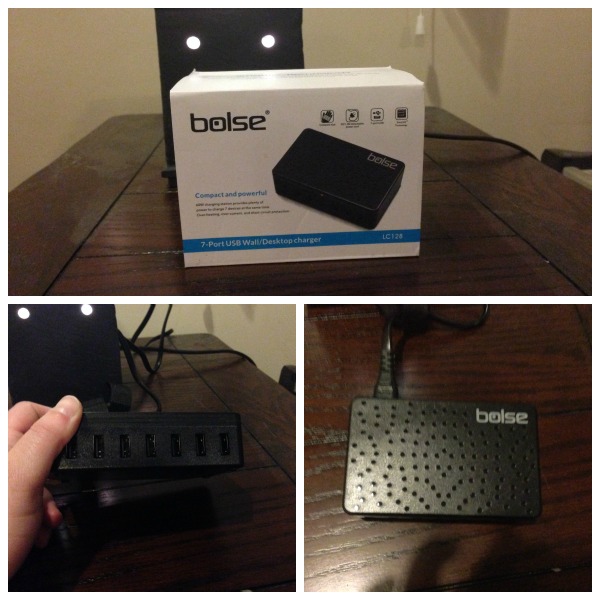 Bolse 7 Port USB Wall/Desktop Charger: Where to Purchase
Want to purchase this awesome charger for your own home? You can buy the Bolse 7 Port USB Wall/Desktop Charger on Amazon.com for $49.99. At the time of this review, however, this charger was on sale for $35.99. This is a limited time sale so make sure to snag this charger at this fantastic price!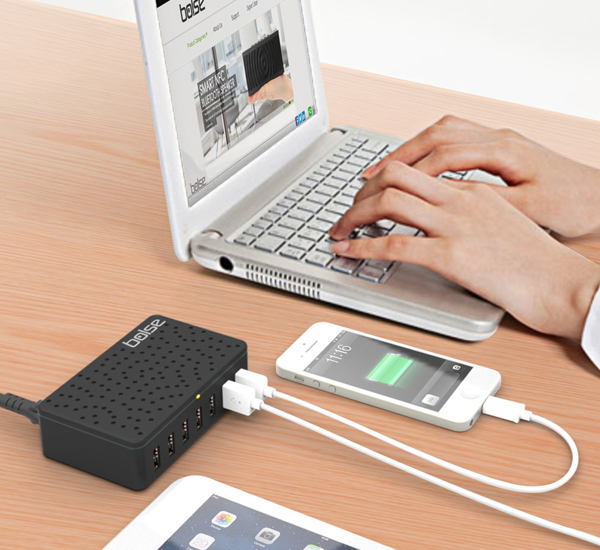 Disclosure: Budget Earth did not receive monetary compensation but did receive products for review purposes. All opinions on this product are my own and may differ from our readers' opinions.
Would you like to have your products featured in a giveaway event? Want to increase your social media exposure? Contact susan.l.bewley@gmail.com to see how I can help YOUR company today!