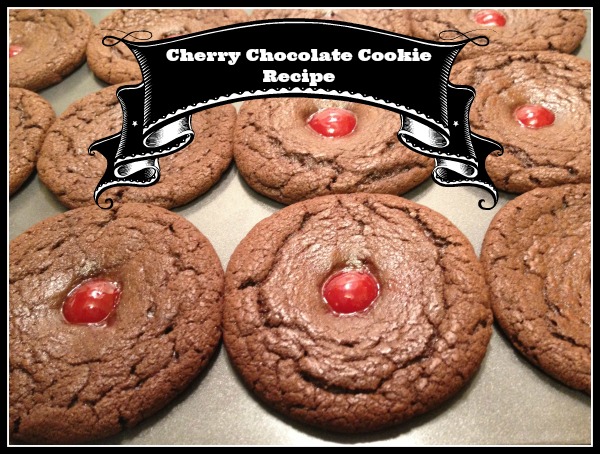 With holidays getting ready to begin, I am starting to go through my cookbooks and handwritten recipes to find some of my family's favorite recipes.  With my husband and me moving  back to Kentucky not so long ago, we are likely going to be having a very cutback Christmas. Rather than buying inexpensive gifts that no one is likely to enjoy, I am going to be focusing on making handmade or homemade gifts that those we care about will enjoy. One recipe that is on the top of the list on the homemade variety is one of my favorite Christmas cookie recipes – Cherry Chocolate Cookies.
Every Thanksgiving and Christmas, our families look forward to the baked goods I bring to the table.  I make a variety of homemade cakes, cookies, and other delicious treats, but there is always disappointment if I don't bring Cherry Chocolate Cookies. These cookies have the most amazing rich, chocolatey, flavor, perfectly complemented by the sweet cherry in the middle. Along with tasting absolutely amazing, this Christmas Cookie recipe looks absolutely perfect right out of the oven, something I have found is very hard to do with most cookie recipes.
Print
Cherry Chocolate Cookie Recipe
Cherry Chocolate Cookie Recipe
2 1/2

cups

Salted Butter Softened

4

cups

White Sugar

4

Eggs Room Temperature

2 Teaspoons

Baking Soda

4

cups

All Purpose Flour Prefer King Arthur Flour

1 1/2

cups

Baking Cocoa Milk or Dark Chocolate

12

oz

Melted Semi Sweet Chocolate Use Quality Chocolate

16

oz

Jar Maraschino Cherries Halved (prefer corn free)

4 Teaspoons

Pure Vanilla Extract
Instructions
Preheat the oven to 350 degrees.
Place the butter and sugar in a large mixing bowl. With a hand or stand mixer, cream the butter and sugar. When thoroughly mixed, add the eggs.
Beat the vanilla into the butter mixture.
Pour the melted chocolate into the butter mixture. This needs to be room temperature – aka liquid and warm to the touch, not burning hot from the microwave!
Mix together the flour, cocoa, and baking soda in a separate bowl.
Slowly pour the dry ingredient mixture (1/2 cup at a time) into butter mixture. Very slowly beat it in a stand mixer or with a hand mixer.
Scoop the cookies with a spoon on an ungreased cookie sheet. I use a spoon for mine. If you would like pretty cookies, roll them in a ball and then very slowly pat down. To prevent the cookies from sticking together, put them about 2-3 inches apart, depending on their size.
In the center of each cookie, gently press in a cherry half. Don't put it in too far or it will collapse the cookie when it's finished baking.
Bake the cookies for about 7 – 15 minutes, depending on their size. Finished cookies should have firm edges.
Move to a wire rack to completely cool to keep the cookies looking pretty! This recipe makes about 6 dozen cookies!
To make this Christmas cookie recipe look like the perfect Christmas gift, I highly recommend purchasing some themed tins. I bought mine last year at Target for about $2 a piece. After putting a doily or wax paper on the bottom, fill the tin with about a dozen to two dozen Cherry Chocolate Cookies. If you arrange the cookies properly, they will look absolutely amazing when opened! With the sugar in these cookies, they should be able to last a week to week and a half – making them ideal for shipping.
Just as a fair warning, this is a very dangerous recipe. My husband was banned from taking these Cherry Chocolate Cookies to work since so many people couldn't stop eating these cookies! All six dozen cookies were gone after half a day in his department. Even the people who normally aren't crazy about chocolate fell in love with these cookies! If you think six dozen cookies is a bit too much for your family, cut all the ingredients in half to make only 3 dozen cookies. If your family is anything like mine though, expect them to disappear quickly! Oh, and don't be surprised if this Christmas cookie recipe encourages Santa to leave a few extra gifts!
Disclosure: As a reminder, none of the writers at Budget Earth received compensation for any of the contests listed on this blog. All of the opinions on this blog are the opinions of said author and these opinions may differ from your own.