Disclosure: I received this product for free to review. The opinions in my review are honest and my own.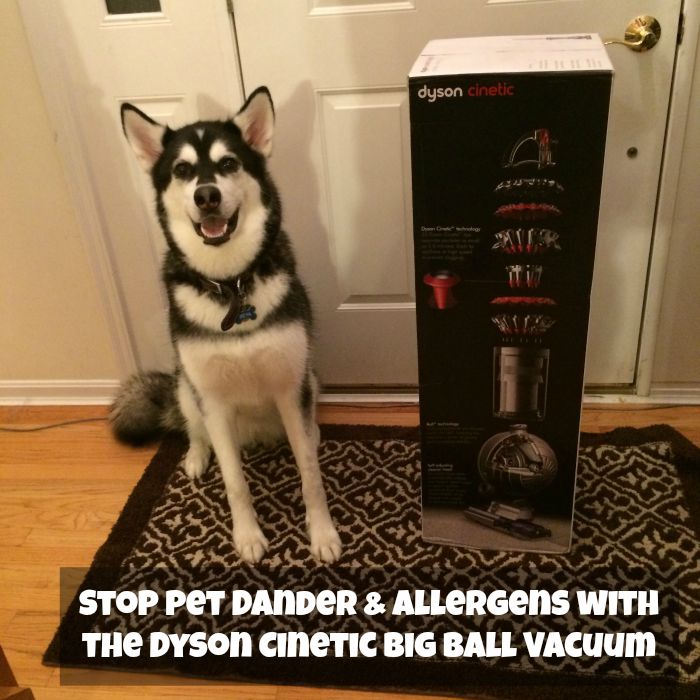 How many of you don't like the vacuum? Sure, I love having a clean house but I have never liked the mess that also comes with vacuuming. Growing up, it was even worse since my mother has always used a vacuum that has a messy filter and than a bag system that was a major pain to change. In the end, vacuuming up dust usually meant I was covered in dust about every three or four vacuuming sessions, which was a really miserable experience. When my husband and I first moved in together, he had already bought a DC14 Dyson Animal Vacuum, knowing it would be better with my long haired kitty. While it has lasted over a decade, we knew it was time to upgrade since it was starting to have suction problems and we were seeing more dust, even right after washing the filter. With how well our vacuum has worked, and the power of our Dyson V6 Absolute Cordless vacuum, we knew we only had one option – upgrade to one of the new Dyson Cinetic Big Ball Vacuums. With everything I had seen online and the amazing reviews, I knew we had to try one for ourselves!
Dyson Cinetic Big Ball Animal + Allergy Vacuum: What is It?
Looking for the perfect vacuum to fight back against allergens and pet dander? If so, we think you will love the Dyson Cinetic Big Ball Animal + Allergy Vacuum. Using the latest technology, and improved engineering knowledge that has made Dyson famous for decades, they have created the only vacuum with zero filter mainantance. No longer do you have to purchase new filters, or clean them out in your sink, creating quite a bit of mess and spreading the allergens you were trying to eliminate back around your home. Instead of using filters, they use their patented Dyson Cinetic tips which oscillate up to 5,000 Hz, separating microscopic dust out of the incoming air – the same dust that clogs other vacuums. Best of all, their technology also means that your vacuum will have the same cleaning power it did right out of the box throughout its working life. No more dealing with bad suction, or having to worry about changing your dust canister before it's full.
As well, their innovative ball technology steers easily throughout the house, allowing you to turn the vacuum easily without the use of wheels. It also has a self-adjusting cleaner head, allowing you to easily move from carpet to wood floors without any effort from you, making cleaning even easier.  Of course, the most important part of all this is that it picks up pet hairs and allergens like no other vacuum on the market, allowing you to have a clean home, even with fluffy, messy four legged family members. With innovative cleaning tools, whole machine HEPA filtration, and hygienic bin emptying, keeping your house clean has never been so easy. To learn more, check out the video below!
Dyson Cinetic Big Ball Animal + Allergy Vacuum: Overall
As someone who has been a Dyson fan for over a decade, I have to say I had pretty high expectations for the Dyson Cinetic Big Ball Animal + Allergy Vacuum. While all the vacuums I have tested in the past did a good job, nothing I had seen to date has picked up dog fur and dust like our Dyson DC14. It has been a true workhorse in our family and we may not have even considered replacing it if it wasn't for seeing the cleaning power of the Dyson V6 Absolute Cordless vacuum. After assembling the vacuum (which was super easy), I couldn't wait to get started cleaning our living room. To really test the vacuum, I didn't vacuum our living room for two weeks, letting it accumulate fur from both of our malamutes and dirt from everyday living in our home.
To say that we were blown away by the Dyson Cinetic Big Ball Animal + Allergy Vacuum is truly an understatement. It was picking up dust that our old vacuum wouldn't have even noticed, which my husband I both thought was pretty impressive. So impressive in fact that we had to empty the canister three times from all the dust it was picking up from the carpet. I also can't remember the last time our air smelled so…clean! Even the dogs were investigating since they thought the room smelled very different after we vacuumed. The new Cinetic technology is truly amazing and picks up dust that you wouldn't even know existed with only one go. For people like us with two large dogs and allergies, the Dyson Cinetic Big Ball Animal + Allergy Vacuum is truly a lifesaver!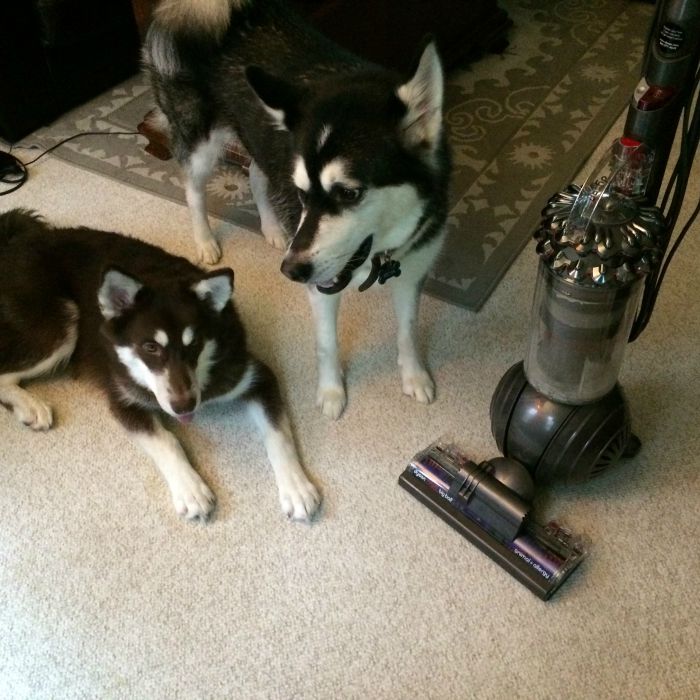 As well, I also want to note that this vacuum comes with a TON of different attachments and a storage bag for said attachments. I had some of these attachments that I purchased separately for our old Dyson and I have to say that they aren't cheap. Even with Amazon's great prices we probably spent about an extra $200 buying half of the attachments for our old vacuum that came with the Dyson Cinetic Big Ball Animal + Allergy Vacuum. That being said, it looks like some of the attachments have been changed to make them even more functional , making dusting, cleaning fans, and overall managing a large house with pets even easier. It also wouldn't surprise me at all if this vacuum lasts as long as our older Dyson, making it an amazing deal for the money, especially since most other vacuums I have reviewed died within two years from trying to manage Reya's long fur. Based on our own experience, I am delighted to give the Dyson Cinetic Big Ball Animal + Allergy Vacuum an A+ rating, and very highly recommend it for any household with pets!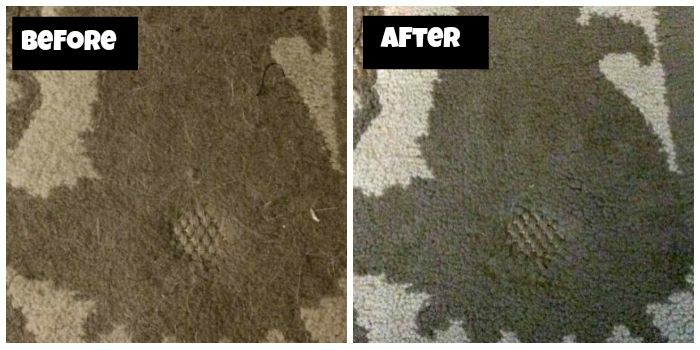 Dyson Cinetic Big Ball Animal + Allergy Vacuum: In the Box
What comes with the Dyson Cinetic Big Ball Animal + Allergy Vacuum? Inside the box you will find the following:
Cinetic Big Ball Animal + Allergy Vacuum
Tangle Free Turbine Tool
Carbon Fiber Soft Dusting Brush
Reach Under Tool
Stair Tool
Combination Tool
Mattress Tool
Multi-Angle Brush Tool
Tool Storage Bag
Manual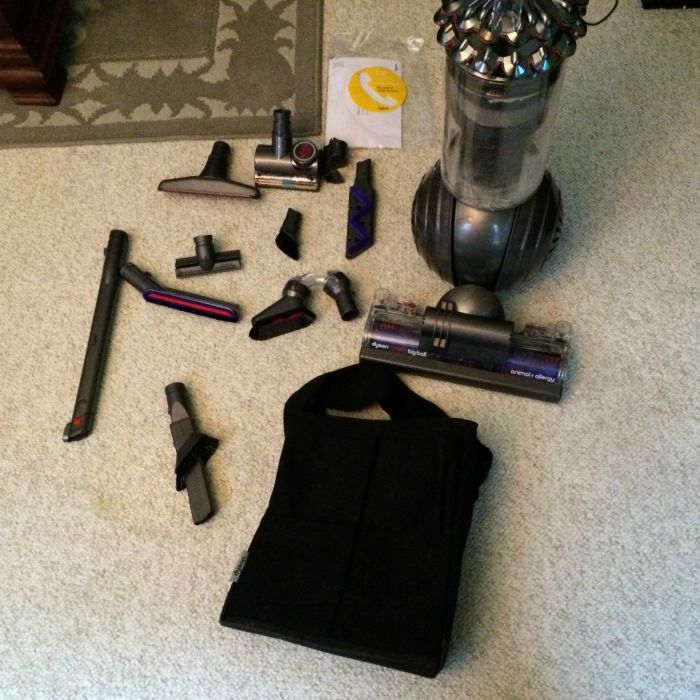 Dyson Cinetic Big Ball Animal + Allergy Vacuum: Where to Purchase
Want to purchase this fantastic vacuum for your own home? You can buy the Dyson Cinetic Big Ball Animal + Allergy Vacuum (featured in this review) on the Dyson website, Amazon.com, or use their store locator to find a Dyson retailer near you.
Want to learn more & see great deals? Check out Dyson on social media!
Facebook | Twitter | Pinterest | YouTube

Disclosure: Budget Earth did not receive monetary compensation for this review, but did receive products for review purposes.  All opinions on this product are my own honest assessment, and may differ from our readers' opinions. 
Would you like to have your products featured in a giveaway event? Want to increase your social media exposure? Contact susan.l.bewley@gmail.com to see how I can help YOUR company today!