Like many other families, my husband and I are constantly on the go. If we aren't driving into Louisville every other weekend, we are on the road visiting our parents in Owensboro. A few times a year, we are also traveling for business. While my husband and I both work from home, he every so often has to drive to New Jersey for meetings or important events at work. Since we both love to drive, this really isn't a big deal for us and we usually do the 10 – 13 hour drive in one go, only stopping to switch drivers so we don't get fatigued. The only problem with this, however, is that we eat much more fast food than we like since it is what can easily be found on the road.
If you are anything like me, you are likely wondering why we don't just pack our own lunches. Well, until recently, it wasn't something easy for us. We had packed lunches in the past only to have massive spills or just lose too much room. Since both of us are trying to lose weight, I was determined to find some solution to our eating problem while traveling – something that was compact and easy to handle in the car. After doing some research and talking to my friend Tara, I found the perfect solution – ECOLunchbox. Wanting to know more about their products, I reached out to them, and they were excited to have us review one of their stainless steel sets and cotton bags.
ECOLunchbox: Who Are They
ECOLunchbox: ECOLunchbox 3 in 1 Set
When it comes to unique little containers, I have to say that ECOLunchbox really knows its stuff. I have seen quite a few bento boxes in my life, many of which were small, cheap pieces of plastic. What really makes the EcoLunchbox so unique is its size. I had never seen a stainless steel container that could fit so much food without being terribly heavy. Even better, the clips are easy enough to attach and remove with one hand, making it perfect for eating on the go. I especially loved that it was big enough to hold a sandwich, something I had never seen with this style of box. As you can see from the pictures, this box really can hold quite a bit, making it perfect for busy men and women on the go, or as the perfect compact lunchbox for kids.

For me, it was perfect on my recent trip to New Jersey with my husband. Since I brought the Reya puppy with me, I have been spending more time outdoors and traveling about. While this may not sound like a big deal, most businesses aren't too keen on bringing a dog inside their establishment, meaning that I had very few options for food. Rather than leave her behind or do drive through, I filled my ECOLunchbox with food from breakfast, making it the perfect lunch as Reya and I were traveling about. Really, who wouldn't want such a versatile lunchbox?

EcoLunchbox: Furoshiki Eco Knapsack
Out of everything I received from ECOLunchbox, the Furoshiki Eco Knapsack is by far my favorite item. Like most women, I love collecting bags. I have not only a selection of cute purses, but totes, duffle bags, and unique, interesting bags. I think this falls in the last category. I'll also freely admit that the geek part of me that loves Japanese culture also fell in love with this bag, having known what the bag was before I even saw it. I had just never seen one that was this cute! In my opinion, it is the perfect size for lunch, trips to the store, or even as a cute purse!
What really makes ECOLunchbox's bags so unique, however, is how they are made. The fabric used for their bag is made using colorful fair trade textiles. This unique fabric is hand block printed by artisans in India who have been using this technique for generations. This makes the fabric unique and fun! Since they only get a limited run of these fabrics, it is unlikely you are going to run into many people with a bag just like yours!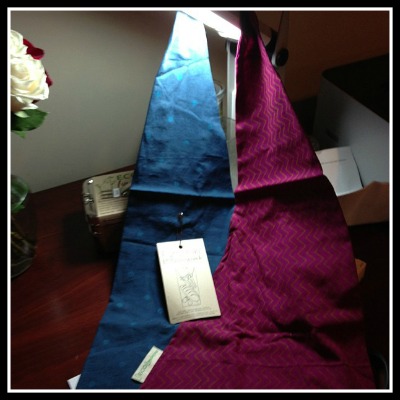 ECOLunchbox: Stainless Spork
Okay, who doesn't like sporks? When I first opened my review pack and found this spork, there was only one word that came to mind – adorable! It has to be the smallest spork I have ever seen, but also one of the most well made, making it the perfect addition to any lunch set. Since it can be thrown in the dishwasher, it is perfect for kids and adults alike. I also love that its small enough to fit in a purse, making it perfect for yogurt treats on the go!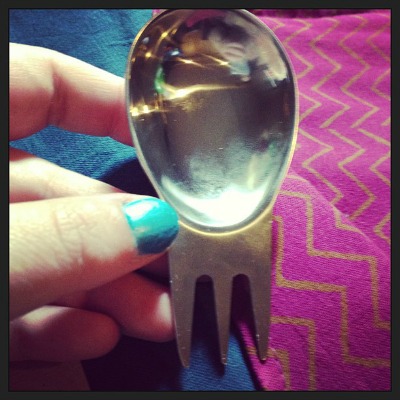 ECOLunchbox: Overall
For my own experience, I have to say that I am very impressed with ECOLunchbox's products. The stainless steel bento style lunchbox is very easy to use and is really the perfect size for adults. I have honestly never seen one that was truly big enough to hold a sandwich or an adult portion. It is even dishwasher safe, making it perfect for busy families like my own. Best of all, every product sold at ECOLunchbox is practical and fashionable without costing too much, making these items perfect for parents on a budget. Since I enjoy these products so much and am impressed with their overall quality, I can happily give ECOLunchbox an A+ rating!
ECOLunchbox: Where to Purchase
Want to purchase some new lunch items for yourself or your children? You can find ECOLunchbox's entire selection of containers and cotton bags on their website. At ECOLunchbox, you can truly make lunch healthier for your entire family!
Disclosure: Budget Earth did not receive compensation for this review but did receive free products from ECOLunchbox for review purposes. All opinions on this product are my own and may differ from our readers' opinions.
Would you like to have your products featured in a similar giveaway event? Want to increase your social media exposure before the holiday season? See how we can help! Contact budgetearth@gmail.com to see what Mom Powered Media can do for your company!