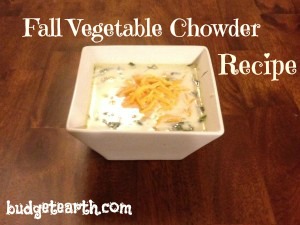 Do you have certain recipes you pull out the moment fall vegetables are in season? As soon as I see parsnips and other fall vegetables in the produce aisle, I pull out some of my favorite recipes. One recipe that has become a staple during the fall and winter months is my Fall Vegetable Chowder. It is one of those recipes that is very healthy, but you wouldn't know from the taste. It is just one of those recipes that when you have family over, you better not expect to have leftovers. At least, that is what happened to me the last time I made this recipe when my husband's family was visiting our apartment in New Jersey!
Oddly enough, my Fall Vegetable Chowder Recipe is the only vegetable soup I will eat. I was never fan of vegetable soup as a kid, and I generally just avoided it whenever it was served at home or at friend's houses. This soup, however, is different. It is rich, creamy, and just a tad bit spicy. It really warms you up during a cold fall or winter day! If you like very spicy soups, just add in a bit more cayenne pepper. Be warned, however, that a little does go a long way with this soup, as we learned when experimenting.
As well, my Fall Vegetable Chowder Recipe is very nutritious and full of fiber, making it a well balanced meal for those who are trying to live a healthy lifestyle. While I would love to say I came up with this recipe myself, I only modified the original recipe that came from one of my favorite cookbooks – The Winter Vegetarian by Darra Goldstein. I cannot tell you how awesome this cookbook is, especially if you are someone like me that prefers vegetarian recipes that aren't with heavily processed vegetable products. I know technically many of these products are vegetarian, but I prefer eating the real thing, no more processed than my cooking, when I choose to eat vegetarian dishes!
I hope you enjoy my Fall Vegetable Chowder Recipe as much as my family.  If you try it out, please tell me what you think!
Print
Fall Chowder Recipe
Fall Vegetable Chowder Recipe Yield: 6-8 Servings
2

Sweet Onions

3

–

4

Cloves Garlic Minced

4

Large Parsnips

3

Whole Red Potatoes Chopped

4

cups

Water

2

cups

Fresh Spinach Chopped

2

cups

Milk

1/4 Teaspoon

Pepper

1/4 Teaspoon

Cayenne Pepper (more if you like hot dishes)

1/4

cup

Fresh Dill

2

–

3

Tablespoons Salted Butter
Cheddar Cheese (optional)
Instructions
Chop up parsnips and onions in a little food chopper. Do not mix; keep in separate bowls.
Melt butter in stockpot, then place onions and garlic in butter. Saute for 8 minutes.
Place parsnips and potatoes into the mixture. Stir and cook in butter mixture for another 3 minutes.
Add water to the vegetables and bring to a boil. Once boiling, lower the heat and cover. Simmer for 30 minutes.
Place spinach, milk, cayenne pepper, pepper, and dill into the pot. Simmer with top off for another 10 minutes.
Serve hot; top with cheddar cheese if desired.