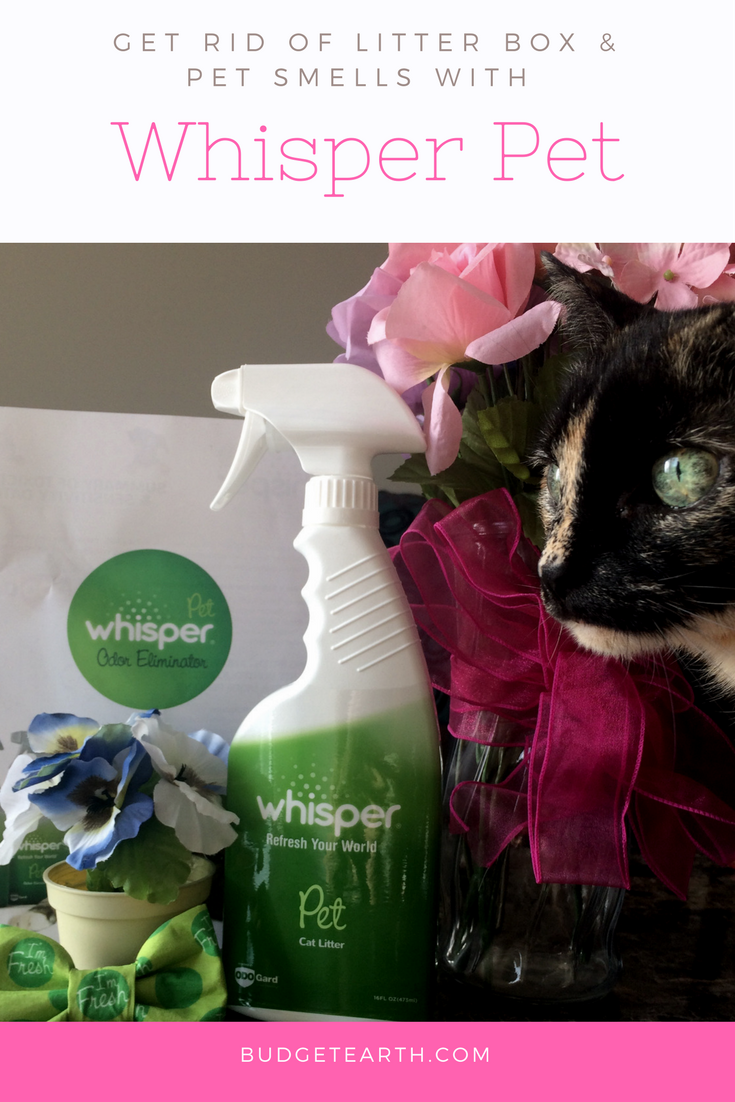 Do you love your pet but not so much some of the pet smells? As someone who has (and has had) quite a few pets, I will freely admit that while I love my girls dearly, sometimes their smells aren't that amazing. Between dog gas, occasional accidents, even just the smell of a wet dog, all and more can easily leave me looking for some sort of air freshener. The problem with most air fresheners, however, is that they don't just bother our allergies, they aggravate our dogs' sensitive noses as well. Recently, however, were introduced to the perfect solution for getting rid of nasty pet odors for good – Whisper Pet. When they asked us and our cat writer if we were willing to test out complementary bottles of their products, we couldn't wait!
Whisper Pet: What Is It?
Are you tired of dealing with a stinky litter box or daily pet smells? If so, we think you will love Whisper Pet. This innovative line of odor eliminating products instantly and permanently gets rid of smells without using perfumes. Their ODOGard's technology transforms odor molecules, completely getting rid of nasty smells at their source. As well, the spray is completely safe for humans and pets, making it possible for you to have a great smelling home without irritating anyone in your household. Some of the odors it is known to work for include:
Pet Urine
Vomit
Feces
Excretions (think anal glands)
Skunk Spray
Wet Dog
Littler Box
Natural Odors
Want to learn more about how their products work? Make sure to check out the video below!
Whisper Pet Odor Eliminator Spray
We all know pets make some rather interesting smells at times. Rather than go for air fresheners filled with perfumes and enzymes (which take a long time go eliminate odor), go with something that gets rid of smells immediately – Whisper Pet Odor Eliminator Spray. When you spray this product in the air, it attaches to the bad smell molecular, completely changing it and allowing you to breathe easier without the use of masking agents like perfumes. Best of all, it doesn't bother the sensitive noses of dogs or cats.
To test out the Whisper Pet Odor Eliminator Spray, we decided to use this spray in two hours – on the girls' travel bed in the back of our SUV, and for the smell after an indoor accident. We found that within seconds, all scent was gone after spraying the bed and a potty accident. It was actually quite surprising, especially since it smelled like nothing happened at all (just a slightly salty smell). Best of all, the smell didn't come back later in the day, telling us that it wasn't masking but truly eliminating odors as promised! Given that, we were extremely impressed with this awesome spray, as you can imagine! Currently, you can purchase the Whisper Pet Odor Eliminator Spray on the Whisper Pet website in a 16 oz bottle for $12.99 or a 28 oz bottle for $15.99.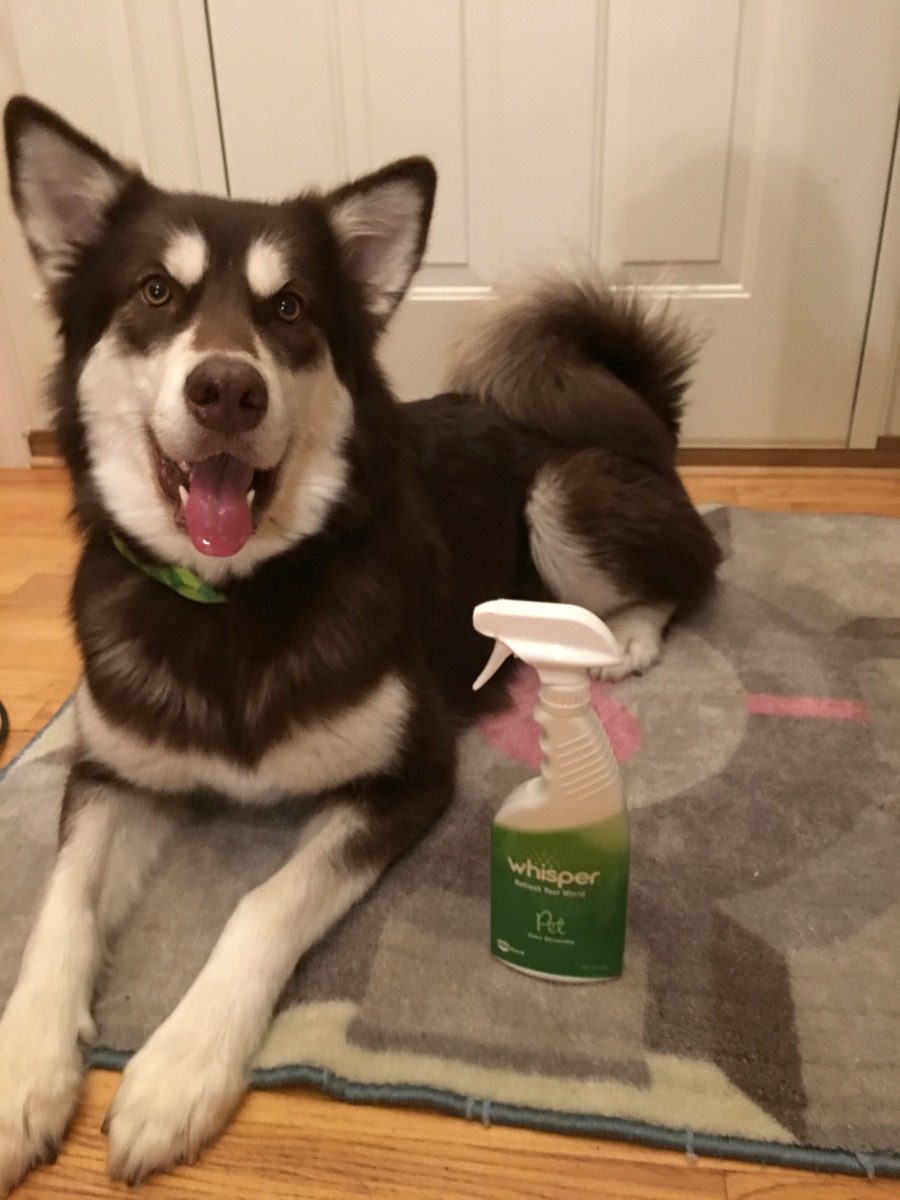 Whisper Pet Cat Litter Spray
Tired of dealing with a stinky litter box? Never have a smelly litter box again with the Whisper Pet Cat Litter Spray. Whisper's ODOGard technology transforms odor-causing molecules to eliminate ugly scents at the source. Just spray around the litter box and mess to get rid of stinky kitty smells.
To truly test out the Whisper Pet Cat Litter Spray, our cat writer Demelza, tested out Whisper Pet Cat Litter Spray with one of our favorite test cats, Blaze. While Blaze may be a sweet old lady, her stinks are not so sweet. Since she shares a bedroom with Demelza in her apartment, she loved the idea of anything that could deal with the horrible smell of the litter box. She was actually using a competitor before testing this product, so she was curious to see how well Whisper Pet worked with her litter box. After a few tests, she was blown away by this litter, texting me excitedly that it truly eliminated all the ugly scents and odors. In her opinion, it is the best spray out there – hands down – with no comparison on the market. Even with her nose close by the litter box, she smelled NOTHING. To say she highly recommends this spray is truly an understatement! Currently, you can purchase Whisper Pet Cat Litter Spray in a 28 oz bottle on the Whisper Pet website for $15.99.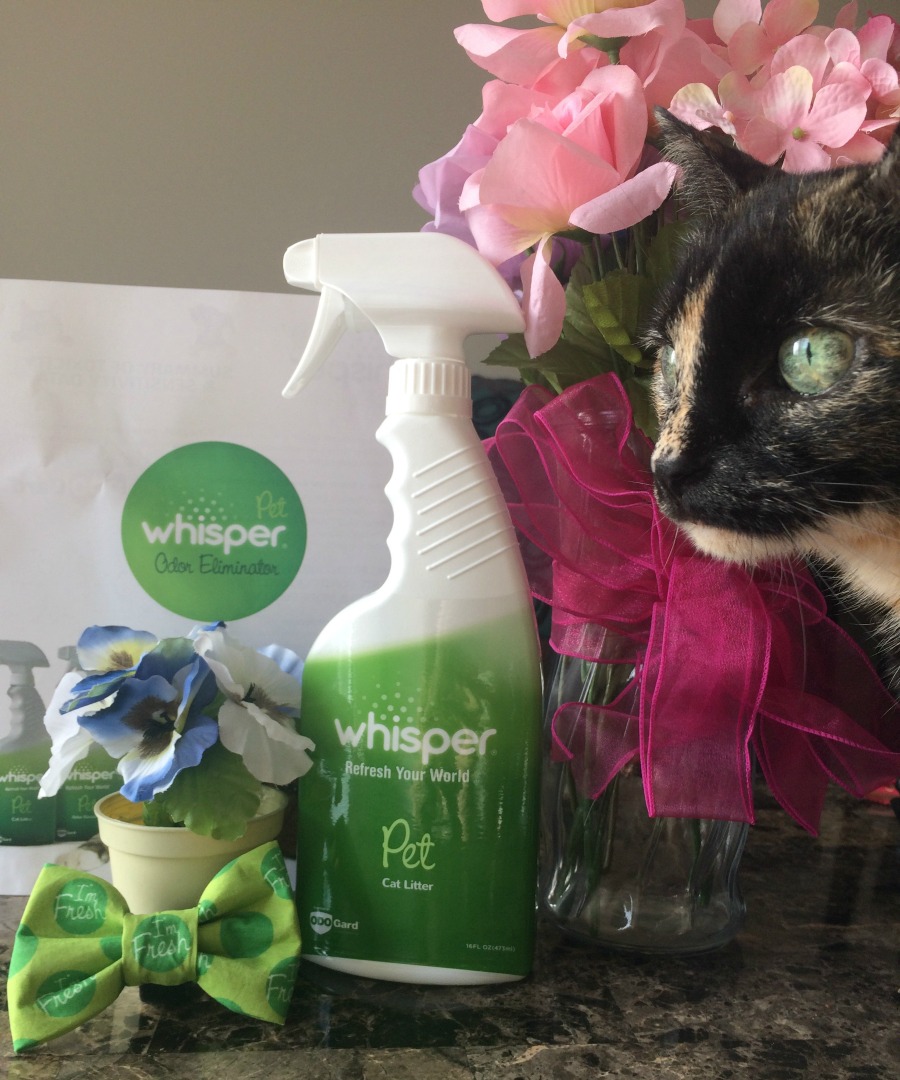 Whisper Pet: Where to Purchase?
Want to purchase this awesome odor eliminator spray? You can find Whisper Pet Odor Eliminator Spray and Whisper Pet Cat Litter Spray on the Whisper Pet website or on Amazon.com. Also, don't forget that National Canine Cancer Foundation (or your preferred charity) gets $1 for every 16 oz bottle purchased or $2 for everything 28 oz bottle purchased.
Oh, and before I forget, Whisper Pet is doing something pretty nifty for National Pet Month. Throughout the month of May, they are offering $2 off the 28 oz bottles purchased from their official website (donations and discount only valid on the official Whisper Pet website). See for yourself why everyone loves Whisper Pet!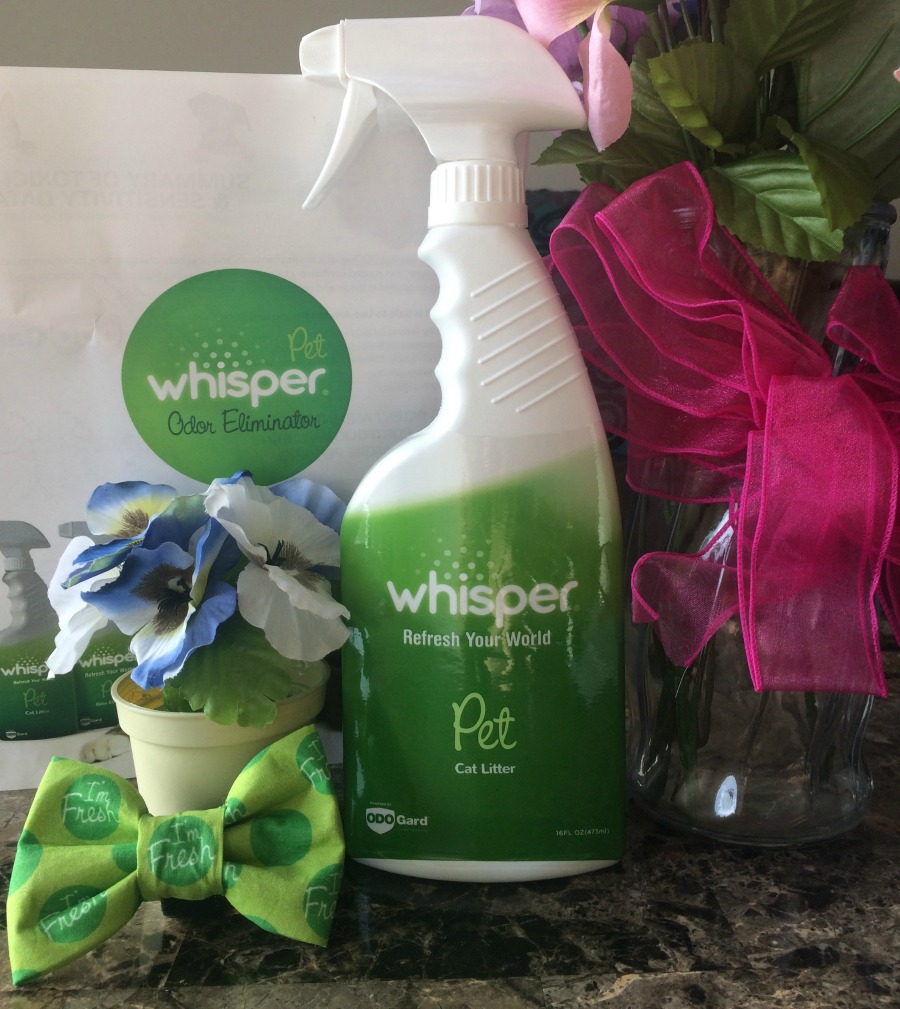 Want to learn more? Check out Whisper Pet on social media!
Facebook | Twitter | Instagram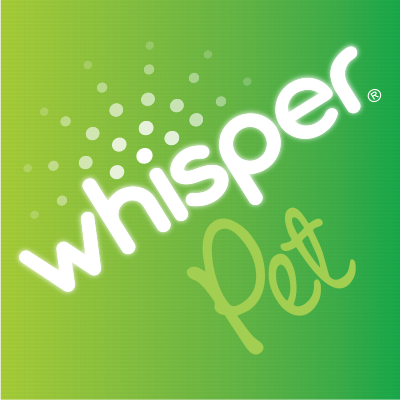 Would you like to have your products featured in a giveaway event? Want to increase your social media exposure? Contact susan.l.bewley@gmail.com to see how I can help YOUR company today!