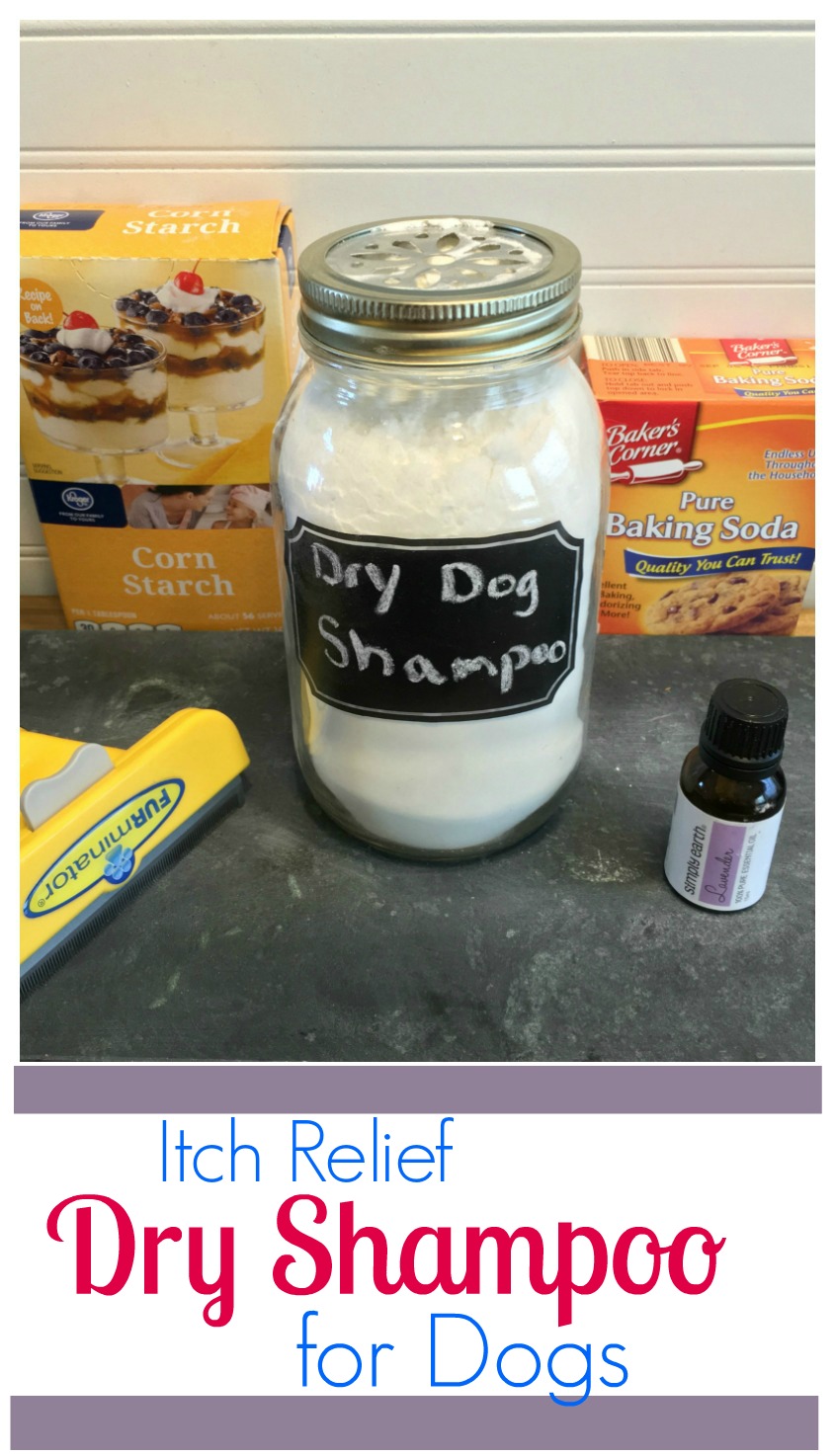 Is there anything better than two happy dogs? If you have a multi-dog household, you know that dogs love playing together and getting into lots of trouble together. In our house, they share toys and have a favorite game which we refer to as 'bitey face'. There is nothing malicious about this game, but dog saliva, doggy messes, and other interesting 'smells' they pick up over time can quickly lead to a…well…not-so-nice smelling dog.
While the obvious answer would be a bath, that isn't always the best option.  It is recommended by veterinarians that you bathe your dog no more than once a month due to their sensitive skin, which can make picking a bath time a bit tricky. Since none of us want to strip our dogs of their natural fur oils or cause them skin issues, that means shampooing our dogs with traditional products is limited. That doesn't mean we can't freshen up our girls, though. Instead, we do what is recommended for humans too – using a dry shampoo!
With a dry shampoo, you can get rid of unwanted smells and help your dog if they are suffering from dry skin (usually caused from being indoors in the heat). I also love using lavender or peppermint essential oils, since it not only leaves Reya and Ivi smelling great, but is a natural bug repellent. Best of all, you can easily make your own dry shampoo for dogs at home using ingredients you probably have in your kitchen – primarily baking soda and corn starch! Below, you can find the dry shampoo for dogs recipes that we use in our own house.
Print
Itch Relief Dry Shampoo for Dogs Recipe
Instructions
Place baking soda and corn start in a large bowl, mix well with a spoon.
Place 5 drops of lavender or a dog safe essential oil in the mixture. Stir well and make sure it doesn't clump.
Place dry shampoo in your preferred shaker. You can purchase one at a craft store, in a kitchen supply store, or use a large spice container.
Gently shake the mixture onto your dogs fur and brush thoroughly with a Furminator or similar brush.
Remove excess powder with a towel like you would dry your dog after a bath.
Not sure where to buy your essential oils? Personally, I like Simply Earth essential oils since they are guaranteed to be 100% pure, and 13% of the profit from your purchase goes to helping end human trafficking. Not only are you helping a good cause by purchasing high quality oils, but they are also fairly inexpensive (as little as $4.99 a bottle). To learn more, check out the Simply Earth website or their selection on Amazon.com!
Want to learn more? Make sure to check out Simply Earth on social media!
Facebook | Twitter | Pinterest | Instagram

Disclosure: Budget Earth did not receive monetary compensation but did receive products in exchange for this post from Simply Earth. This post may have affiliate links.  All opinions on this product are my own and may differ from our readers' opinions.
Would you like to have your products featured in a giveaway event? Want to increase your social media exposure? Contact susan.l.bewley@gmail.com to see how I can help YOUR company today!