Disclosure: I received these products for free to review. The opinions in my review are honest and my own.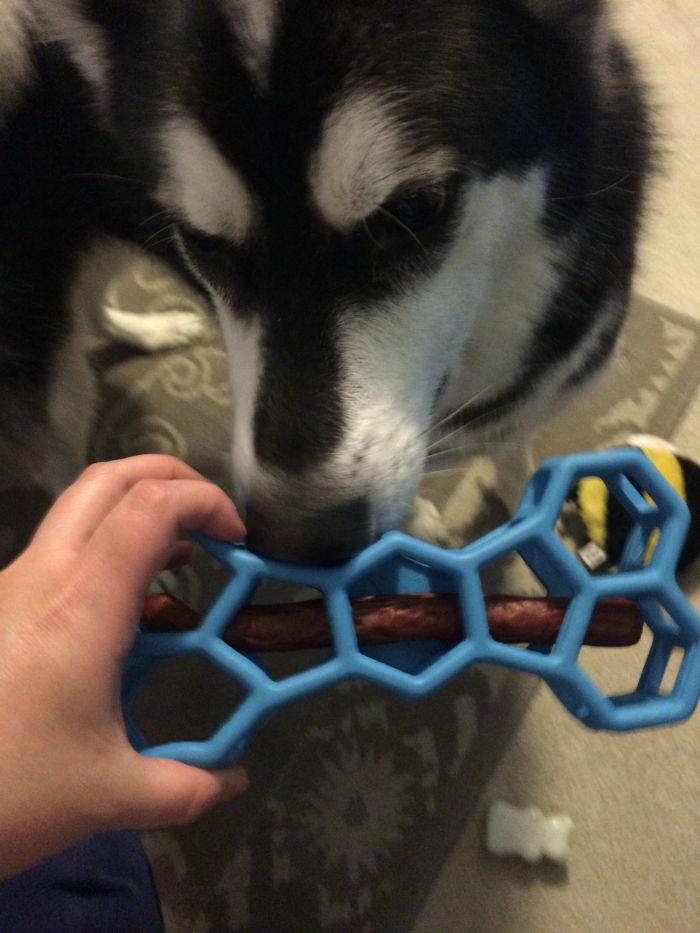 As any dog owner can tell you, play time is serious business in most households. With two very intelligent, curious Alaskan malamutes, we are constantly going through toys as they look for something new to manipulate and explore. While they love fancy toys, sometimes the best are those that seem rather simple – including balls and various chew toys. Dogs love creating their own games with these toys, especially if they have a playmate who is just as curious and playful. Unfortunately, sometimes toys don't last long in our house – because they are intelligent and not afraid to be rough while playing with their toys. This leads to mom and dad both spending quite a bit of time not only researching toys, but giving them a good look over before they ever find their way in our dogs' mouths. Luckily, we have a few brands that we trust when it comes to toys and are always excited when they have new toys hit the market. When we heard that JW had new toys, we couldn't wait to try them for ourselves!
JW Megalast Glow Toys
Looking for toys that are super durable and made from safe materials that are also environmentally friendly? If so, we think you will love the new JW Megalast Glow Toys. Like other toys in the Megalast line, these toys are made from Megalastomer, JW's own super tough, proprietary material that is not only extremely durable, but made of a material that is safe for all dogs. While these toys float and are just as fun as other toys in the line, they also glow in the dark, allowing dogs and their owners to play outside even dark, giving them extra play time outdoors after work or on a beautiful summer night. These toys not only come in a variety of shapes, but are made right here in the United States. Currently, you can get the JW Megalast Glow toys in one of three shapes – bone, bear, or as a classic ball. You can also find other toys in the JW Megalast line here!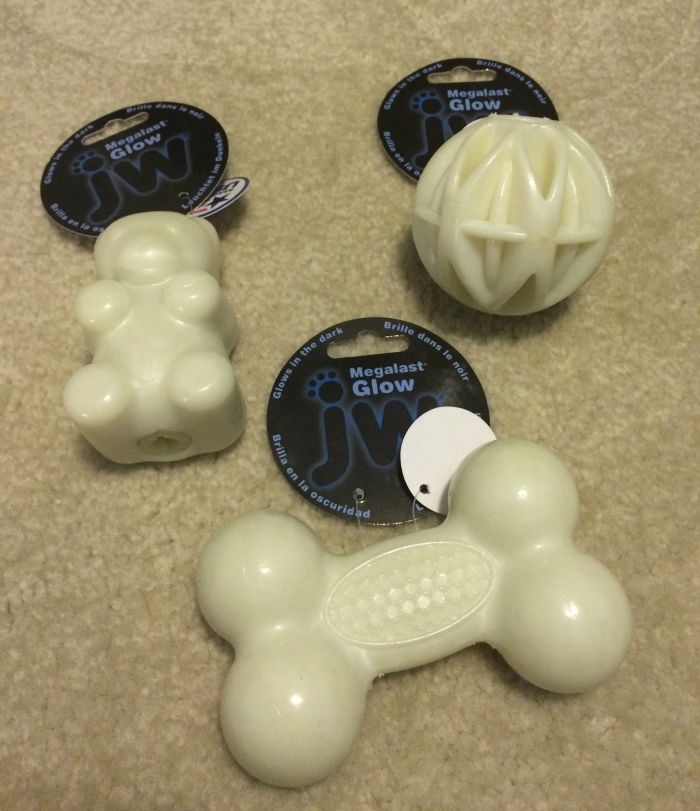 I have to admit, these are pretty adorable toys. Our girls didn't even realize they glowed in the dark until they accidentally rolled the ball under Dad's desk. The ball glowing intrigued the puppy and she wanted to keep playing with it under his desk. Unfortunately for her, Reya was quick to steal it away, leaving her chasing Reya to get it back and then eventually playing with the bone and bear. The bear, which squeaks, kept her attention the longest and she loves playing pull and tug with it both with Reya and us. To say the least, these toys are really quite durable since the girls were rough-housing with them quite a bit and there isn't even a scratch on any of the three toys. Based on our own experience, we are delighted to give the JW Megalast Glow Toys an A+ rating!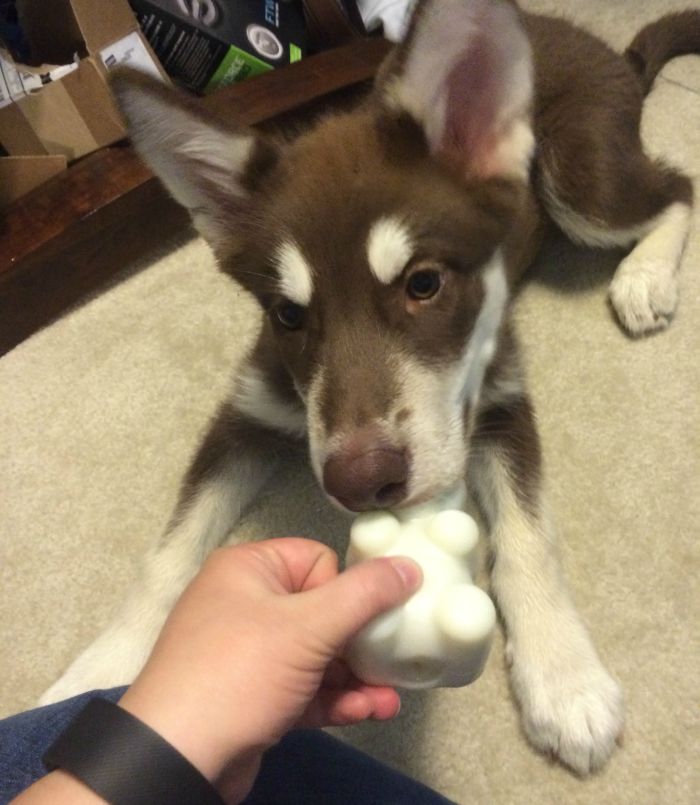 JW Hol-ee Bone
Looking for simple, but fun treat toys? If so, we think you will love JW Hol-ee Bone Toys. These toys are bone shaped with various holes for stashing treats inside, giving your dog hours of entertainment. Not only are they perfect for training, but playing fetch, chewing, toss and tug, or even for helping teething puppies. These bones come in a variety of colors and sizes, allowing you to find the perfect hol-ee bone for your favorite pup! Want to see more? You can find other JW Hol-ee toys here!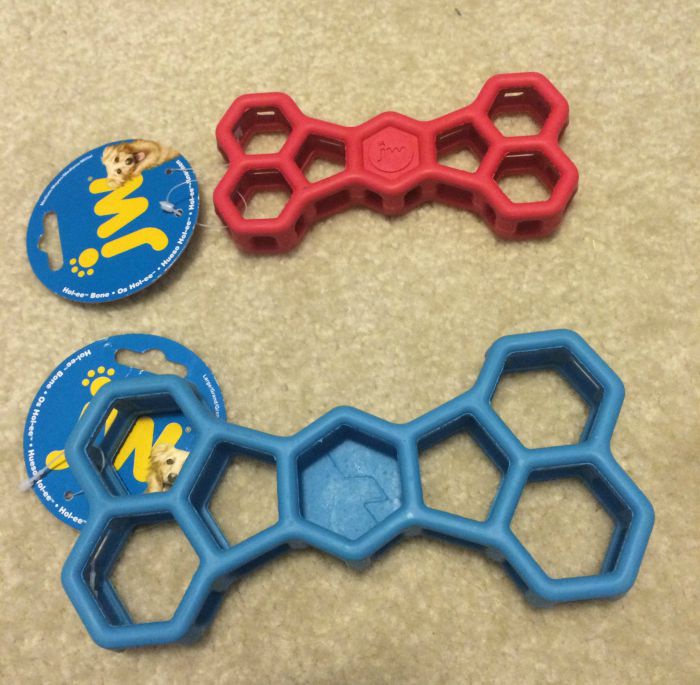 While I wasn't for sure about this toy at first, I have to say that it sold itself quickly. We stuffed these toys with natural dried sausage and the girls were busy for quite some time trying to figure out how to get the treat out of the holes. Keeping Ivi busy for nearly an hour didn't shock me at all, but this toy causing quite a bit of a challenge for Reya was a pleasant surprise. She went into her crate on her own, wanting to be alone as she figured out this toy with quite a bit of enthusiasm. Once she did get the treat out, she was quite proud to show us it was gone (or hopeful we would refill it). One thing I do want to note, however, is that this toy shouldn't be left alone with puppies. We did find that Ivi's sharp little baby teeth did break the material in one area, though not in a way that let her consume any of it. Even with that little puppy issue, I have to say it is one of the best treat toys we have seen yet for both puppies and adult dogs. Based on our own experience, we are delighted to give JW Hol-ee toys an A rating and highly recommend them to our readers!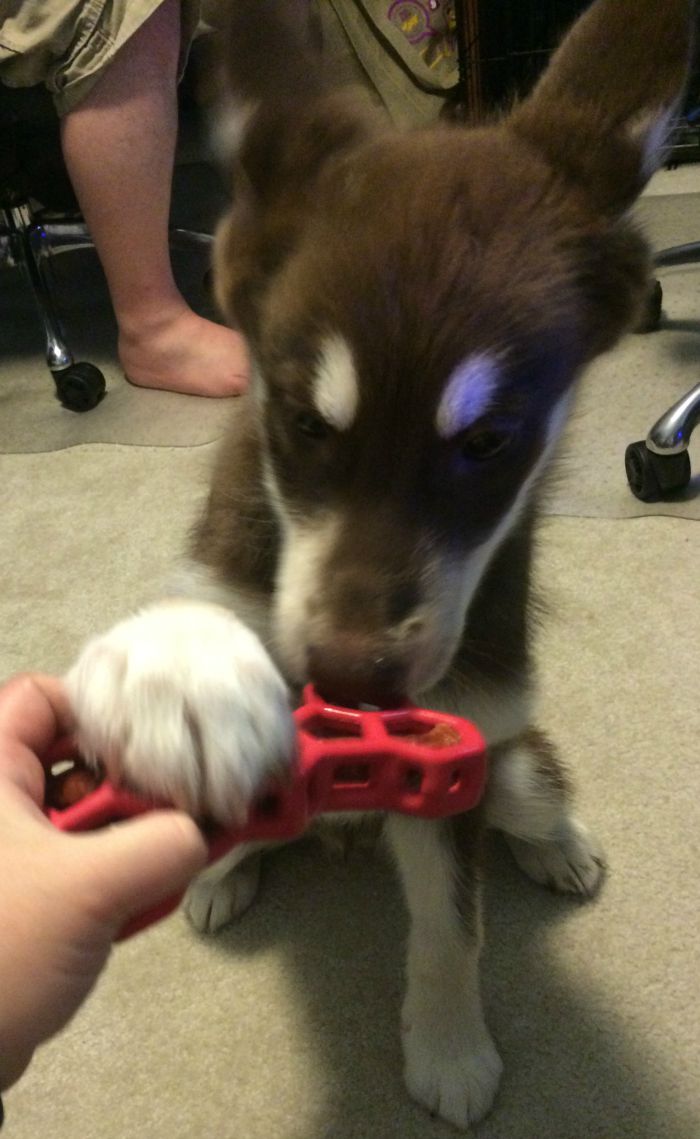 JW  Toys: Where to Purchase
Want to buy these adorable toys for your own dogs? You can find the JW Megalast Glow Toys and JW Hol-ee Bone Toys at a pet store near you using the JW store locator. You can also find these super cute toys on Amazon.com!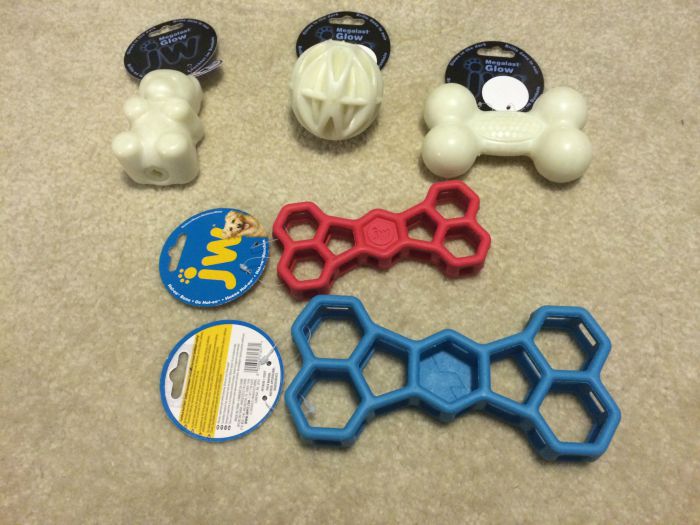 Want to learn more? Check out JW Pets on social media!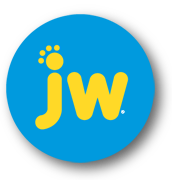 Disclosure: Budget Earth did not receive monetary compensation but did receive products for review purposes. All opinions on this product are my own and may differ from our readers' opinions.
Would you like to have your products featured in a giveaway event? Want to increase your social media exposure? Contact susan.l.bewley@gmail.com to see how I can help YOUR company today!