Have you heard of the Keurig Platinum B70 single cup coffee maker?  Until recently, I hadn't either, when I started looking for a new coffee pot. While I hate to admit it, I am addicted to coffee. I can't even get up in the morning without my husband bringing me a cup of coffee with cream and sugar. Don't get me wrong, I don't drink coffee all day, but without my morning coffee, I am not a very happy camper. As someone that absolutely loves coffee, I am always eager to try new flavored coffees and different coffee makers. We currently have two coffee makers in our home – a five year old coffee maker I got for free from Gevalia and a Wal-Mart special $20 coffee pot.
As you can guess, the cheap coffee pot is a piece of junk, so I was happy to get my Gevalia back. Even though it is great for when we have a lot of people, it makes way too much coffee for just two people. For this reason, I have been looking into purchasing a single cup coffee maker that can make just the right amount of coffee for my husband myself. One of the coffee makers that caught my attention was the Keurig Platinum B70 single cup coffee maker.
Keurig Platinum B70: Features
Since I love coffee, I expect a lot of my coffee maker. What I think is so cool about the Keurig Platinum B70 is that it is an eco-friendly coffee maker that is loaded with features!
Adjustable brew temperatures (172 degrees – 192 degrees).
One touch programmable panel.
Blue backlit LCD display.
Easy to program digital clock.
Blue lit water reservoir to easily see when it needs filling.
10 cup removable water reservoir
Dishwasher safe removable pieces.
Descale indicator (tells you when you need to clean out mineral buildup).
Energy saving programming.
Fits in small spaces (14″ x 10″ x 13″)
Keurig Platinum B70: Coffee
One of the thing that makes Keurig Platinum B70 different from other single cup coffee maker brands is their little K-cups. These little cups come in a variety of flavors and feature over 200 different types of coffee, teas, and even hot chocolates. Since these cups are premeasured, you are guaranteed to have the right amount of coffee every time to make a delicious cup of coffee. Not only does this make the ideal cup of coffee, but prevents excess waste since many people use more coffee than is actually necessary.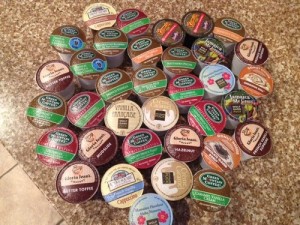 Keurig Platinum B70: Eco-Friendly
If I had to pick one thing I love the most about the Keurig Platinum B70, it is that it is very eco-friendly! Keurig has been well known for years for having sustainable factories and happily working with fair trade coffee farmers. Oddly enough, if you want fair trade coffee, Keurig is the place to go! Along with having a large selection of coffee, this Keurig has five cup settings, keeping you from wasting water by making more than you will drink. These setting include:
3 1/2 oz cup setting.
5 1/4 oz cup setting.
7 1/4 oz cup setting.
9 1/4 oz cup setting.
11 1/4 oz travel cup setting.
Along with preventing waste, the Keurig Platinum B70 has a variety of energy saving features that keep you from wasting electricity in your home. This coffee pot uses 1,500 watts of power and has an energy saving program that allow you to set exactly when the coffee pot stops brewing and turns itself off. Normal coffee pots have a set amount of time where they stay on unless they are manually turned off – ranging from 3 to 6 hours. This Keurig can be programmed to turn itself off in as little as one hour, preventing it from wasting energy when you aren't home. Of course, the program feature also allows you to sleep in a bit longer in the morning, since you don't have to wait four minutes for the pot to heat up water in its reservoir. With the Keurig Platinum B70, living an eco-friendly lifestyle really is easy!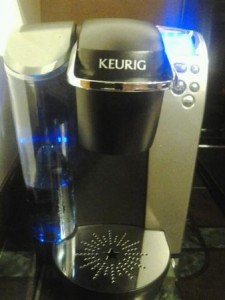 Keurig Platinum B70: Care
Even though many people don't think about it, most coffee pots need to be cleaned every so often and do need a certain amount of care. One of the largest complaints that many people have about their coffee pot is that it stops producing delicious coffee a few months after its first purchased. What causes this is actually tap water leaving behind lime and other minerals in the coffee pot itself, altering the taste of the coffee itself as it brews. To prevent this it is recommended that you clean your coffee pot with a cleaner every so often. What is so cool about the Keurig Platinum B70 is that it has a descale indicator, telling you exactly when it needs to be clean and assists you in the cleaning process. All you really need to care for it is some white vinegar and water – making it a very easy to care for coffee maker!
Along with the coffee pot itself being easy to clean, the removable pieces for the Keurig Platinum B70 are also dishwasher safe – including the 10 cup removable water reservoir, K-Cup holder, drip tray, and funnel. Not having to wash these pieces by hand is a major time saver and guarantees that they are actually clean!
Keurig Platinum B70: In the Box
Keurig Platinum B70 Single Cup Brewing System
Drip Tray
10 Cup Water Reservoir
Funnel
K-Cup Holder
1 Year Limited Warranty Card
Manual
Keurig Platinum B70: Overall Opinion
Personally, I have fallen in love with the Keurig Platinum B70! I could easily see my husband and I giving one of these coffee makers as a gift to someone in our family. Since you can purchase K-Cups anywhere, they are convenient, useful, and must have for anyone who doesn't already have a coffee pot! Currently the Keurig Platinum B70 has a 3.6 out of 5 star rating on Amazon. Here is what others have to say about this single cup coffee maker…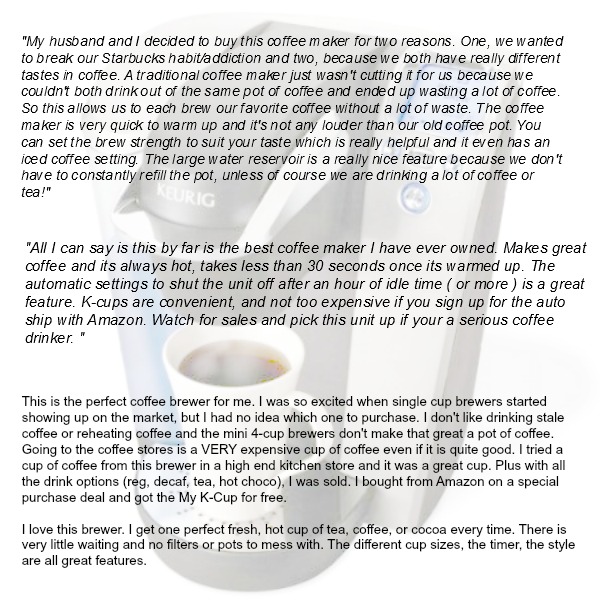 Keurig Platinum B70: Where to Purchase
While you can purchase the Keurig Platinum B70 in most stores, I personally prefer to doing my shopping at Amazon.com. They are currently selling this popular Keurig at a very low price with free shipping, allowing you to do your Christmas shopping without leaving the house! Best of all, you don't have to worry about dealing with Keurig's warranty in the first 90 days if something goes wrong since Amazon has a no questions asked return policy. They will even pay for shipping! I know with Christmas getting ready to start, I want to have a hassle free shipping experience, but almost my family if they decide they don't like the gift. With great prices, a wonderful return policy, and a large selection of gifts, who wouldn't want to shop at Amazon?
Keurig Platinum B70: More Reviews
Want to see what others have to say about this Keurig? Click on the picture below to read more reviews about the Keurig Platinum B70 written by people who have purchased this coffee maker.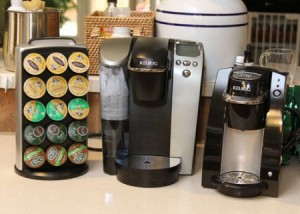 Note: Budget Earth & its writers did not receive compensation or products from said company for this post and it's completely the opinion of the writer.