Disclosure: I received these products for free to review. The opinions in my review are honest and my own.
I will freely admit, I am addicted to my iPhone and iPad 2. Not only do I use them as a typical smartphone, but as a way to listen to music and watch videos. The only reason I probably don't do it more is that I hate having to listen to the sound out of my units. Yes, they are fantastic systems, but I always thought that Apple put cheap speakers in their units. With me using my iPad more to watch movies while we are traveling, I thought it was finally time to find a portable speaker that worked with both our tablets. As I was looking at a variety of option, I was approached by LuguLake, who asked me to review their new Portable Bluetooth Speaker with stand. Once it arrived I couldn't wait to open the box and see how it worked with our devices.
LuguLake Portable Bluetooth Speaker: What Is It?
Looking for a portable Bluetooth speaker that is perfect for watching movies or listening to music? If so, we think you will love the LuguLake Portable Bluetooth Speaker. This innovative speaker is designed not only for high quality sound, but has a built in tablet stand for added convenience. With its advanced equalizer technology, you can expect to have great sound no matter what devices you decide to use with this unit. Best of all, it is priced to where is perfect for anyone who wants to enjoy quality sound on the go, making it the ideal gift for any music or movie lover.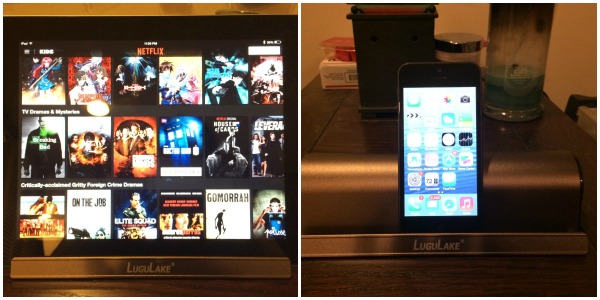 LuguLake Portable Bluetooth Speaker: Overall
As odd as this may sound, it's odd finding a portable speaker that is designed for sitting back and watching a movie. I truly love that we can set up our iPad 2 or Nexus 10 on this stand and watch anything we want on the go. We can even have a 'drive in' experience by watching a tv show at our local Sonic if we just want to get out of the house. The sound for this system is very high quality, and far better than what comes out of my iPad 2. I found that it works as a general purpose speaker with music, but does an excellent job with voices, making it ideal for watching things on Netflix. My only complaint with the system is that I wish it had some independent buttons, especially a volume button. Maybe this is just from me being used to other speaker systems but it felt odd to me that it didn't have a volume knob. This being said, I was overall very happy with the LuguLake Portable Bluetooth Speaker, giving it an A- rating.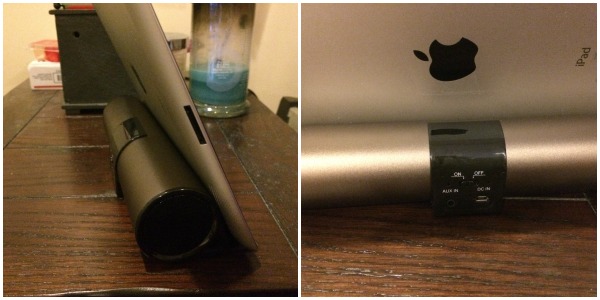 LuguLake Portable Bluetooth Speaker: Where to Purchase
Would you like to purchase this awesome speaker and its protective carrying case? You buy the LuguLake Portable Bluetooth Speaker for $45.99 and its portable carry bag for $4.99 on Amazon.
Disclosure: Budget Earth did not receive monetary compensation but did receive products for review purposes. All opinions on this product are my own and may differ from our readers' opinions.
Would you like to have your products featured in a giveaway event? Want to increase your social media exposure? Contact susan.l.bewley@gmail.com to see how I can help YOUR company today!