I have a confession to make – I am addicted to lattes. Yes, I am one of those girls that if I'm out on the go, will stop at Starbucks or McDonald's to get a quick latte. My husband has been trying hard to break this habit, and he is not one of those people who the puppy dog eyes usually budge (I think our dog broke him of that).  He enjoys specialty drinks as much as me, but with one drink costing $5 – $6, it really isn't something that can be more than a treat. Since we both love our drinks, we thought it might be fun to get an espresso maker and make our own at home. I was actually a bit reluctant, thinking back on my first little espresso maker that was a complete disaster. As we were examining different coffee makers, we came across the Mr. Coffee® Café Barista. Curious, I reached out to the company, who was delighted to have me review one of these espresso makers. Once it arrived, I couldn't wait to get out of the box and see if it really was the answer to my latte addiction.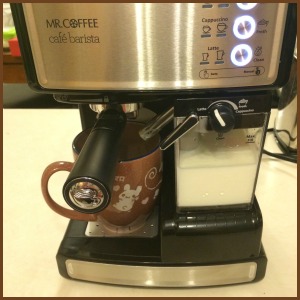 Mr. Coffee Café Barista: What is It?
Want to have the coffee house experience in your own home? If so, you will love Mr. Coffee® Café Barista – an all new, easy to use espresso maker. This high-pressure (15 bar) pump system allows you to properly make coffeehouse-style beverages in your own home at a fraction of the cost of your favorite coffee shops. With a push of a button, you can have delicious espresso, cappuccinos, or lattes.  Even milk frothing is done automatically using the pre-programmed system, allowing you to sit back and enjoy your favorite drink  without the hard work. Best of all, there is even a special cleaning cycle, making clean up just as easy. To make your own unique drinks, feel free to experiment or use the included recipe booklet to turn your kitchen into a luxurious coffee house. Once you have tried this awesome Mr. Coffee® machine, you will never feel the need to purchase coffee out again!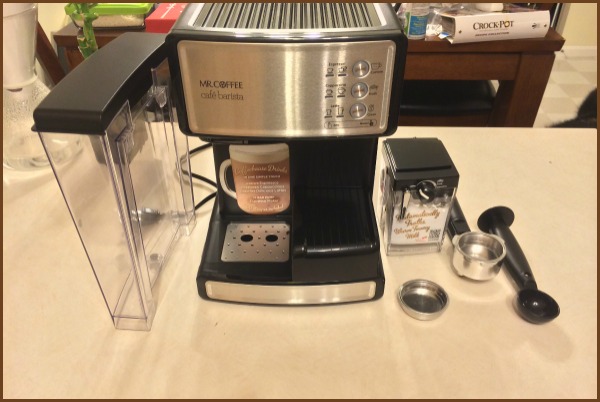 Mr. Coffee Café Barista: Overall
Before I go any further, I have to say that I am addicted to this coffee maker. We set up the Mr. Coffee® Café Barista on Saturday morning, and since then, I've had so many lattes! I had an espresso maker in the past, which was eventually sold at a garage sale. It just didn't work well and was so confusing to use that no one in the house wanted to try. This wasn't the case with Café Barista. This espresso maker was very easy to set up out of the box and I was truly amazed at how easy it was to make specialty coffee. The hardest part is putting coffee in the coffee maker (no joke!) since you have to press down the grounds. As I said – super easy. Clean up was also almost as easy as making a latte – dump the used coffee, and two button presses clean the coffee press and the milk frother. So far, we have been using this coffee maker instead of making our regular coffee in the morning since we make a single cup of espresso coffee exactly as my husband or I want it. Based on our own experience with the Mr. Coffee® Café Barista, I am delighted to give this coffee maker an A+ rating!
UPDATE on Mr Coffee Barista Machine (June 19, 2023)
I just wanted to give people a quick update on this machine. It is hard to believe it is already 10 years old! This espresso maker is still going strong and is loved by everyone in the family. We have actually had two of them now (I couldn't live without it during a 6-month business trip). The only difference is that the newer one has better-designed pieces that are easier to clean and have better seals to prevent long-term leaks in the coffee basket. Even after all this time, I couldn't imagine having another espresso maker!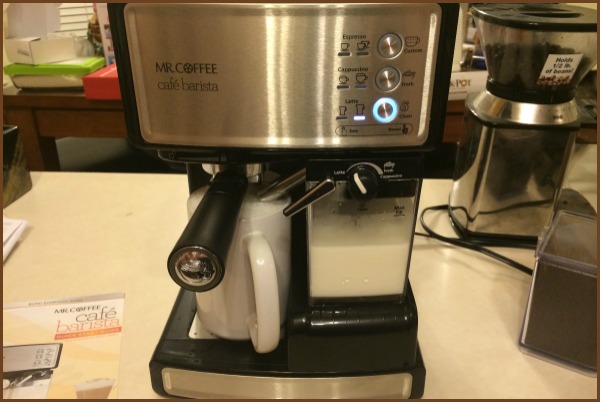 Mr. Coffee Café Barista: Where to Purchase
Would you like to purchase this awesome espresso maker for your own home or office? You can buy the Mr. Coffee® Café Barista on Amazon.com for $189.99 or less. Once you have tried coffee from this machine, going to a coffee shop will be a thing of the past!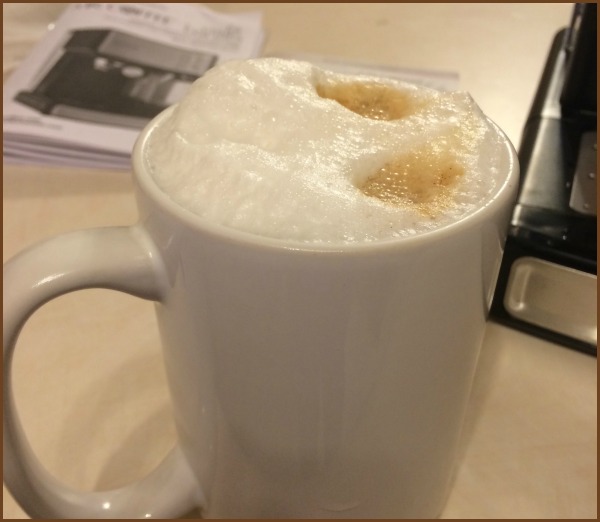 Disclosure: Budget Earth did not receive compensation but did receive products for review purposes. Budget Earth may, however, receive compensation through purchases from affiliate links in this post. All opinions on this product are my own and may differ from our readers' opinions.
Would you like to have your products featured in a giveaway event? Want to increase your social media exposure? Contact susan.l.bewley@gmail.com to see how I can help YOUR company today!