While I consider myself to be fairly healthy, I do have some minor annoying pains that can sometimes get in the way of my daily life. As someone who spends all day in front of a computer typing, it isn't too uncommon for me to get minor stress injuries in my hands and fingers with the constant strain due to my writing. With my busy schedule, I don't have the time to spend a few days away from work to deal with these injuries, leading to me depending on pain killers or topical creams like Noxicare Natural Pain Relief or Icy Hot.
Since I am constantly dealing with these little aches and pains, I am always on the lookout for pain relievers, especially ones that are all natural. Recently, I accepted an opportunity to review Noxicare's Natural Pain Relief topical cream. For two weeks, I have been testing this cream, alongside its major competition – Icy Hot. Here is what I think so far of Noxicare's Natural Pain Relief Cream!
Noxicare Natural Pain Relief Cream
For those who haven't heard of Noxicare, it is a pain reliever made from all natural ingredients. This products was developed by Dr. Reza Ghorbani, a board certified doctor specializing in pain management. His product is made using a combination of some of the most potent pain relievers from the natural world, all of which have been used for centuries to manage pain. Unlike other natural products on the market intended to be natural pain relievers, it has no known side effects, does not require a prescription, and complements other medical treatments and therapies.
What really makes Noxicare's Natural Pain Relief work is the combination of ingredients, since all seven of the ingredients are known to be effective pain relievers on their own. These ingredients include turmeric, willow bark, ginger, holy basil, rosemary extract, alpha lipoic acids, and boswellia extract. With the combination of these ingredients, this topical cream is great for relieving inflammation, muscle aches, and nerve pain.
Noxicare Natural Pain Relief Cream: Effectiveness
Like most natural products that I test, I try comparing the product to the most well known non-natural variety on the market. In my opinion, an all natural product should work just as well, or better than things made in a laboratory. To do this, I tested Noxicare Natural Pain Relief Cream and Icy Hot on my hands for two weeks anytime I got pain. For this experiment, I used Noxicare Natural Pain Relief Cream on my left hand and Icy Hot on my right.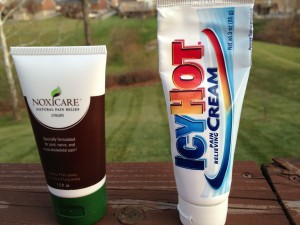 First, lets start with Noxicare Natural Pain Relief Cream. The Noxicare cream comes on the tube being not too thick, but not too thin, and as far as I can tell it is completely odorless. As you see from the picture below, it is white with a bit of a creamy, yellowish tint.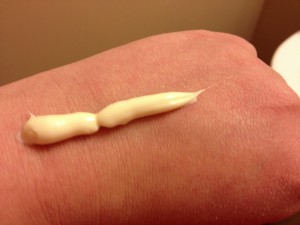 From the moment you put it on your skin, it feels like normal hand cream, moistening your hand a bit and dealing with pain rather quickly. What I also loved about this natural pain relief cream was that it was non-greasy. If you take a look at my left hand, it just barely shines, showing that it moisturized my dry hands. Best of all, the cream started working about a minute after application, so it seems to be very fast working! After two weeks of use, I had no allergic reactions or side effects.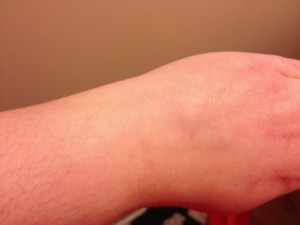 As for Icy Hot, I know from experience that it is everything that Noxicare Natural Pain Relief Cream isn't, when it comes to applying it. From the picture below, you see it is white and very thick. I made the mistake of putting too much cream on my hands, leading to me having to wash some of it off my hands.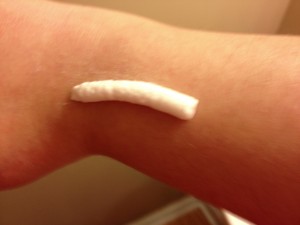 What has disappointed me the most about Icy Hot is the smell and just how greasy this cream is, when I compare it to Noxicare Natural Pain Relief Cream. Part of me isn't sure if Icy Hot is really good at getting rid of pain, or just making you focus on something else. After trying out Noxicare Natural Pain Relief Cream, I really cannot imagine going back to Icy Hot for hand pain after this trial!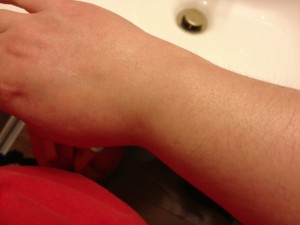 Noxicare Natural Pain Relief Cream: Smell
Along with being great at pain management, I love that Noxicare Natural Pain Relief Cream is scent free. Most products assume that people want things to be flavored or scented, something I really dislike. While I love my special creams, I really don't want everyone in the room knowing I'm in pain when I put cream on my hands. I have more than once had my husband ask me about it because he smelled the distinct mint smell that comes with Icy Hot. With Noxicare Natural Pain Relief Cream, I feel like I can deal with my minor pains without having to deal with any fuss from my family and friends, something that gives me a bit more confidence!
Noxicare Natural Pain Relief Cream: Where to Purchase
Currently, Noxicare Natural Pain Relief Cream is being sold in two forms – in capsules or a topical cream. I have not tried the tablets, but I have absolutely fallen in love with this cream. Right now, you can purchase a bottle of Noxicare Natural Pain Relief Cream at the Noxicare website As a thank you for trying out their product, Noxicare is offering all of our readers 10% discount on trying out their product. Just put in the code BLGDS at checkout to receive this discount! You can also purchase Noxicare in either form on Amazon.com.
Noxicare Natural Pain Relief Cream: Overall
Having used Noxicare Natural Pain Relief Cream and Icy Hot for the past two weeks, I can say without a doubt that I have fallen in love with this natural pain reliever. I love that there is an all-natural alternative to Icy Hot on the market that works quickly and lets me get back to work. I am likely going to be buying another bottle of this cream soon, since I think it is a must in my office with how often I get little stress pains in my hands. Based on my two week experiment, I would have to give this product an A+ rating since it is effective, odorless, natural, and works better than anything I have tried on the market! If you would like to learn more about this great product, feel free to check out their Noxicare Fan Page on Facebook!
Disclosure: Budget Earth did not receive monetary compensation for this review and giveaway, but did receive a 1.5 oz bottle of Noxicare for review purposes via Tomoson.com.. All of the opinions on this blog are the opinions of said author and these opinions may differ from your own.