Disclosure: I received these products for free to review. The opinions in my review are honest and my own.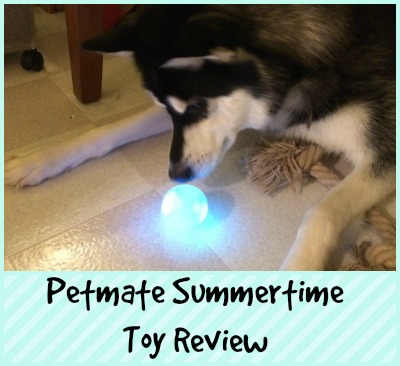 Okay, I'll admit it, I am paranoid when it comes to my dog's toys. I am the person who will research toys online and scrutinize any toy we consider buying at Petsmart. My worst fear is Reya getting sick or choking because of a faulty toy. Add in the fact that you can find horror stories about…well…just about anything on the internet. For this reason I usually stick with brands of toys that I know. One major brand that my family has trusted for years is Petmate, along with the other brands in the Petmate family. While looking for new and fun summer toys, I was approached by Petmate, asking if I would like to review some of their newest toys and dog items. Of course, we were only too happy to accept!
Petmate: What is It?
Looking for high quality pet toys that aren't just safe, but can keep your pet comfortable or entertained for hours? If so, we think you will love the Petmate brands. For years they have been one of the most trusted brands in the pet industry, providing pet parents with smart solutions to help entertain dogs and cats during different stages of their life. Within their full family of brands you can find amazing toys, beds, crates, pet accessories, and just about anything you can imagine to make your life with your pets even easier. Best of all, their toys are loved by dogs and cats of all ages, meaning that you aren't having toys left around your house that bore your pet quickly. With the Petmate brands, you know you are getting toys you can trust!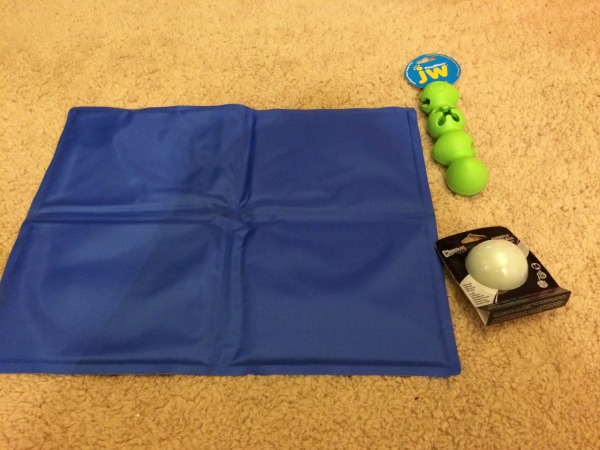 Petmate: Aspen Pet Self-Cooling Mat
Looking for a way to keep your do cooler on those hot summer days? Probably one of the coolest products (no pun intended!) I have seen in a very long time is the Aspen Pet® Self-Cooling Mat. This self cooling indoor use mat cools quickly to room temperature and then helps cool your pet, using non toxic cooling gel to absorbs and draw away your dog's body heat. Since the temperature of your typical room is much cooler than your dogs natural body temperature, this means they can quickly cool off just by lying on this blue mat. Best of all, it is hassle free for dog owners since the gel quickly cools while your pet is off of it, meaning you don't have to fill it with water or find room for it in the refrigerator. You just take it out of the box, set it on the floor (or your dog's bed), and you are good to go! We use this mat when we are going on long car rides or Reya needs to cool down after a hot play session outside. I will admit, this works so well I have been tempted to steal it from Reya when my back is sore! As you can see from the picture below, Reya is a fan! Based on our own experience, we are happy to give the Aspen Pet® Self-Cooling Mat an A+ rating!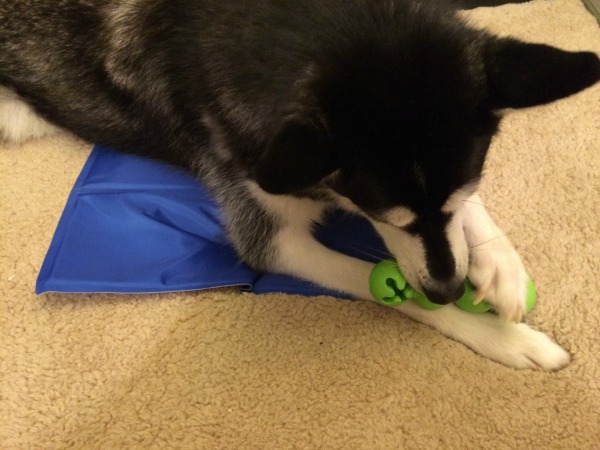 Petmate: JW PlayBites Catterpillar
As any dog owner will be quick to tell you, the best way into your dog's heart is through their stomach. I haven't met a dog that isn't food motivated – it's just finding the right food for some of the pickier eaters. When Reya was little, we used indestructible, treat filled toys to encourage her to chew on those type of toys rather than things like…let's say our wall and chairs. We learned the value of these type of toys after we lost two of our dining room chairs and a chunk from one of our walls to a teething puppy. Having used quite a few of these toys over the past year, I was excited when we got a JW PlayBites Catterpillar. This isn't just an indstructable chew toy, but one with compartments for treats! I had the feeling this was soon going to be one of our favorite toys when she immediately STOLE this toy after I opened the box from Petmate, even before it had anything inside it! It actually took my husband and I cornering her to get the toy away so that I could clean it before use. Even after having this toy for a couple of weeks, she still loves it. Based on our own experience with this toy, we are happy to give the JW PlayBites Catterpillar an A+ rating!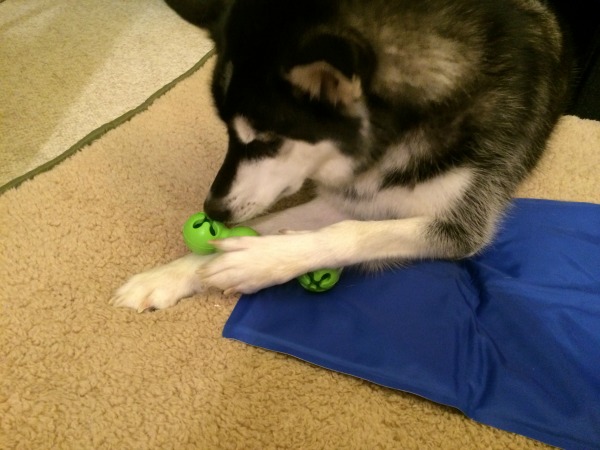 Petmate: Chuckit! Firefly LED Ball
Do you find that your dog sometimes finds the oddest time to play? My dog especially love to play with her stuffed animals, ropes, and balls late at night. It always seem to come with a burst of energy right before bedtime. One of the coolest night time toys I have seen in quite some time is the Chuckit! FireFly™ LED Ball. This LED ball fades between colors, offering constant stimulation for your dog. With the changing colors, their eyes are always on the ball, keeping them motivated to keep playing and interacting with you. This little ball has so far been a hit in our household! Based on our own experiene with this cute ball, we are happy to give the Chuckit! FireFly™ LED Ball an A rating.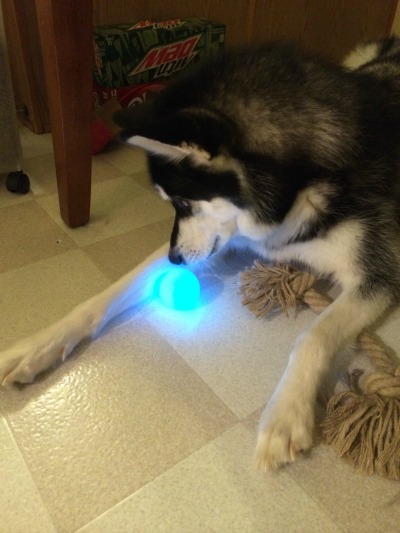 Petmate: Where to Purchase
Would you like to purchase some of these awesome toys for your favorite pet? While Petmate doesn't sell directly to pet parents, you can find a large selection of their toys at your local pet store or preferred retailer, like Petsmart, Petco, Target, Wal-mart, Lowes, or Tractor Supply. If you are like me, however, and prefer to buy your toys online, I highly recommend checking out Amazon.com since they have the best prices Petmate products, as well as their other brands (Aspen Pet, Bamboo, Booda, Dogzilla, JW Pets, & Fat Cat) of pet products.
Disclosure: Budget Earth did not receive compensation but did receive products for review purposes. Budget Earth may, however, receive compensation through purchases from affiliate links in this post. All opinions on this product are my own and may differ from our readers' opinions.
Would you like to have your products featured in a giveaway event? Want to increase your social media exposure? Contact susan.l.bewley@gmail.com to see what we can do for your company!