Disclosure: I received this product for free to review . The opinions in my review are honest and my own.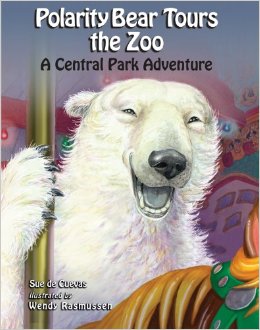 One of the best parts of the holidays to me is looking at kid's books. While I don't have kids yet myself, I do look for adorable books and book sets for my little three year old niece. She absolutely loves being read to, and goes through quite a few books on a daily basis. As usual for this time of year, I have started my search for new book to send to her in Florida. To my surprise, in one of my review boxes I found a nicely illustrated hardcover kids book tucked inside – Polarity Bear Tours the Zoo. Curious, I started looking at the pictures. After reading through it, I couldn't wait to start my review!
Polarity Bear Tours the Zoo: What is It
Poor Polarity Bear lives in the Central Park Zoo and is bored with her boring enclosure. Like most of the other animals, she lived in a bar cage, with nothing to play with, and humans staring at her all day. While the people love her, she is in a terribly sad mood from being so bored. One day, however, the bars to her cage broke and she had a chance to explore the zoo! In Polarity Bear Tours the Zoo, you can follow Polarity on her adventure as she visits different attractions in Central Park and meets other animals!
Polarity Bear Tours the Zoo: Style
Part of what makes this children's book so charming is the cute poem-like writing and cadence. With the rhyming and word play, kids will be fascinated not just by the pictures, but the words themselves. From the moment you start the book, it is also hard not to fall in love with Polarity. She is just such a cute bear and gets in quite a few little predicaments as she wanders the zoo! Really, Polarity Bear Tours the Zoo has all the elements of the perfect children's book!
Polarity Bear Tours the Zoo: My Thoughts
This has to be the cutest children's book I have read in a long time. As a teacher, I have read quite a few children's books and this one is one I would be happy to give as a gift. Polarity is just so cute, and the story is interesting! It is also great that children can actually see everything in the book if they visited current day Central Park. If you have a little one that loves to read, I highly recommend Polarity Bear Tours the Zoo and am delighted to give it an A+ rating!
Polarity Bear Tours the Zoo: Where to Purchase
I don't think I can recommend this kid's book enough – it is just so darn cute! If you would like to purchase this book for someone special in your life, you can purchase Polarity Bear Tours the Zoo on Amazon.com for $15. Since it is a nice, hardcover book with beautiful pictures, this seems like a true bargain for the perfect gift for a child in your family!
Disclosure: Budget Earth did not compensation for this review but did receive a copy of the book for review purposes. All opinions on this product are my own and may differ from our readers' opinions.
Would you like to have your products featured in a similar review or giveaway? Want to increase your social media exposure before the holiday season? See how we can help! Contact susan.l.bewley@gmail.com to see what we can do for your company!