Disclosure: I received these products for free to review. The opinions in my review are honest and my own.
How many of you have broken the screen on your phone before? I will admit, I was in tears in March when my iPhone dropped and landed on our bathroom scale. My heart just immediately sank when I looked down at my 2 month old phone and saw my screen in fractured pieces, completely unusable unless I wanted to turn my finger into a bloody mess. It was then that I learned the ugly truth of how much it would cost to replace our screen. I paid the rip off price of getting it fixed at the Apple store and then the next day my husband bought tools and an extra screen online to make sure we never had to go through that again. While we are prepared to fix another shattered screen, it would be better if my phone had a case to prevent it from happening – period.
For some reason, I thought buying a case for my phone would be super easy. I would buy something my friends recommended and be done with it. Well, the recommendation was over $100 and for some reason, this cheap girl didn't want to pay THAT much. I wanted a case that not only looked good, but protected my phone. While I was on my search, I was contacted by Pong, asking if I wanted to review one of their new Rugged Case for the iPhone 5S. After reading a bit about this case and how it could also potentially protect me, I was curious and knew I had to try it!
Pong Cases: What is It
Are you worried about wireless energy coming from your phone, and wanting to be proactive with all the conflicting studies out there? If so, we think you will love the Pong Rugged Case! Never heard of Pong? They are the makers of smartphone and iPad cases that not only protect your device, but limit your exposure to wireless radiation from your phone by redirecting it away from your head and body. Using their patented intelligent antenna technology, it reshapes the radio frequency signal from your phone to reduce your overall exposure and increase your outbound signal. While the overall effects of cellphone radiation are still uncertain, they feel that people should be proactive and protect themselves and their children from any adverse effects that may be found in the future. As well, they are one of the only companies that have been proven to reduce the exposure of wireless energy in FCC certified laboratories, reducing wireless energy directed through the user by up to 82% below the industry standard. In the end, why not choose a case that protects your electronics and maybe you as well?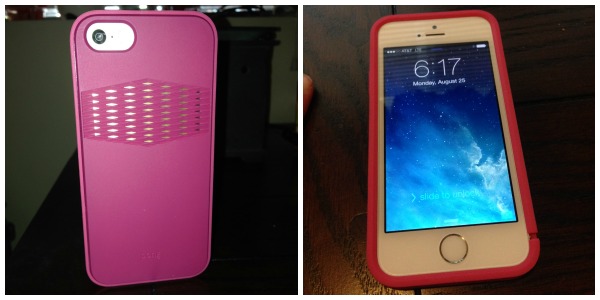 Pong Cases: Overall
So far, I am very impressed with my Pong Rugged Case. In the box, I received a nice cleaning cloth, a protective sheet for my touch screen, and my Pong case in Sangria. One of the first things I noticed about my case is that the silicone is very soft but sturdy. Many silicone cases I have tried in the past have a texture that in all honesty, almost irritating. With its design, you can expect to get the benefits of your phone being able to withstand the shock of a drop, protecting your screen and phone from the drop itself. As for the case itself, it is very easy to install – just snap your phone in and you are ready to go. While I did not have a way to test to see if it redirects wireless energy, I can say that it did seem to boost my iPhone 5S's signal in normal use. Normally, I get 2 bars in our basement, and since putting on this case I have been sporting 3 bars of signal. Really, if you are looking for a case to help you be proactive and protect yourself against wireless energy while also protecting your phone, this seems like the right case for you. Based on my own experience, I am happy to give the Pong Rugged Case an A rating.

Pong Cases: Where to Purchase
Would you like to purchase one of these fantastic cases for yourself or someone in your family? You can purchase a Pong Classic Case or Pong Rugged Case (like featured in this review) on the Pong website .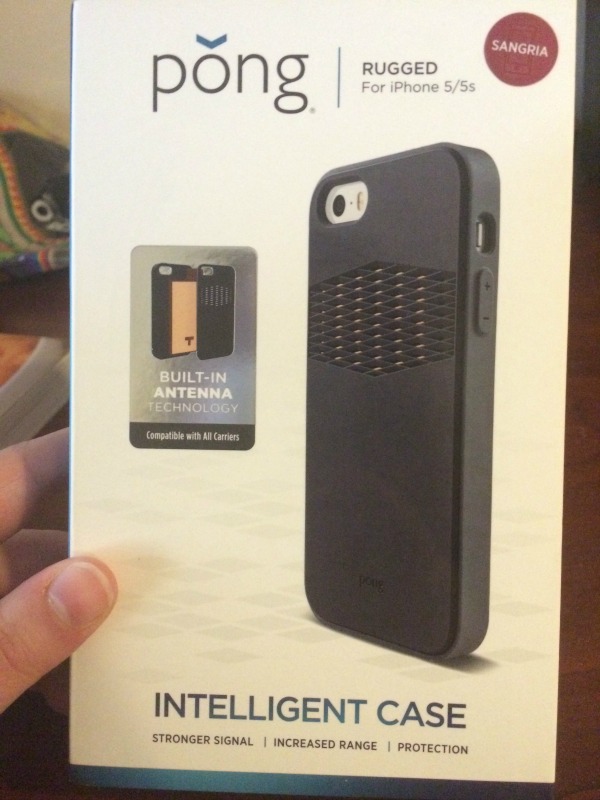 Disclosure: Budget Earth did not receive monetary compensation but did receive products for review purposes. All opinions on this product are my own and may differ from our readers' opinions.
Would you like to have your products featured in a giveaway event? Want to increase your social media exposure? Contact susan.l.bewley@gmail.com to see how I can help YOUR company today!