As someone with sensitive skin, I often become frustrated with all the different facial cleaners on the market. While some of them are amazingly effective for the majority of the population, they leave me feeling miserable with my sensitive skin. This is one of the reasons I prefer using all natural products. Unfortunately, sometimes all natural doesn't mean effective. I have tried quite a few products that were just not effective, leading me to waste money. Since I have dealt with acne most of my life, I am always on the lookout for all natural skincare products that actually work. Recently, I learned of one that really caught my interest – Skinn's Skinnatural Collection designed especially for sensitive skin. Wanting to know more, I reached out to the company, who were nice enough to let me try their collection of products for review.
Skinnaturals Collection: What is It
The Skinnaturals Collection is a revolutionary new set of all natural, skincare products designed special for sesnative skin. Everything in this set is Paraben free, sulfate free, gluten free, free of dyes, free of petrochemicals, and does not contain genetically modified organisms. Really, I have never seen a set of skincare products that are so friendly for those of us who try living a natural lifestyle. Currently, their 3 piece collection contains the Skinnatural Calming Cleanser, Skinnatural Soothing Serum, and their Skinnatural Comforting Crème. Together, this set creates a winning set of products that say goodbye to irritation, redness, wrinkles, and skin blemishes!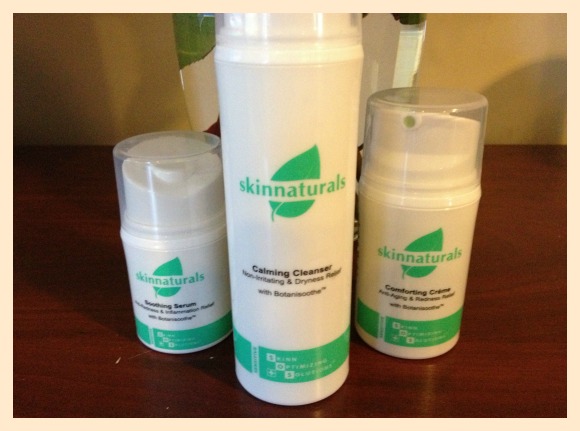 Skinnaturals Collection: How to Use
Like most skincare products, it is important that you follow directions using the Skinnatural Collection. The first product you use in this set is the Skinnatural Calming Cleanser. This mild cleaner has a nice, creamy texture and is filled with botanical extracts and probiotics to help your skin. I was also surprised to see that one of the active ingredients is white tea extract, an ingredient known to reduce inflammation (one of the number one causes of early winkles and aging). From the moment I first tried using this product, I have to say I was impressed. My skin felt amazingly clean and I was left with a nice, natural scent that wasn't overpowering.
After drying your face, you move on to the next product in the Skinnaturals collection, the Skinnaturals Soothing Serum. Since I have pale skin, I have always had problems with redness, especially when I get closer to…well…that time of the month. Like the cleanser, this cream is a mixture of different botanical products, including white tea, to help reduce wrinkles, early aging, and nourish the skin. One of the first things I noticed with this cream is that it had a very nice, cucumber scent, which is very relaxing right before you head to bed. Like the product claims, I also started seeing a reduction in redness after a week of use (something that made me a very happy girl).
Now, the last part of this set is something every woman should be using – a high quality moisturizer. The Skinnatural Comforting Crème is designed to help smooth and reduce irritation, as well as another defense against redness, wrinkles, aging, and damage to the skin caused by the sun. This is the final creme I used every night before bed. While it felt a bit heavy before bed with both of the cremes, my skin felt absolutely amaizng the next morning, something that I definitely couldn't complain about!

Skinnaturals Collection: Effectiveness
One of the things that really impressed me about the Skinnatural Collection was how quickly it started working. Most products on the market take a month of use before you really see any benefit. Usually its dry, nasty skin, and then results. For me, this wasn't the case with the Skinnatural's collection. After using this set regularly for four days, I started seeing results. Most of my acne was gone or drastically diminished, something that I was impressed with, especially since I was about to go through my time when my acne is usually at its worst. Really, I was surprised at just how effective these products were for helping my skin!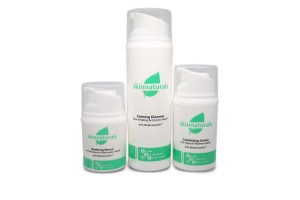 Skinnaturals Collection: Overall
So, what do of the Skinnaturals collection? Based on my own experience with this set, I think it is one of the best all natural facial cleansers on the market. Not only does it clear up redness and blemishes, but leaves your skin feeling amazing, clean and soft. As someone with sensitive skin, I had no issues with this set, leaving me amazed that Skinn could offer such effective products at such a low price. For this reason, I happily give the Skinnaturals Collection an A+ rating!
Skinnaturals Collection: Where to Purchase
Want to see what Skinnaturals can do for you? Unlike some other products with all natural ingredients, this line of skincare products is priced so that everyone has a chance to have beautiful skin. Currently, you can purchase it in a set (like the one in this review) for $49.50, or buy each of these of these cleaners separately. Currently, the Skinnatural Calming Cleanser retails for $24.50 for a 4 oz bottle, the Skinnatural Soothing Serum for $36.50 for 1 oz, and the SKinnatural Comforting Crème for $34.50 for a 1.7 oz bottle. To purchase this collection or to learn more about these products, make sure to check out the Skinn Website.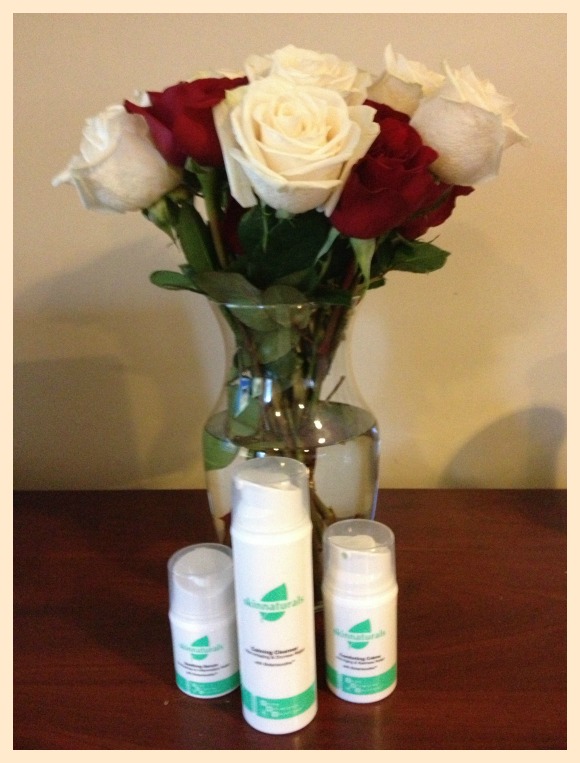 Disclosure: Budget Earth did not receive compensation for this review but did receive free products for review purposes via Tomoson.com . All opinions on this product are my own and may differ from our readers' opinions.
Would you like to have your products featured in a similar giveaway event? Want to increase your social media exposure before the holiday season? See how we can help! Contact budgetearth@gmail.com to see what Mom Powered Media can do for your company!