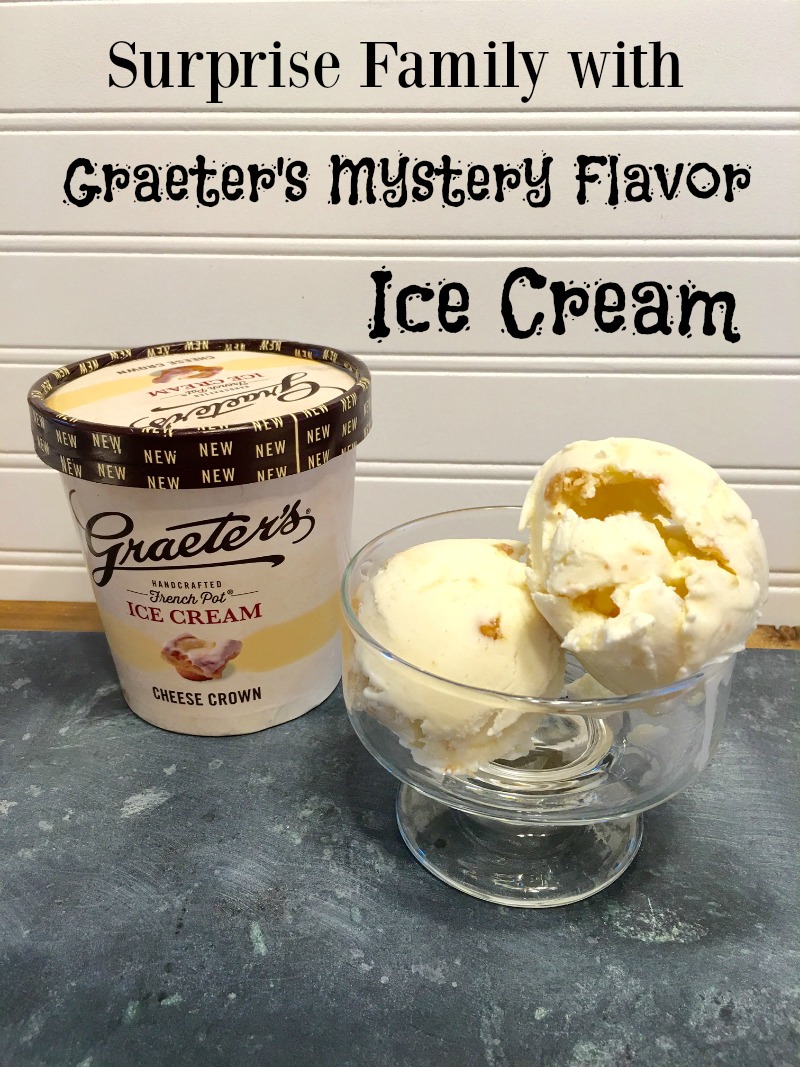 How many of you love tasty ice cream? As some of you know, we are huge ice cream fans in our house. Of course, for years we have been huge fans of one of our local brands – Graeter's. They make some of the best ice cream out there using the same French pot process they have been using since 1870. Some of you may even remember that we took a tour of their facility last year, which was not only loads of fun, but quite tasty! With a variety of super yummy flavors, it isn't too shocking that people are all over the United States are now enjoying that their ice cream.
With our love for their ice cream though, we were super excited when we heard they were releasing a new mystery flavor in March. We might have even stalked their social media channels for a bit, and we were super excited when the new flavor was finally announced – Cheese Crown? After reading a bit about this ice cream, I was a bit uncertain…but I knew it had to be good, coming from Graeter's. When they asked us to try out their new mystery flavor, we couldn't wait to try it!
Graeter's Cheese Crown Ice Cream: What is It?
Looking for a truly yummy ice cream? If so, we think you will love Graeter's new Mystery Flavor – Cheese Crown. This truly unique icecream is made using a Cincinnati bakery tradition that has been around for over a half century – the Cheese Crown Danish. This fun pastry inspired a cheesecake flavored ice cream, with cinnamon sugar pastry pieces and fondant icing flakes, making it a truly decadent treat. Of course, this ice cream is also made using their famous French pot process. To say the least, it is a must try for any fan of Graeter's Ice Cream!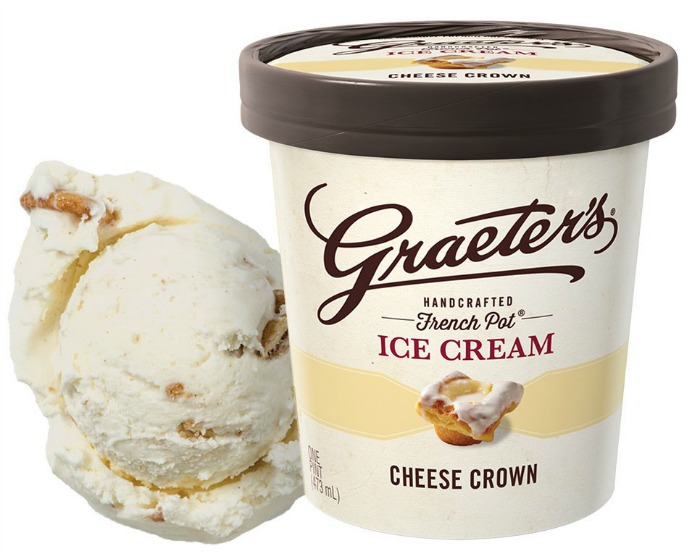 Graeter's Cheese Crown Ice Cream: Our Thoughts
Okay, I have to admit, this ice cream is truly amazing. I wasn't too sure what to expect, but with the combination of a cheesecake flavor mixed with a cinnamon pastry pieces, it is truly delightful, unique and absolutely delicious.  It was so good that we had to buy more, just to make sure we got the flavor down pat for our readers. My only problem with the ice cream is that I know it is going away soon, which is a major bummer since I think it may be one of my new favorite flavors!
Graeter's Cheese Crown Ice Cream: Where to Purchase?
Want to purchase some of this delicious ice cream for yourself? You can find Graeter's at a store near you or visit your local neighborhood store to try some of their yummy flavors for yourself! Don't forget that their Cheese Crown Mystery Flavor is only available in March and April, so make sure to try it before it is gone!
Want to learn more? Check out Graeter's on Social Media!
Facebook | Twitter | Instagram | Pinterest | Youtube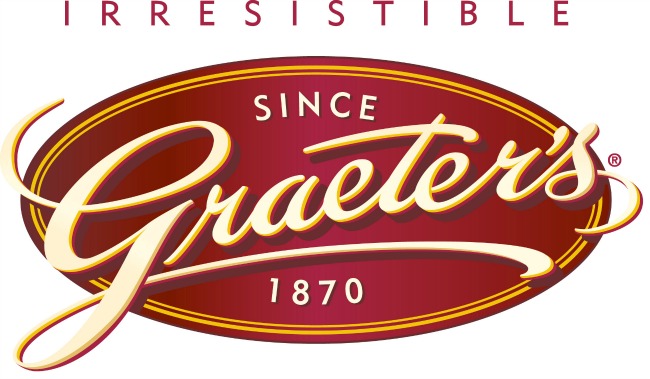 Disclosure: Budget Earth did not receive monetary compensation for this review, but did receive products for review purposes.  All opinions on this product are my own honest assessment, and may differ from our readers' opinions. 
Would you like to have your products featured in a giveaway event? Want to increase your social media exposure? Contact susan.l.bewley@gmail.com to see how I can help YOUR company today!