Disclosure: I received these products for free as part of a review for 1-800 Baskets. The opinions in my review are honest and my own.
I will freely admit, I am a coffee addict. If there isn't coffee in the house, my husband knows it's going to be a very interesting day. For this reason, coffee gift cards are very common in my household. I mean, really, I came from a long line of coffee addicts, all of whom know that when we have a family gathering, there better be a full pot of coffee. That being said, I always struggle to find the perfect gift set to give to members of my family. Finding something that makes everyone happy is a challenge, meaning I have to find a high quality gift set. During my search for finding unique gifts for my gift guide, I was approached by 1-800 Baskets, who introduced me to their Wake Up Call! Coffee Market Box. When I was asked if I wanted to review their box, I happily accepted, knowing this was one review that could very well make gift giving much easier for me!
Wake Up Call! Coffee Market Box: What is It
Looking for a gift set that will make any coffee lover perk? If so, you will love the Wake Up Call! Coffee Market Box. This unique gift set features two types of premium French roast coffees, a yummy French vanilla, a decadent chocolate dessert coffee, and a canned cappuccino that is perfect for anyone who is constantly on the go. Top that off with dark chocolate rolled wafers and rock candy-style swizzle sticks to make the perfect gift set for any coffee and chocolate lover.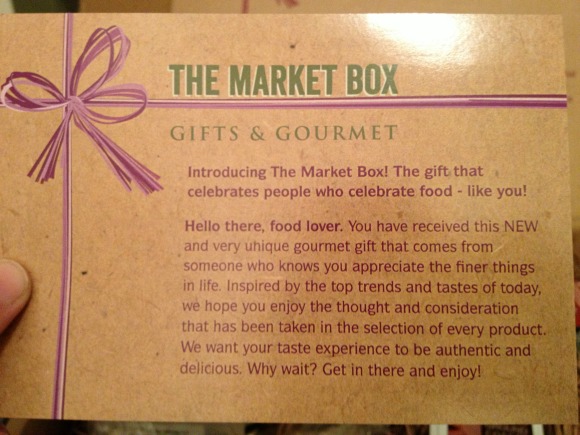 Wake Up Call! Coffee Market Box: Quality
From what I have seen previously, gift sets are usually very hit or miss. Its hard making everyone happy, especially since everyone has different tastes. Usually there is a mix of well known companies and some unknown ones in gift sets, hoping to get some small business some extra exposure during the holidays. I can say that 1-800 Baskets did a superb job putting together this gift box. Everything in the Wake Up Call! Coffee Market Box seems to complement the other products well, from the coffees to the cute rock candy sticks. I have never seen a gift set that was presented so beautifully, especially with such simple products. Everything really looks amazing and all the products are high quality, making me amazed that the gift set is really so inexpensive. I know I personally wouldn't be embarrassed giving this as a gift to any member of my family or friends.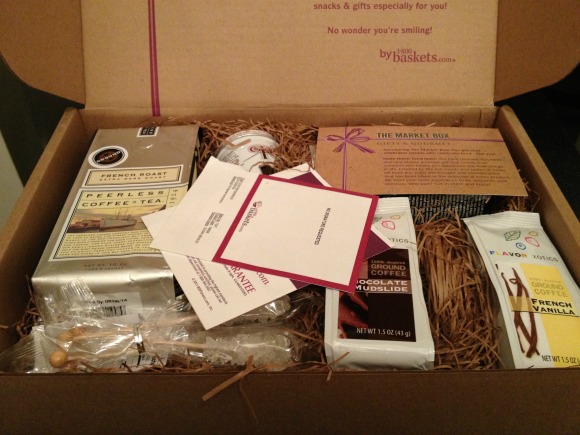 Wake Up Call! Coffee Market Box: Taste
Having received quite a few coffee gift sets over the years, I've grown used to loving some coffees and hating others in gift sets. It seems to go with the territory. A few good coffees and then some no name coffees that you wished never existed. Bad coffee is like fruitcake – no one wants it but have to smile when they get it. It was actually quite surprising when it wasn't the case with the Wake Up Call! Coffee Market Box. Every coffee in this set tasted amazing – even the Chocolate Mudslide! My biggest concern is that I fell in love with some of the coffees and now have to find them again! Each of these coffees are full of flavor and have an amazing aroma, making waking up in the morning even better!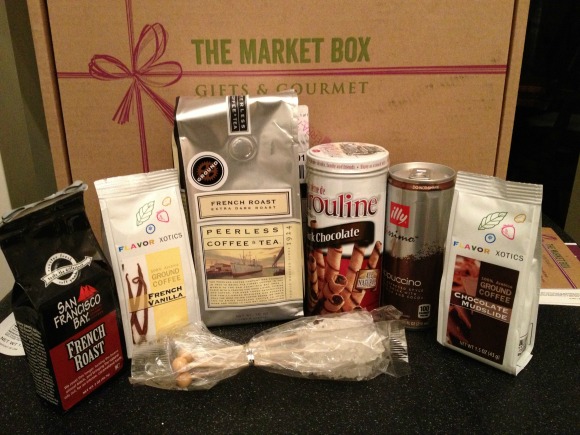 Wake Up Call! Coffee Market Box: Overall
Okay, this gift set was a little piece of heaven for me. Every one of the coffees were amazing! The only thing I haven't tried yet out of this gift set is the canned coffee, which I'm saving for our next marathon driving session. If you have a friend or relative who loves coffee, don't walk – run to get this gift set! It really is the perfect spoiling session for any coffee drinker. Based on my own experience with this gift set, I am happy to give the Wake Up Call! Coffee Market Box an A+ rating!
Wake Up Call! Coffee Market Box: In the Box
The Peerless® Coffee & Tea Company French Roast Coffee
Crème de Pirouline® Dark Chocolate Rolled Wafers Tin
San Francisco Bay® French Roast Coffee
Illy® Issimo® Cappuccino Coffee Drink Can
4 – Rock Candy Swizzle Sticks
Flavor Xotics® French Vanilla Coffee
Xotics® Chocolate Mudslide Coffee
Wake Up Call! Coffee Market Box: Where to Purchase
Want to know where you can order the Wake Up Call! Coffee Market Box? This unique, delicious coffee box can be found year round on 1-800 Baskets. With its delicious selection of coffee and other treats, you can easily make anyone's day with this great gift set. Everyone may even suspect you paid more than $39.99 for this great set. Best of all, you can get the box delivered right to your recipients doorstep with a unique gift message made by you. With 1-800 Baskets, gift giving has become so much easier! If you want to give the gift of coffee, make sure to check out the Wake Up Call! Coffee Market Box today!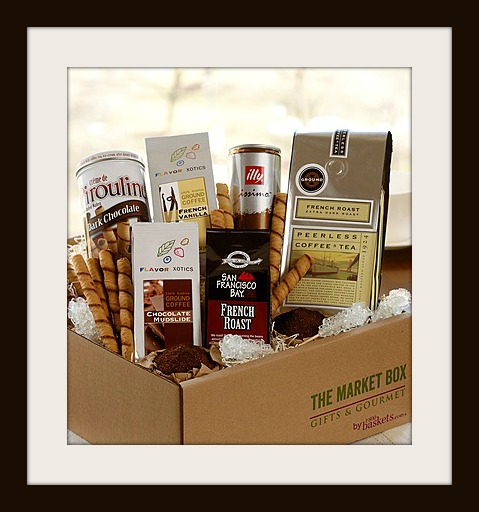 Disclosure: Budget Earth did not compensation for this review but did receive products from 1-800 Baskets for review purposes. All opinions on this product are my own and may differ from our readers' opinions.
Would you like to have your products featured in a similar review or giveaway? Want to increase your social media exposure before the holiday season? See how we can help! Contact susan.l.bewley@gmail.com to see what we can do for your company!