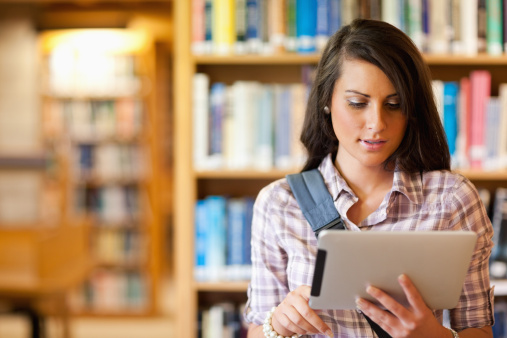 I had a professor in college who was fond of discussing his life as a "poor graduate student."  Whether you're a current student or a future one, there are lots of little ways you can save money while still living well.  You can actually start saving money before you enroll for your first semester.
Look at in-state colleges.  You could save yourself a few thousand dollars on both tuition and boarding costs.  Also, consider your local community college.  Even if you end up transferring to a four-year college, any credits you accrue in high school or over the summer can be a great help.'
Scholarships.  I can't stress how helpful it was to have several thousand dollars knocked off my school fees every semester.  There are scholarships available for everyone, so don't feel you have to be a genius or play sports to qualify for one.  You can also look into financial aid or businesses (like FedEx) that help pay your way through college if you work a certain amount of time for them.
Budget.  Keep receipts for everything you buy for at least one month to get a basic idea of how much you're spending.  Having a visual will help you see in which areas of your life you can cut back.  If you'd like some additional assistance in tracking your spending, sites like Mint.com can help.
Boarding.  I was lucky in that I didn't have to pay for the cost of a dorm room or an apartment.  The university I attended was close enough to where my brother lived that he allowed me to stay with him.  He didn't have to wash every single load of dishes, and I didn't have to pay an exorbitant dorm fee.  If you have to live on campus, though, consider working as a Resident Advisor.  RAs frequently receive free (or at least significantly reduced) room and board in exchange for the work they do.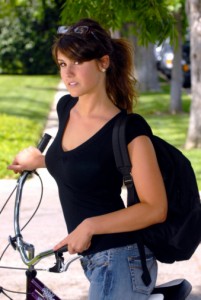 Transportation.  My campus university wasn't terribly small, but it wasn't large, either, so even though I was a commuter I could get away with finding a parking spot and then walking to all of my classes.  There were plenty of students who also chose to bike.  While there was a main campus and a secondary campus, there was a shuttle bus that ran about every fifteen minutes that transported students.  Take advantage of public transportation when you can (the building where the bus stopped at on the other side of campus also happened to be within walking distance of a Kroger store).
Student discounts.  You'd be amazed at what your college student ID can save you, especially since a lot of businesses don't advertise their student discounts.  For example, here is a list of 85 businesses (from McDonald's and Jo-Ann Fabrics to J.Crew) that offer discounts. One of my greatest finds was Amazon Student, which offers you one year of unlimited free two-day shipping on textbooks (and anything else you can buy on Amazon). It's free to sign up, just don't forget to cancel your membership before you're charged the regular annual fee.
Discount programs. Drug stores (like CVS), major grocery store chains (including Kroger), and other retail stores (think Sephora and American Eagle) offer free rewards programs for customers.  You can receive coupons and access to special sales just for signing up.  Just make sure that, if you're required to pay for a rewards program (like a membership at Sam's or Costco), you'll actually use it.
Don't buy textbooks from the campus bookstore.  They're almost always overpriced, and you can find much better deals online.  My brother sent me the link to a website (http://www.affordabook.com/) that compares book prices across a variety of other sites, allowing you to find the best deal.  Of course, sometimes your professor finds a completely obscure book that you just can't find anywhere else, so in such instances try renting the book (if you don't think you'll need it or want to use it again) or, failing all else, purchase it and sell it back to the bookstore (or another student) at the end of the semester.  Just make sure that you don't miss your bookstore's sellback dates or return deadlines.
Shopping.  Refashion old clothes or shop at stores like Buffalo Exchange or Plato's Closet, where you can donate your old clothes and buy current fashions for less.  To give you an idea, I saw the same bracelet at Plato's Closet as I did at a Forever21 store in the mall.  PC was selling it for $3 whereas F21's price tag was about $10.  You can also host a clothing swap with your friends.
Entertainment.  Check out what's going on around campus and in your community.  Often, there are free movie nights, theatre shows (tickets are usually cheaper than what you'd pay at the movies), and other activities (clubs you can join or different lecture series you can attend) to involve students living both on and off campus.  If you're going to the movies, attend a matinee and purchase snacks at the grocery store beforehand.  Tickets are often discounted during earlier showings, and you'll avoid being overcharged for refreshments if you bring your own food.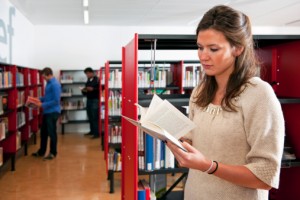 Use the public library.  Borrow books and movies instead of buying them or paying a rental fee (just make sure you return them on time!).
Exercise. Use the gym at school.  It's free, and there are a variety of fun group classes you can take.  It's also harder to make excuses as to why you can't go when the gym is less than five minutes from your dorm room.
Food.  When it comes to groceries, I promise you do not need to live the clichéd life of a college student who survives on nothing but ramen noodles.  I've actually written several articles on ways to save money in this area.  Click here for healthy meal planning on a budget and here for more tips on using a weekly meal planner.  You can also save by purchasing seasonal fruits and vegetables.
Another tip is to avoid eating (or drinking) out.  The expenses add up quickly, especially if you're eating at a place where you have to tip.  While you're at it, skip the fancy $4 coffee drinks and learn how to make your favorite beverages yourself.  Rather than a late night foray for pizza, keep healthy, affordable options in your room or apartment.
When it comes to meal plans, schools accommodate students by offering several options.  Choices can vary by up to $1,000 per year in price. Many schools require those living on-campus to purchase a meal plan, but students are usually able to choose whether they want a large or small option. You can save a lot of money by prepping some of your own meals at home (and this tip applies to life both during and after college).  If you're craving a pizza or taco night with friends, suggest that each person bring one ingredient to contribute to the meal.  Also, don't forget to scan your school newsletter for events offering free food.
On the contrary, just take a walk around campus or visit a park.  You can easily find workouts that don't require any equipment for you to use, and that you can even do in your dorm.