Like many people, I spend quite a bit of time each day sitting at the computer. When I'm not working on my novel or client projects, I am often playing video games on my PC. While I love my job and my hobbies, the only thing I don't like is the pain I get for spending 10 or more hours at a keyboard. By the end of the day my finger feel sore. I have tried a variety of stress balls and other products over the years, and found that most of the product on the market to help typists just don't work for me. Recently, however, I found out about a new product that seemed like it was made for someone like me – Yoga Hands. When I reached out to them to ask if I could review their product, they were happy to send a set out to me to try out for myself and review for you!
Yoga Hands
So, the entire concept behind Yoga Hands is that these hand stretchers help ease the pain for anyone who do small, repetitive motions throughout the day. As anyone who types or sews knows, doing the same thing over and over can over time lead to pain. While many of us know this is the case for athletes, we rarely think about it affecting the everyday person who goes to work and types for six to eight hours a day. Over time, this repetitive activity can lead to carpal tunnel, arthritis, hand fatigue, and muscle cramps.
By using Yoga Hands to stretch the muscles in your fingers and hands, you are not only reducing hand cramps, but refreshing the muscles in your hands. In my experience, your hands feel better, and you can type longer without issues! Since these are designed to be lightweight and comfortable, you can use them wherever and whenever you like throughout the day. Best of all, they are made right here in the United States!

Yoga Hands: How to Use
When I first got my Yoga Hands, my first concern was that they said one size fits most. You see, my hands are actually fairly small. When working with children, I found that my hand was comparable to about a 10 or 12 year old boy. While this isn't a huge deal for me (I'm a fairly small person) – it means that I have a hard time finding gloves and such. My husband, however, is the exact opposite. He has HUGE hands and sometimes has problems finding things large enough for him. I found it very unlikely that both of us could use the Yoga Hands for this reason. Surprisingly, I was wrong. We can both use the Yoga Hands comfortably due to the thick foam sizers in the middle of the device, allowing both of us to enjoy the benefits of this device.
As well, the Yoga Hands are simple to use. All you have to do is put your fingers through the wedges and pull it toward your palm. You know it's working when you feel a gentle stretch throughout your hand. You usually have to adjust the wedges a bit however to get the Yoga Hands to fit you most comfortably. I usually let my fingers stretch anywhere from two – five minutes, depending on how they were feeling, and how my deadlines are looking. One thing is for certain, it is probably one of the easiest stretching devices I have used in a very long time!
Yoga Hands: Thoughts
So far, I couldn't be happier with the Yoga Hands. Not only has my hand pain gone down dramatically, but I can now push myself a bit longer with work. I haven't timed how much more typing time I get out of myself due to the Yoga Hands, but I know my pain has decreased. If you are someone who types quite a bit throughout the day, I don't think I can recommend these enough – I gladly give them an A+ rating!
Yoga Hands: Where to Purchase
Currently, you purchase a pair of Yoga Hands from their website or at Amazon.com through their Yoga Hands product page. You can either purchase them for $39.95 from Amazon.com with free shipping or for a limited time you join the Yoga Hands mailing list to receive a 25% coupon on your entire order from the Yoga Hands store!
As well, if you don't like Yoga Hands, don't worry! They have a 30 day money back guarantee! Wherever you decide to purchase these stretching tools, I think you will find that just as useful as me and find them to be a must for anyone who spends quite a bit of time at the keyboard!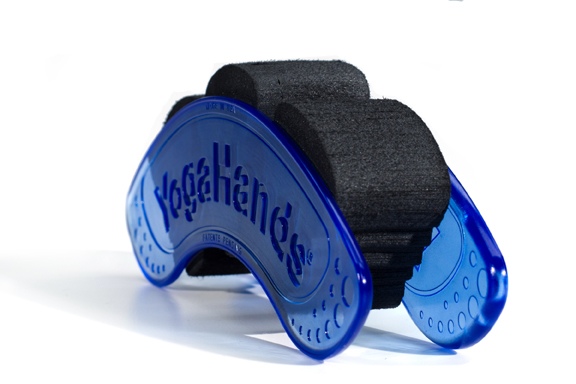 Disclosure: Budget Earth did not receive monetary compensation for this review, but did receive a pair of Yoga Hands for review purposes through Tomoson.com. All of the opinions on this blog are the opinions of said author and these opinions may differ from your own.