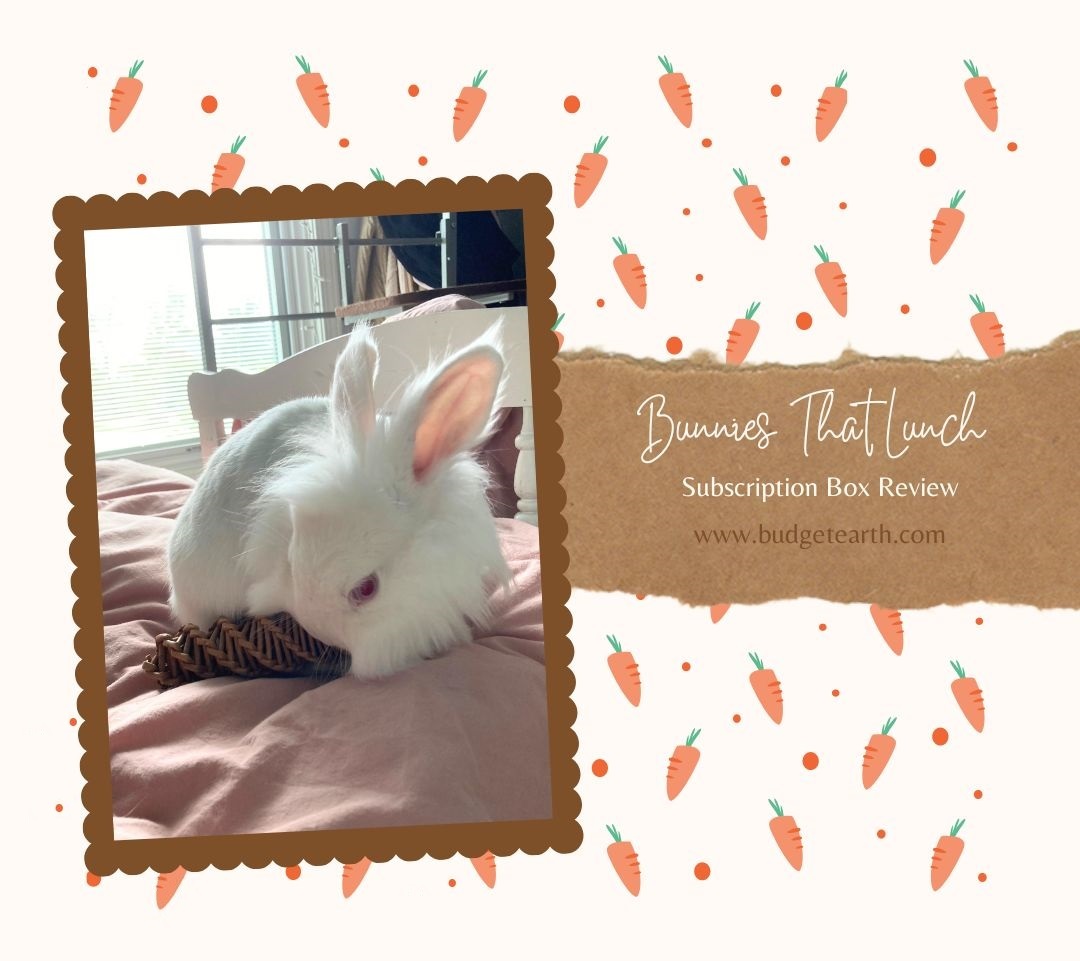 This post is not sponsored. I just really love Bunnies That Lunch.
What is Bunnies That Lunch?
Bunnies That Lunch is a UK-based small business. They offer monthly subscription boxes packed with 6-8 fun and delicious products for your bunny, like toys and healthy treats. Don't get jealous – as an extra, there's always a postcard with special bunny artwork included for you! They have boxes for cats and dogs, too. You have the option to choose a monthly, 3-month, or a 6-month subscription to Bunnies That Lunch, or you can even order a single box if you don't want to commit to a subscription. The boxes are priced at £19 per box (approx. $24) with additional savings for 3- and 6-month subscriptions. Subscriptions renew automatically on the 15th of each month but can be canceled anytime. It's worth noting that because this subscription box is based in the UK there is a higher shipping charge (£10.99, or about $14) for US customers but I, and most importantly my bunnies, believe the quality is worth it.
I've tried a few US-based bunny subscription boxes in the past (which, incidentally, cost me nearly as much as Bunnies That Lunch – yes, including their US shipping charge) but was left disappointed. There were some very questionable items included in a few of my boxes (a duck plush crinkle toy like you'd give a cat?) as well as unwanted repeat items (I've had rabbits for five years…I really don't need weekly rabbit care sheets with every order) and often the value was just not there. My Bunnies That Lunch subscription, however, has never sent a disappointing box and I've had an ongoing monthly subscription with them since July of 2022.
Want an idea of what you'll get? Bellini and Biscotti wanted to share their latest April 2023 box!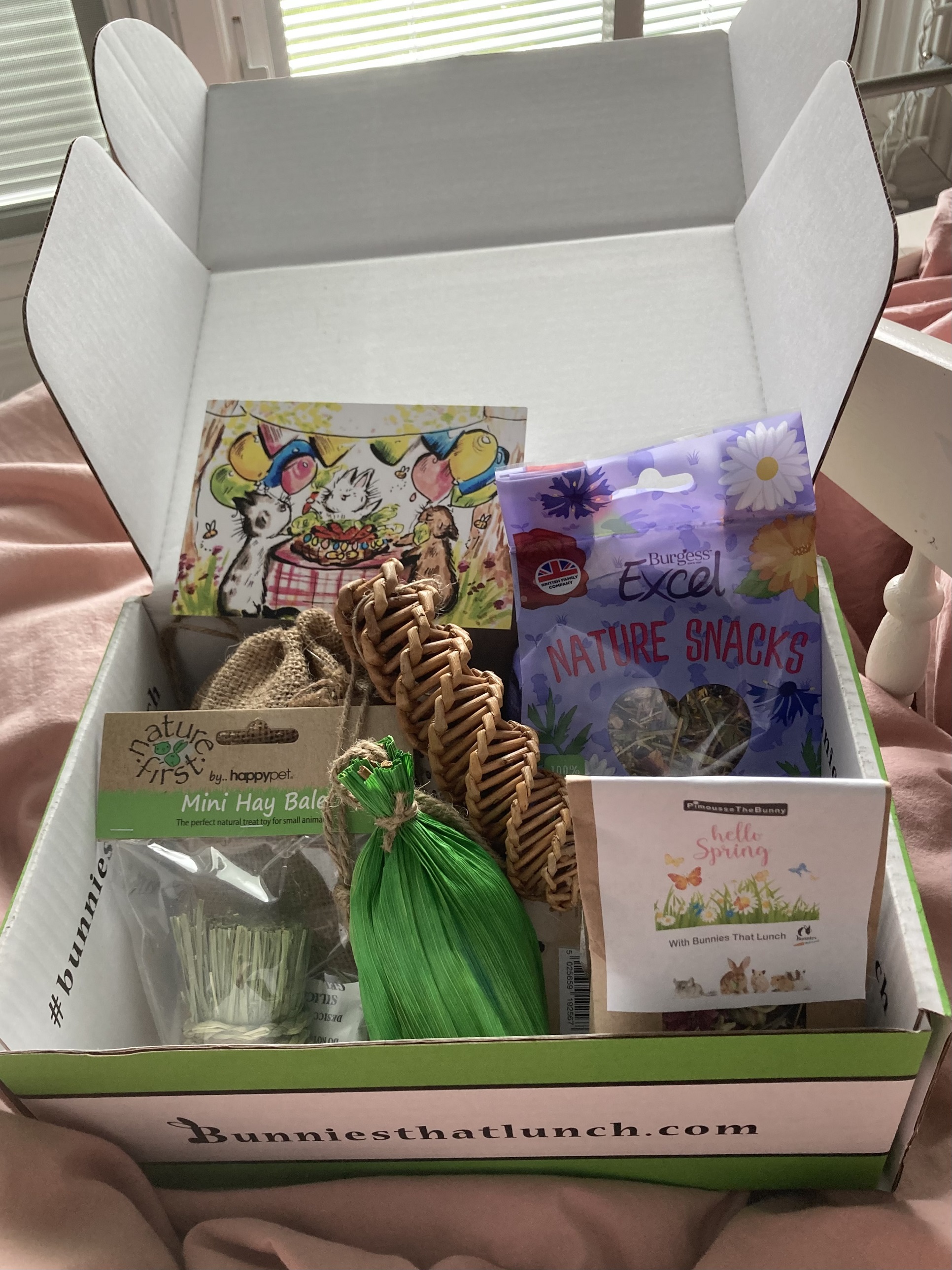 The Hello Springtime Bunnies That Lunch box includes these items: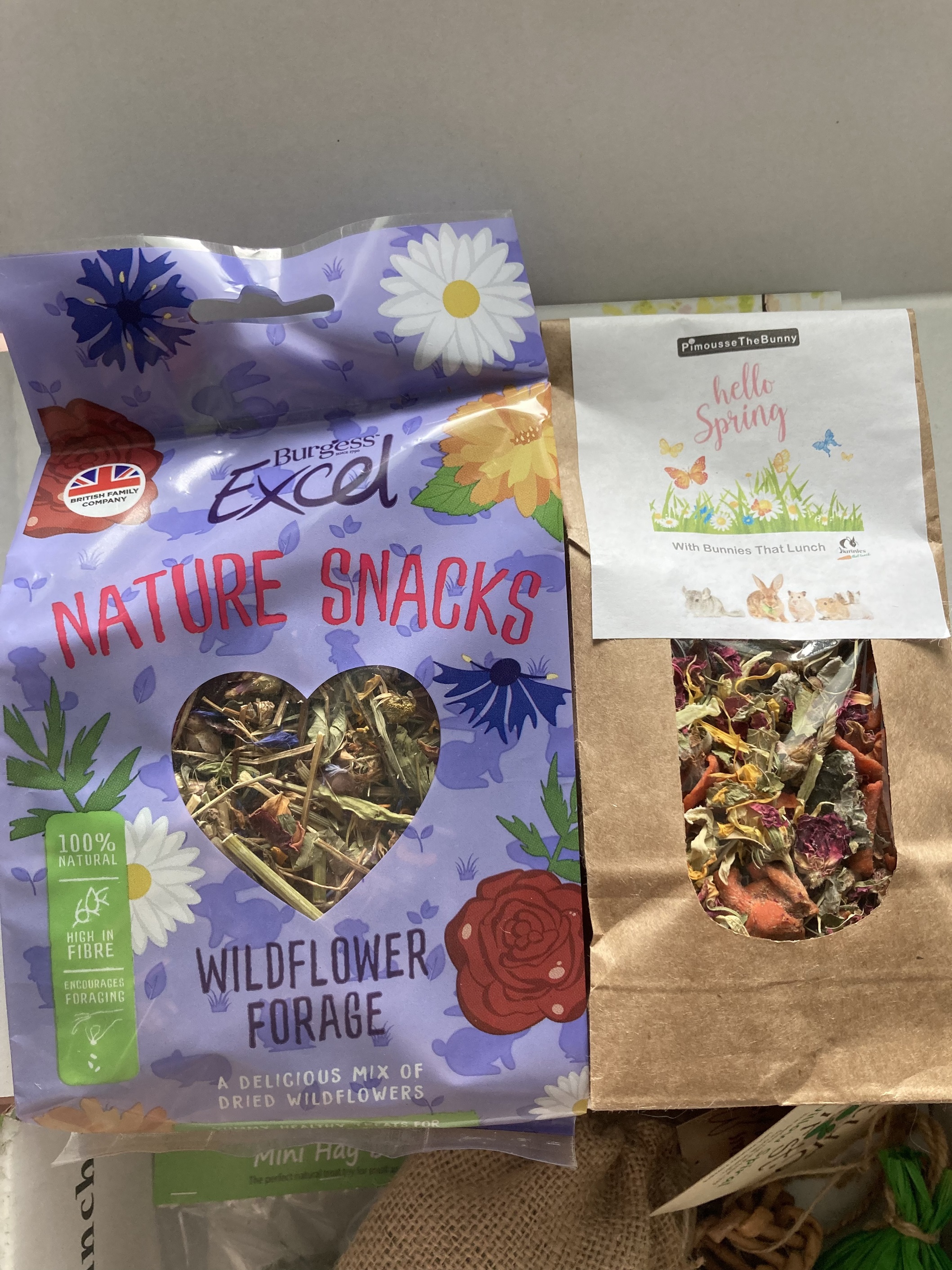 BRAND NEW – Bunnies That Lunch Hello Spring Forage Mix – Containing marigold, rose, carrot chips, raspberry leaves, and papaya strips
Burgess Wildflower Forage – Made with a tempting mix of rose, hibiscus, marigold & cornflower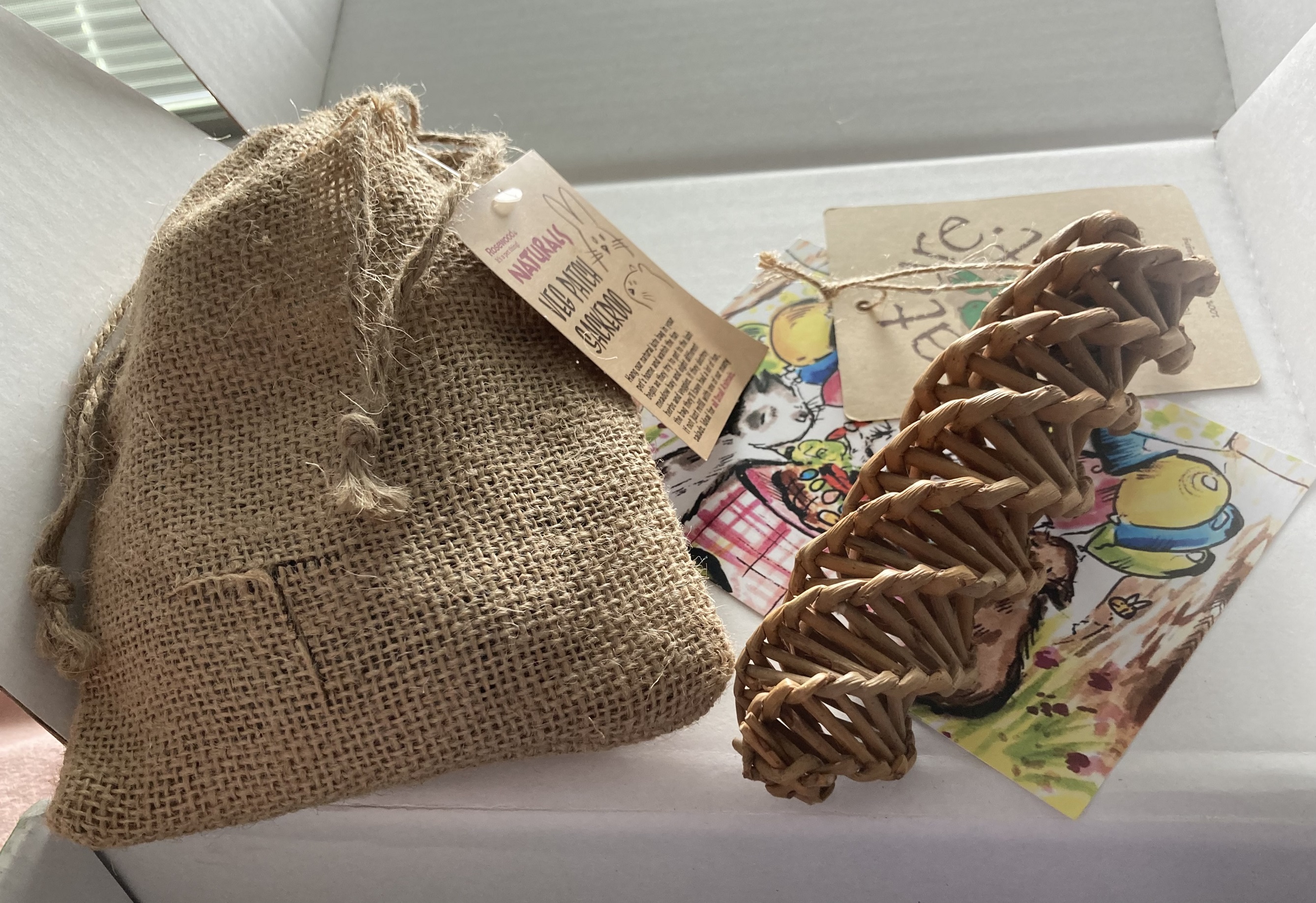 Veg Patch Sackaroo – A Hessian jute bag filled with forage mix for your small pet to shred, toss and forage
Willow Spiral – A yummy natural chew toy to keep teeth nice and trim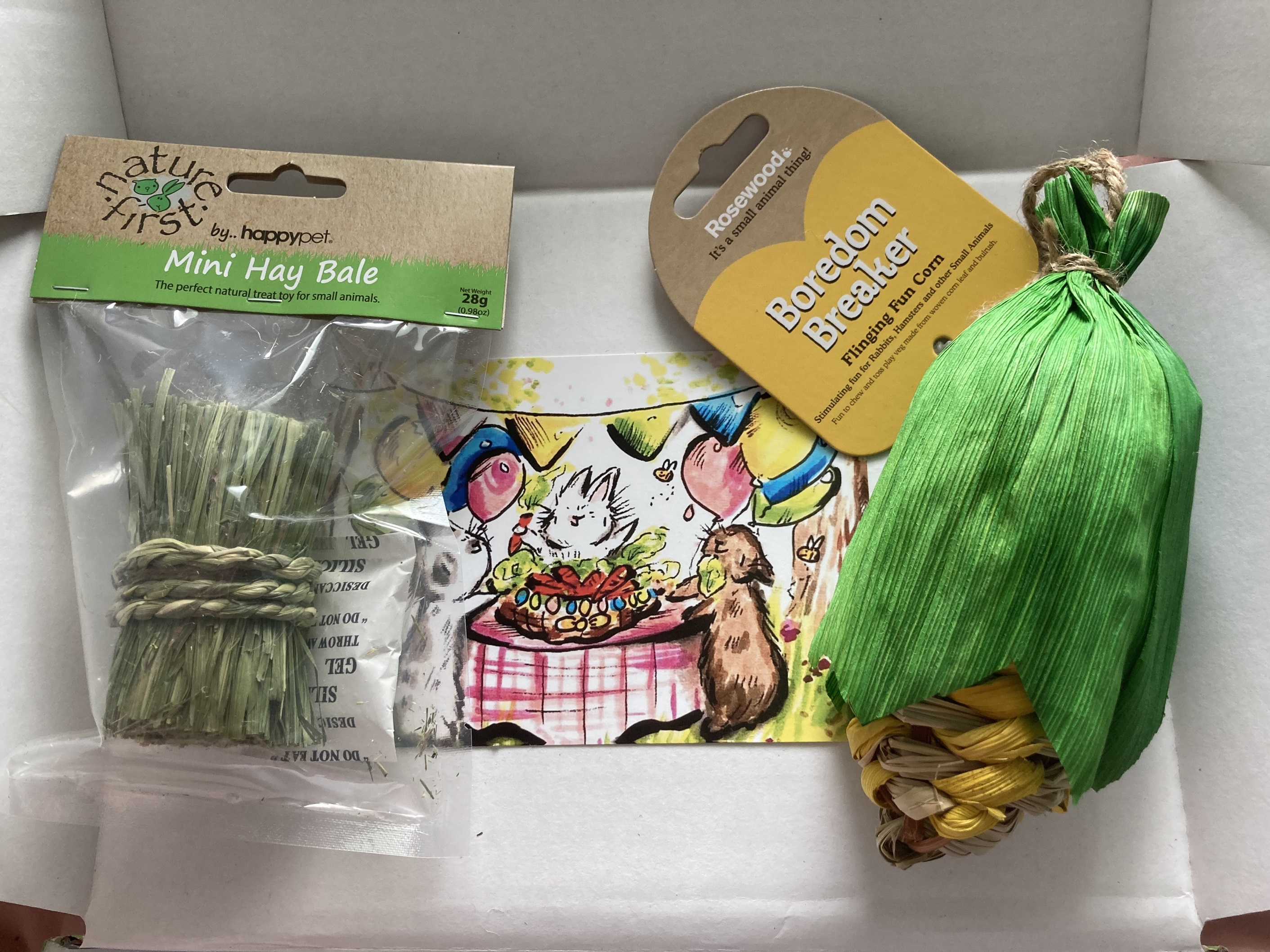 Mini Hay Bale
Flinging Fun Corn Toy – A super fun Boredom Breaker designed to be tossed around
Plus a super cute postcard!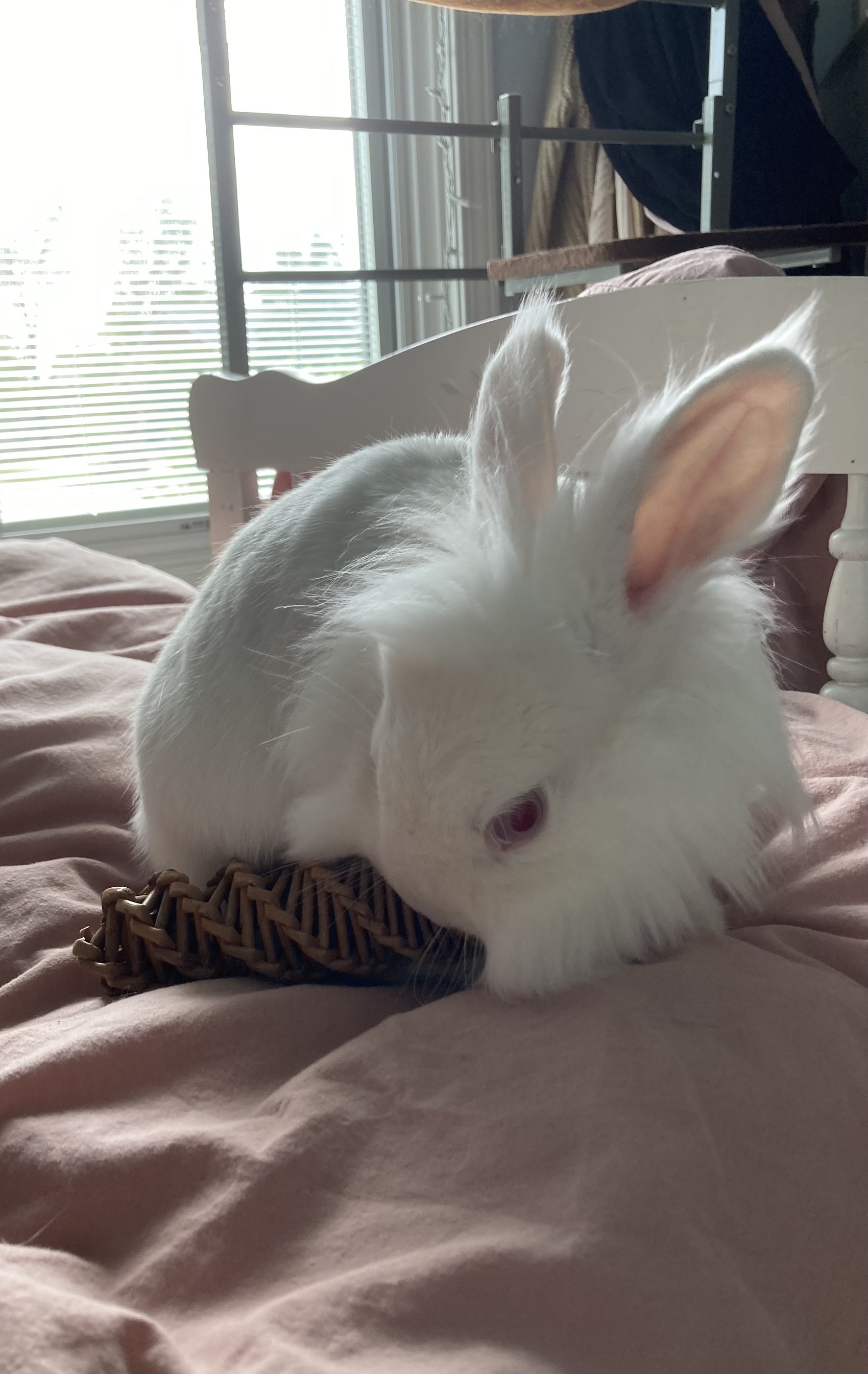 Bellini is our resident toy expert and she got to work right away on the willow spiral!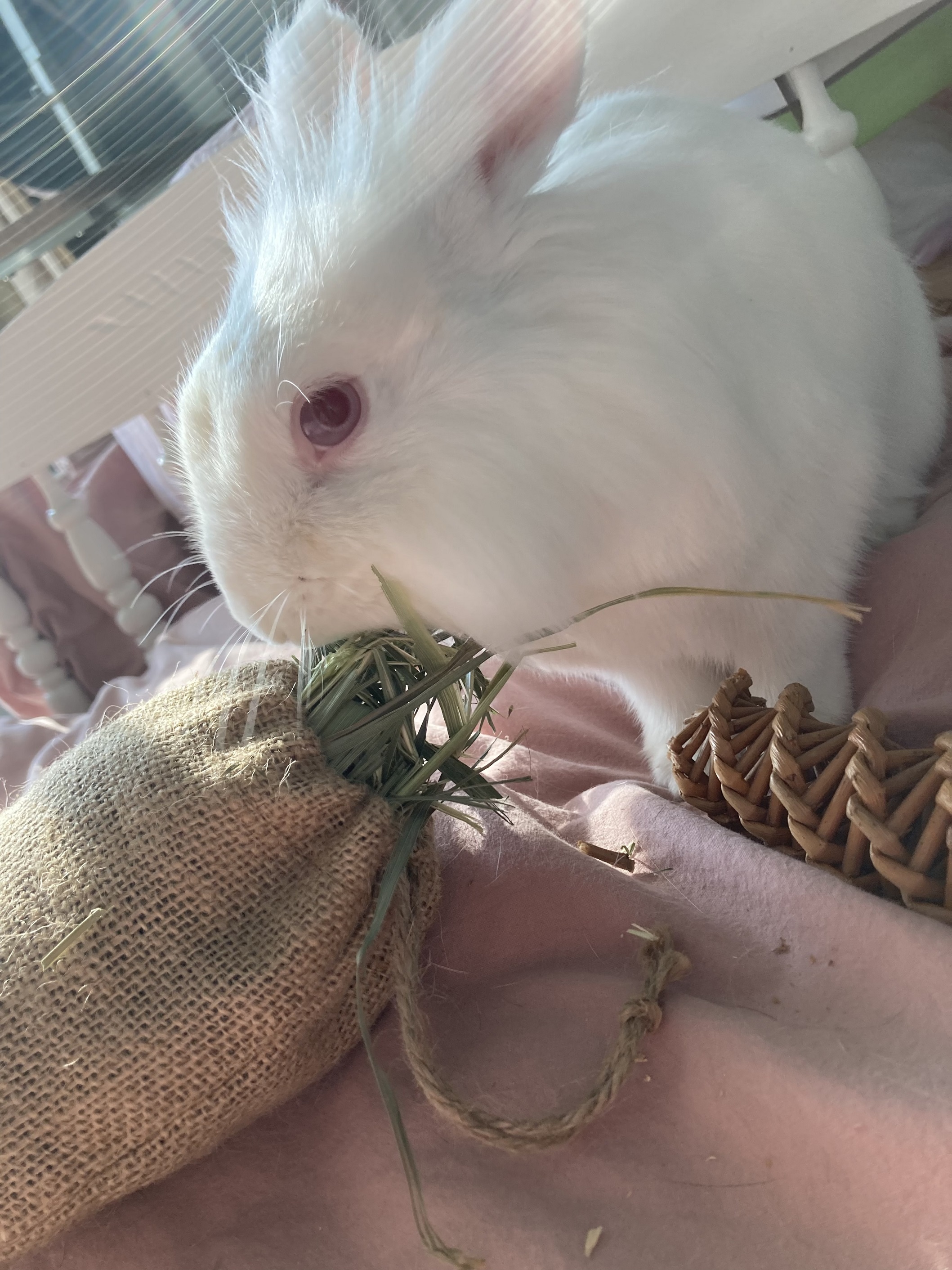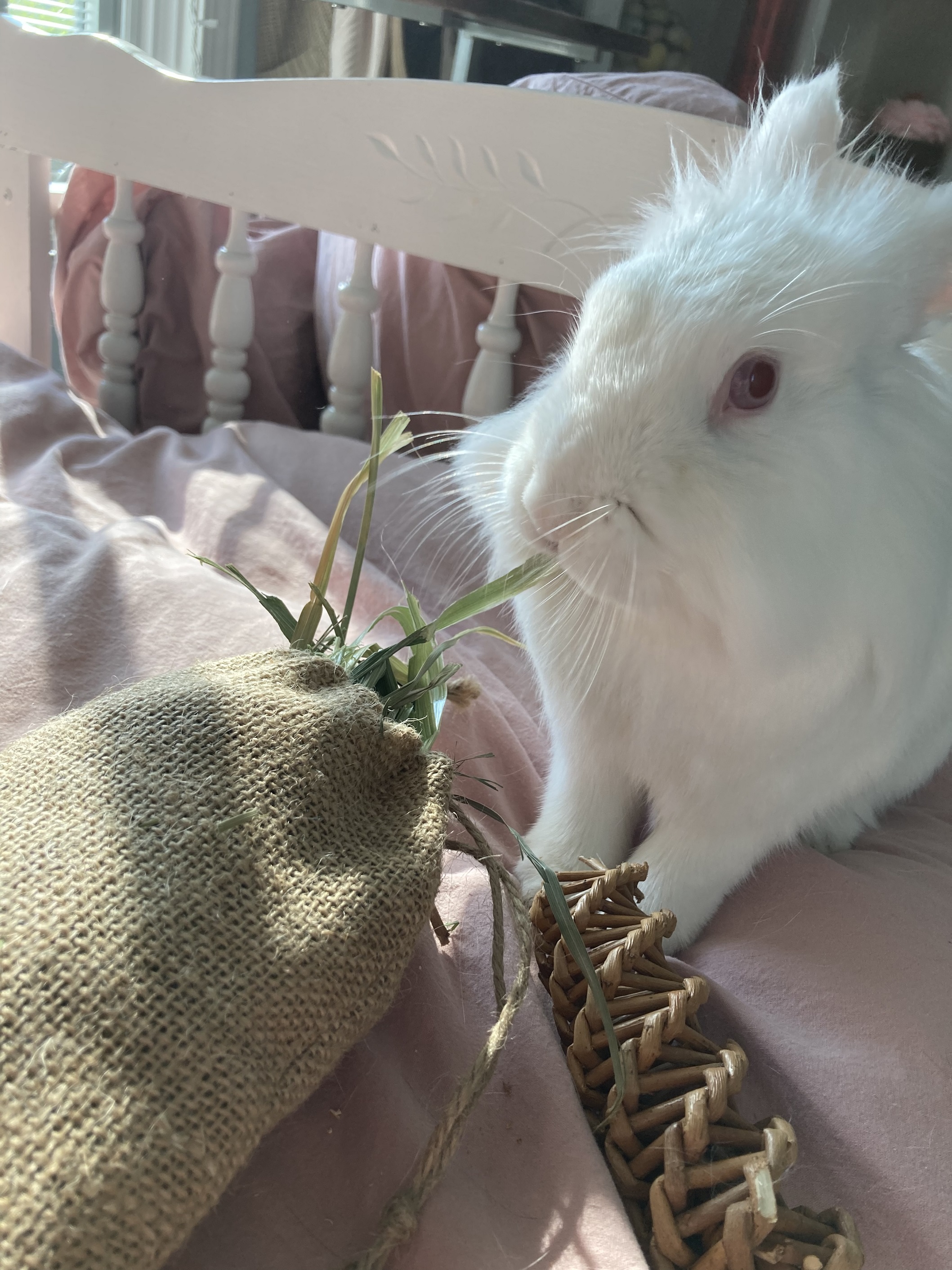 It's hard to choose when you're presented with two delectable, attention-grabbing toys at once but Bean finds a good balance. I love these Hessian jute bags because once the buns have gnawed or pulled open the bag and eaten everything it's easy to reuse and refill with other goodies. You can see I added some hay along with the forage mix here. Bunnies love eating hay out of stuff like this.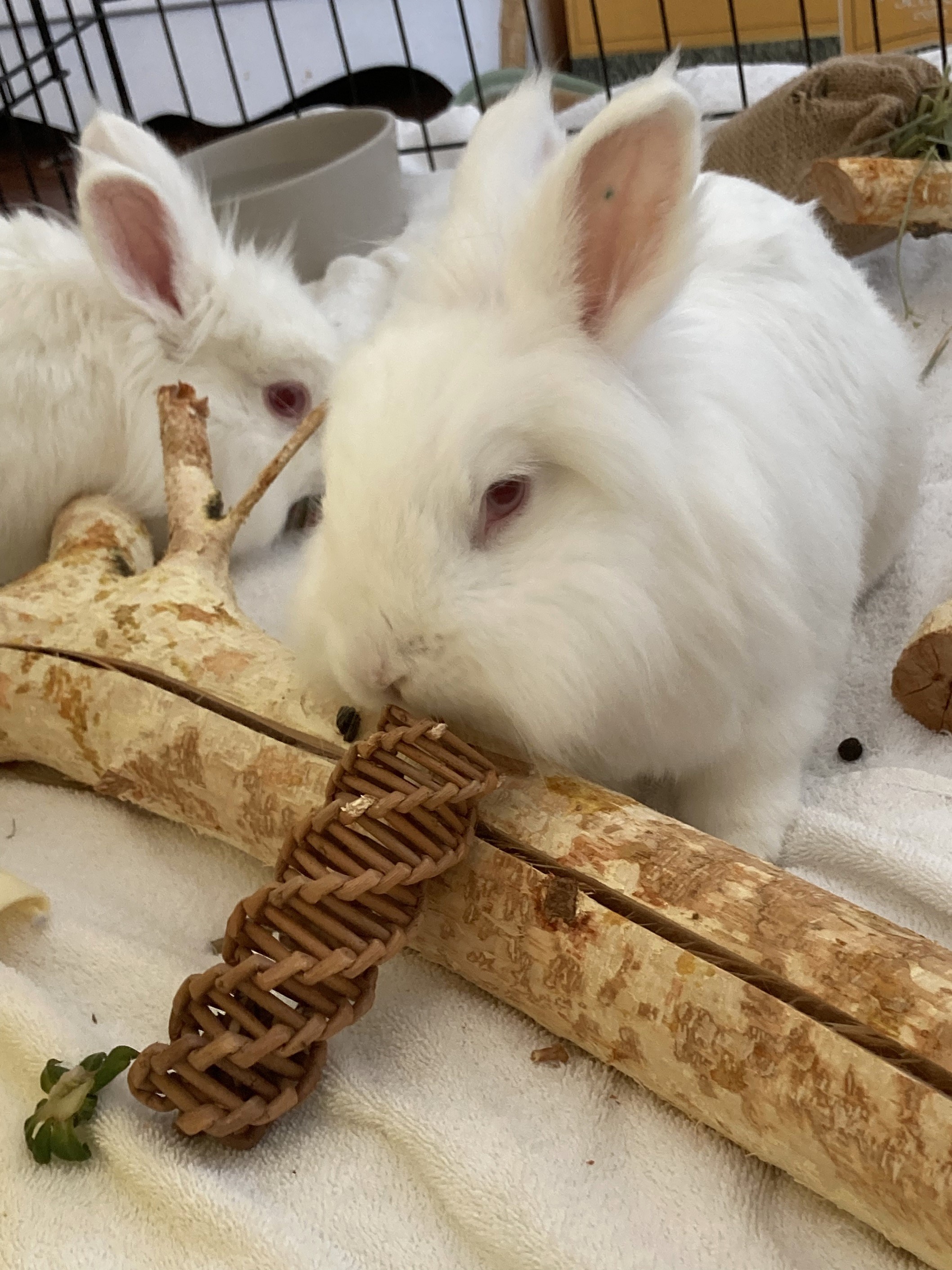 When it was time for her to go back to her husbun, I distracted Bean with some strawberry tops so Biscotti could have a chance at the new toys, too. He was just as excited as his lady and immediately got to tugging and gnawing on the willow. Something I love about these boxes is that there's always variety and something new to try in every box. If it hadn't been for Bunnies That Lunch, I'd have never known my bunnies love willow wood as it's not something I have readily available or even typically think about. The box itself, not containing any plastic or tape, also makes for a great forage and chew toy.
If you're like me, a bit anxious about subscription boxes because you've had some negative past experiences, one of the things I really like about Bunnies That Lunch is that they include a number of boxes (including some past boxes) on their site that you can browse and order. It was very telling when I first found them 10 months ago that I loved everything included in every box they had listed!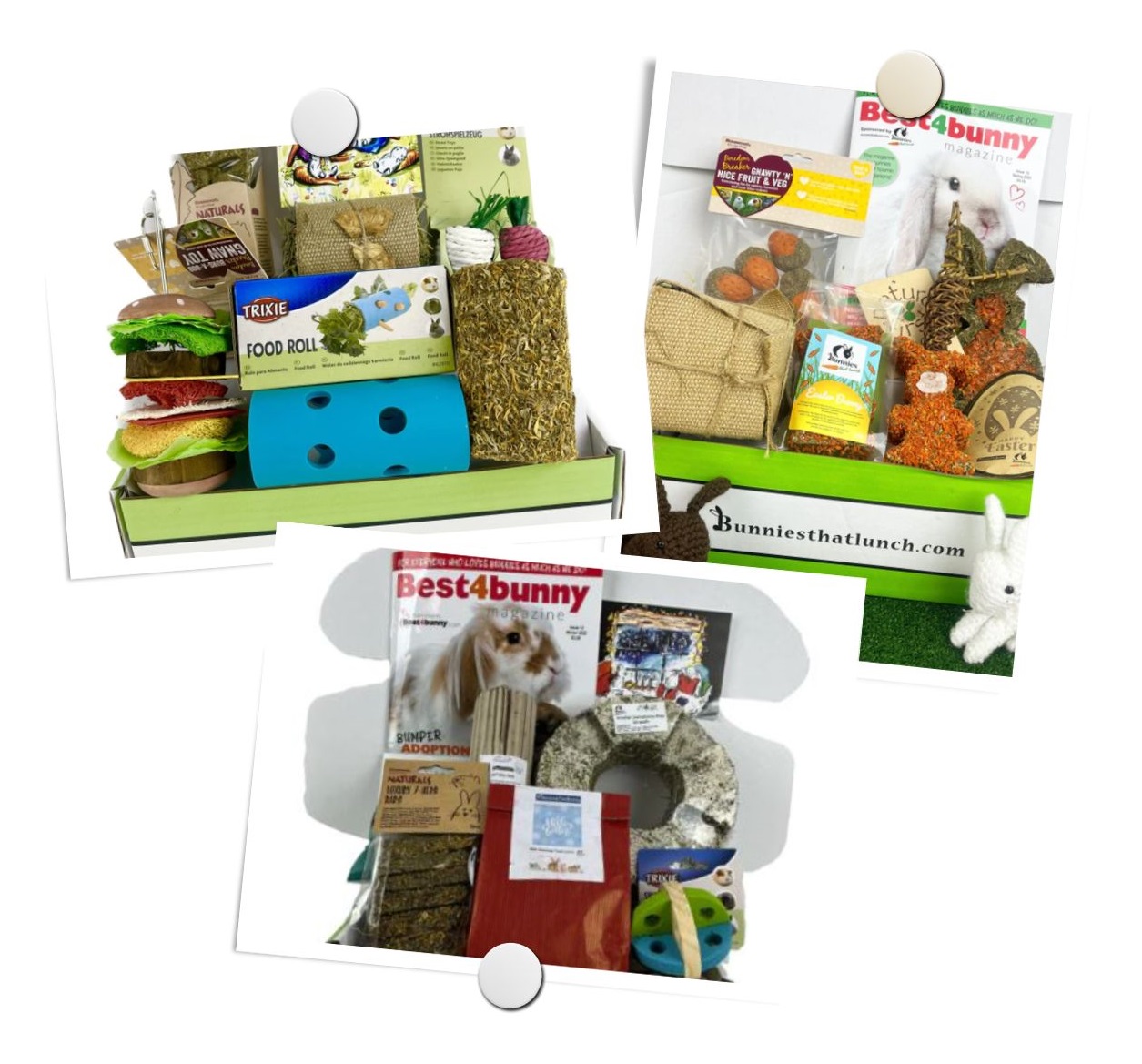 Some additional past boxes my bunnies have loved.
If you want to try a box before you commit to a longer subscription, Bunnies That Lunch allows you to purchase single boxes without a subscription. There are often discounted items and treats available in their store, and even bundles and mystery toy and treat boxes that you can order for an extra surprise! With as quickly as Bellini goes through toys, I've occasionally supplemented with some of these boxes and can say that they're just as good as the monthlies. Have another pet in your household? Remember that Bunnies That Lunch caters to cats and dogs with boxes for them, too!
As an added bonus to supporting a small business, Bunnies That Lunch has a Charity of The Month feature where each month they shine the spotlight on a well-deserving charity or rescue. They have a "£1 Non Profit Treat for a Rescue Bunny" option for customers to add to any order, OR to add as an order in itself (with no shipping charge). At the end of the month Bunnies That Lunch includes these donations in a generous haul to the charity alongside their monthly subscription box and heaps (hops?) of extra goodies.
If you're looking for a special way to spoil your bunny and support a small business (bunny business), I'd highly recommend Bunnies That Lunch!