Do you like to share the holidays with your pet? In my family it's not uncommon to give gifts to one another "from" our pets and – particularly at Christmas – we love putting together stockings and other special presents for our animal friends. They love to feel included!
I think cats and dogs get most of the exposure and love around the holidays (I'm sure you've seen someone ask their dog to help open a gift), but pocket pets deserve their share of the excitement, too. My bunny Biscotti and I received one of the best Christmas gifts of all last year. After 3.5 years of bachelorhood, I let him pick out a special friend from a bunny rescue.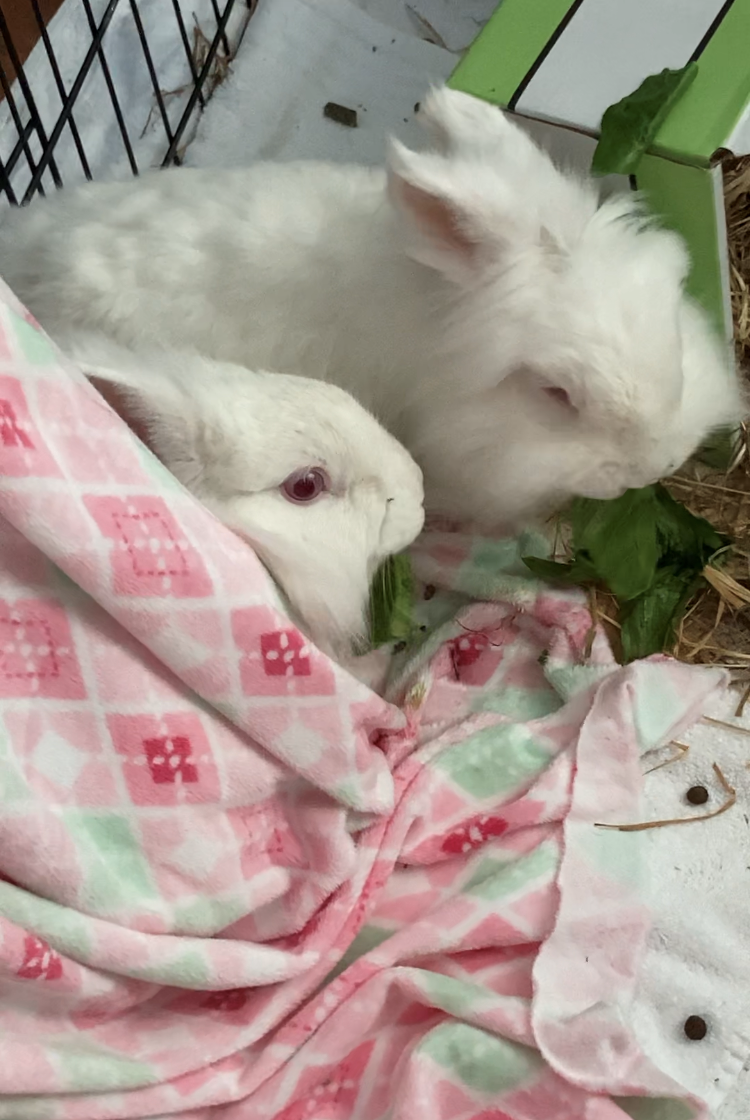 It's been a long year of bonding activities like swapping spaces, sharing treats, and playing together with toys (Bellini's a smart lady who loves toys like nobunny's business). As the time for candy canes and visits from St. Nick draws nearer, I wanted to share some of our favorite Etsy sellers and gift picks for giving your bunnies the best, coziest Christmas ever. Pet stores often treat smaller animals as an afterthought, so I know it can be difficult to know where else to look for cute bunny gifts.

Snuggle up with your loved buns and let's take a look at how to…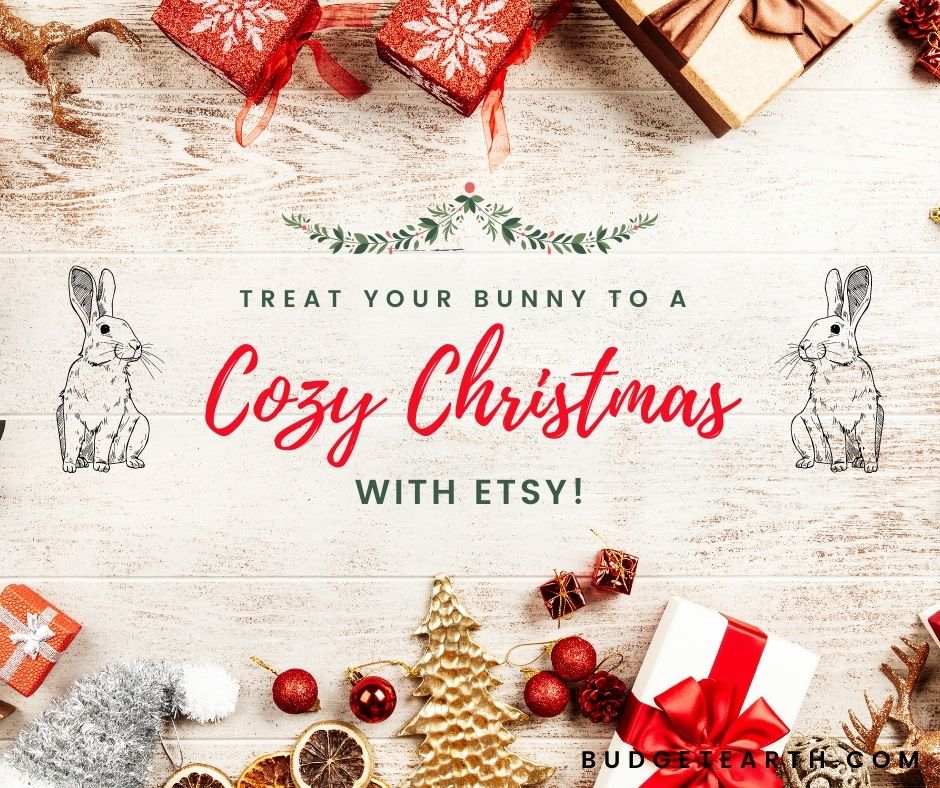 Best Bunny Gifts: Snacks

If there's one treat I love during the holidays, it's Christmas cookies. Bake some chocolate chip cookies for your bun (no real chocolate, obviously) using this mix from RiverBardFarm and share a cookie with your special friend. The mix jar doubles as a cookie jar to keep the rest of your treats in!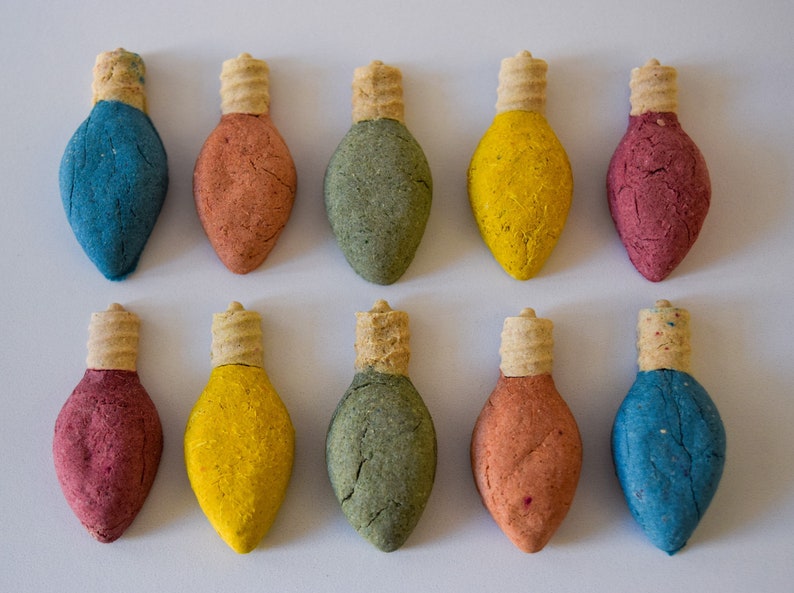 Another holiday treat staple? Candy canes! These treats from TheFloppyBinkery are flavored with banana and beet and certain to excite any rabbit, making them perfect bunny gifts. Can you think of anything cozier than watching a Christmas movie snuggled up with your bun and some snacks?
Wait, I can: watching a Christmas movie snuggled up under the Christmas lights! How sweet are these treats? Each color has its own special flavor like blueberry, pumpkin, or cilantro. Biscotti thinks a little taste testing is in order. Check out the shop for other fun holiday goodies like gingerbread men and snowy bun balls.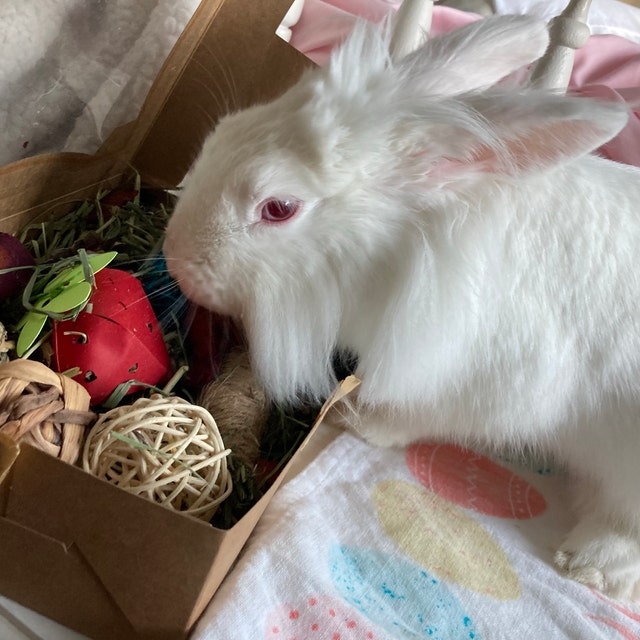 Bellini was actually one of the first reviewers back in May for BunsHopShop's signature forage box and boy, did she have a rave review! This box is filled with hay, toys, flavored vine & balsa wood, treats, herbs and dried flowers. If you'd prefer more or less of something, they're happy to accommodate you.
Best Bunny Gifts: Toys
Teddy bears are the ultimate cuddle buddies! Bellini highly recommends this adorable guy from WinniGuineaPoo. He's sturdily made for buns that are hard on their toys (like Bellini) and is sure to provide lots of fun. Ours lasted about a week with daily chewing. I always loved checking on Bellini and seeing where she'd moved her bear in her pen. There's a really cute Christmas version of this bear out now, plus a whole section dedicated to their Christmas toys here including Christmas trees, stockings, and wreaths. We've never been disappointed with anything from WinniGuineaPoo.

Another cozy aspect of Christmas? Waking up early to open your stocking! Let your buns get in on the fun with this holiday stocking from TheFloppyBinkery. They have TWENTY-FIVE options for you to choose from to make it extra special for your pet, and they personalize each stocking with a nibble-safe wooden name tag!
Best Bunny Gifts: Beds and Mats

There's nothing like sitting down and sinking down into your soft, cozy bed at the end of a busy holiday night. If your bun is like mine, they love to snuggle and burrow – often between two things like stuffed animals, their mate, pillows, blankets, or even behind their litterbox! The HOP N' FLOP® provides this natural comfort, helping to alleviate stress and anxiety. It comes in multiple sizes for different breeds and rabbit pairs, plus all sorts of pretty fabrics.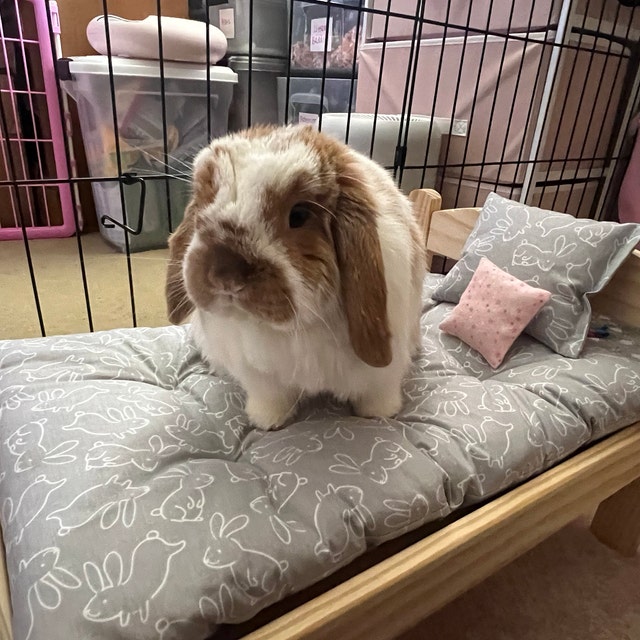 doll bed from 24thStreetQuilts
Did you know that IKEA has doll beds that are the perfect size for many buns? If you're like me and don't have an IKEA near you, check out this cozy option from 24thStreetQuilts. As is the case for many items on Etsy, the seller has a wide variety of fabric patterns for you to choose from and you can also customize the bed size.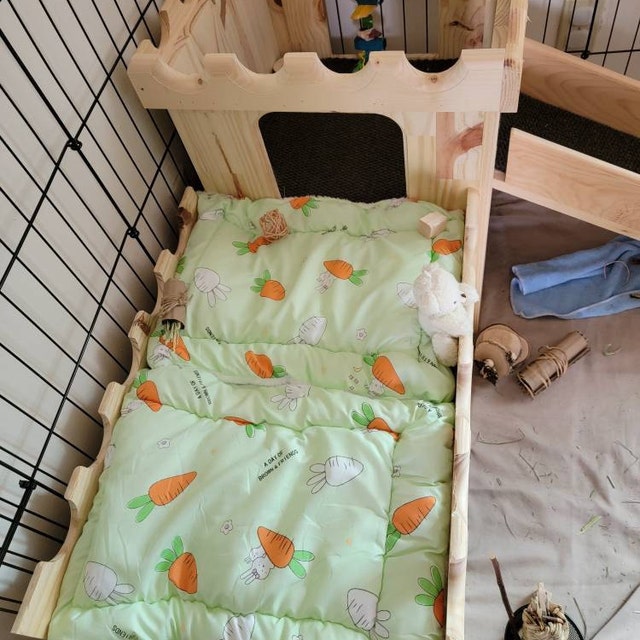 Looking for a fluffy, plush place for your bun to rest? This bedding is an affordable, quality item that's durable and easy to wash. If your bun is an avid digger or likes to toss things around, you can use the ties to help hold it in place. Don't you just want to shrink down and roll yourself up in this bedding? Talk about cozy.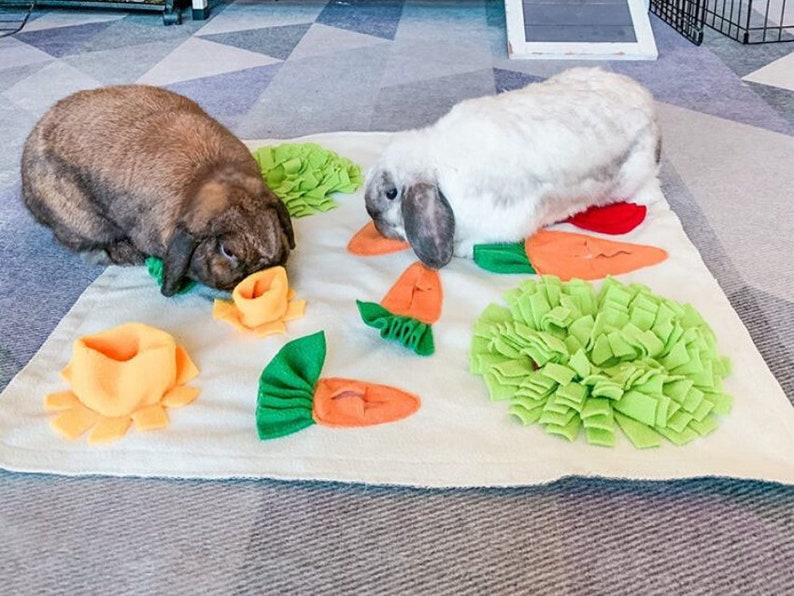 Is your rabbit's idea of comfort nibbling away in Mr. McGregor's garden? I had to include this extra-cute snuffle mat from TokiHut. Your bun will love foraging and digging for Christmas treats in their own personal vegetable garden. This mat boasts 31 different areas to keep your bun busy and has a thick double layer of fleece perfect for comfy flops.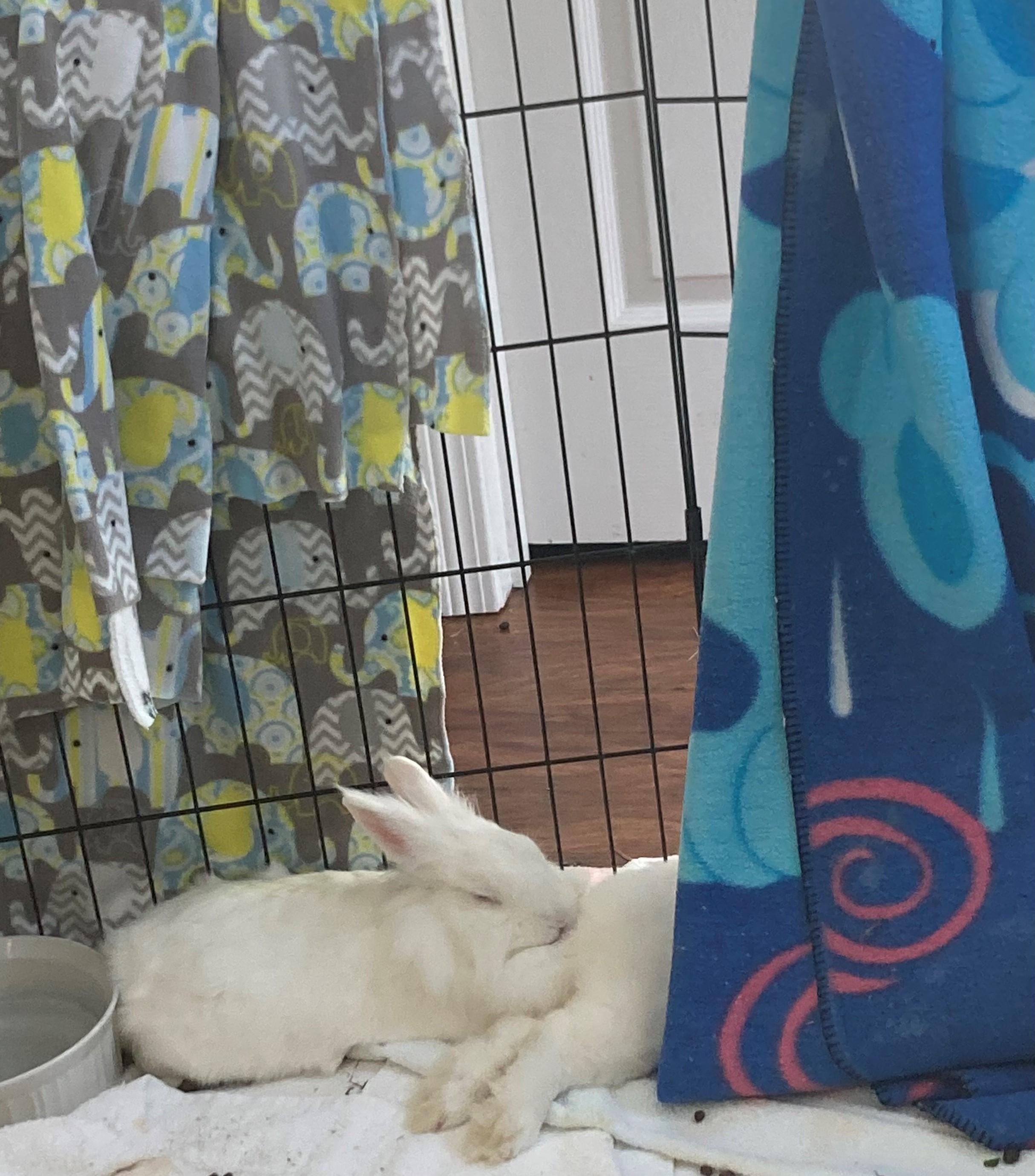 Bellini says blankets are great, but there's nothing like
a good bunny butt pillow!
So what keeps you cozy during the winter months? For us, cozy means a soft bed (that we never want to leave), a fluffy blanket, a cuddle buddy (bunny?), and some favorite treats for when we're watching a movie or spending time with our loved ones.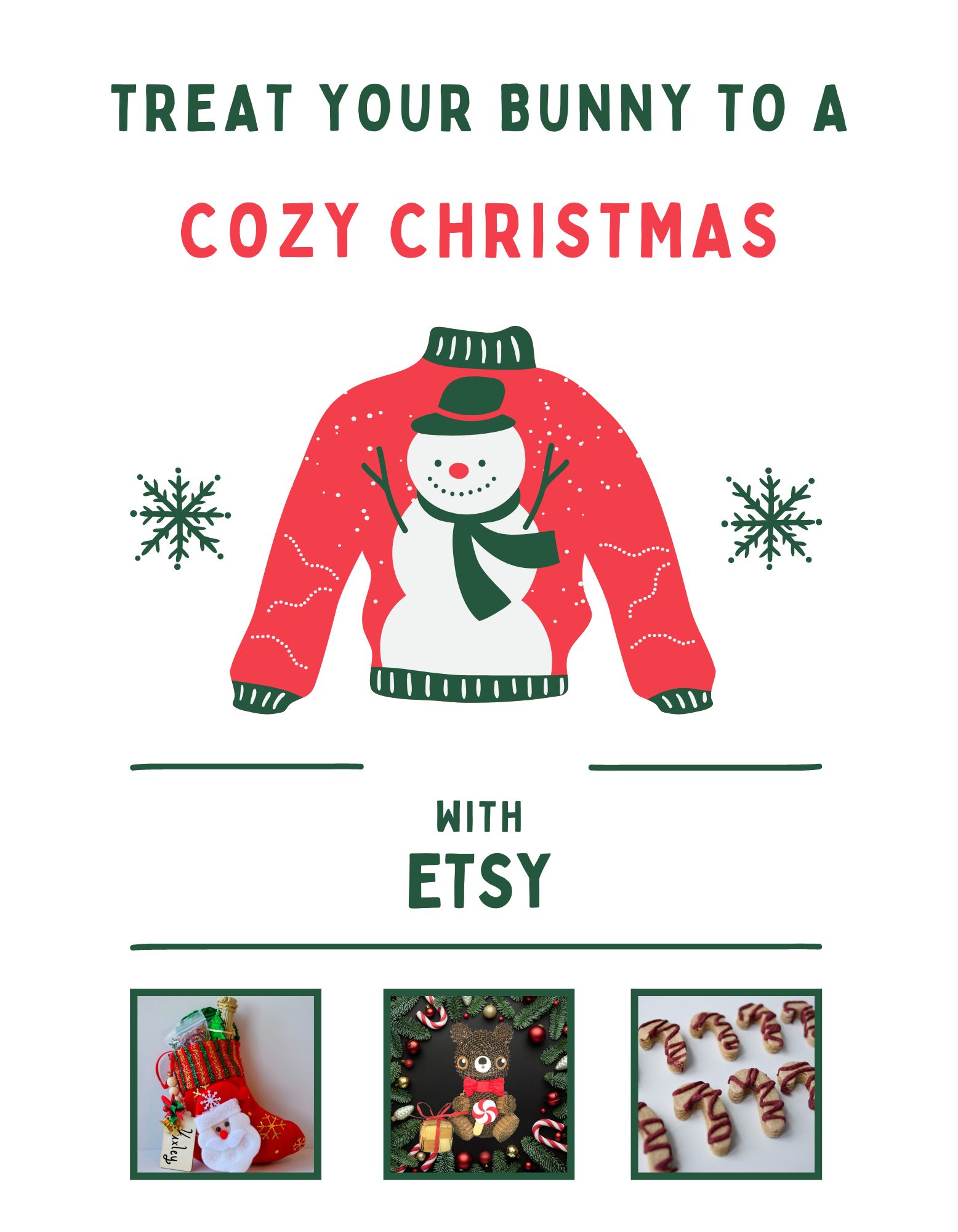 Looking for other interesting gifts? Make sure to check out the Etsy Editors Pick Page for the best personalized gifts!
---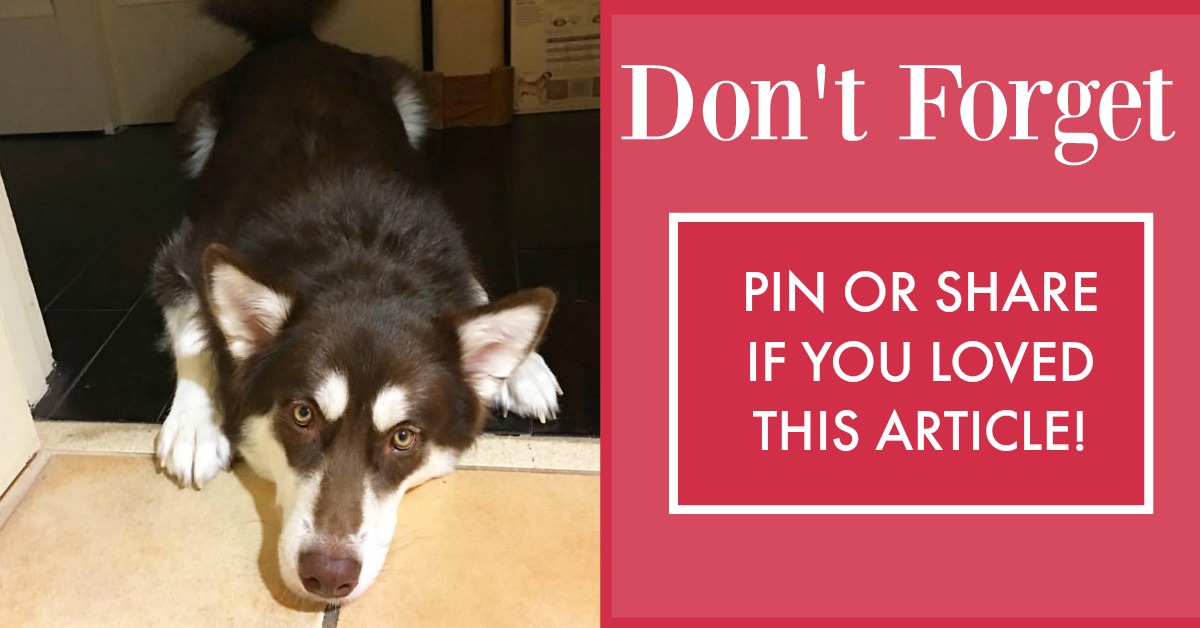 ---